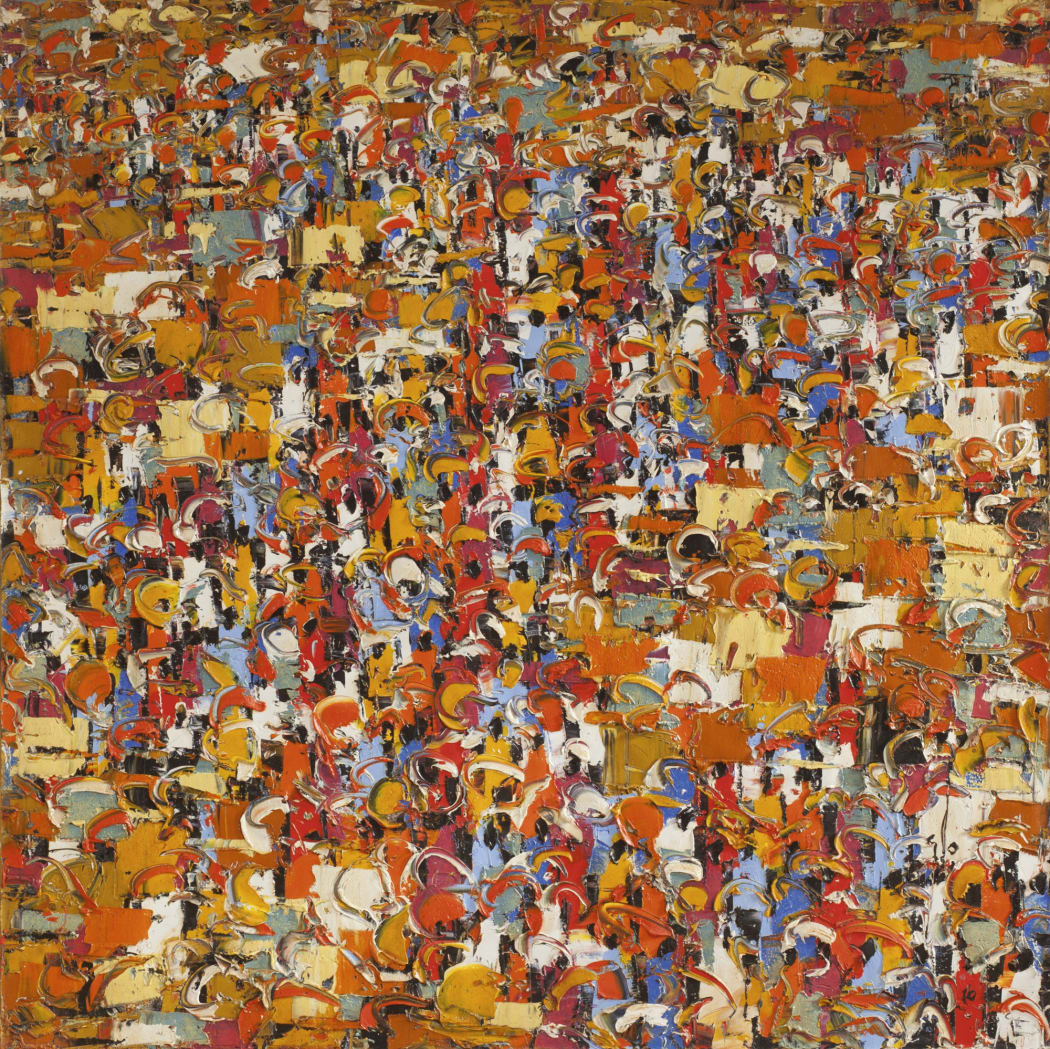 Read any article on African Contemporary Art, and you will find that most all will steer away from defining what exactly African contemporary art is—and with good reason. With fifty-four countries and cultures making up the continent of Africa, it is almost impossible to pin-point what 'African' art looks like, let alone bracket the time period for when contemporary African art began.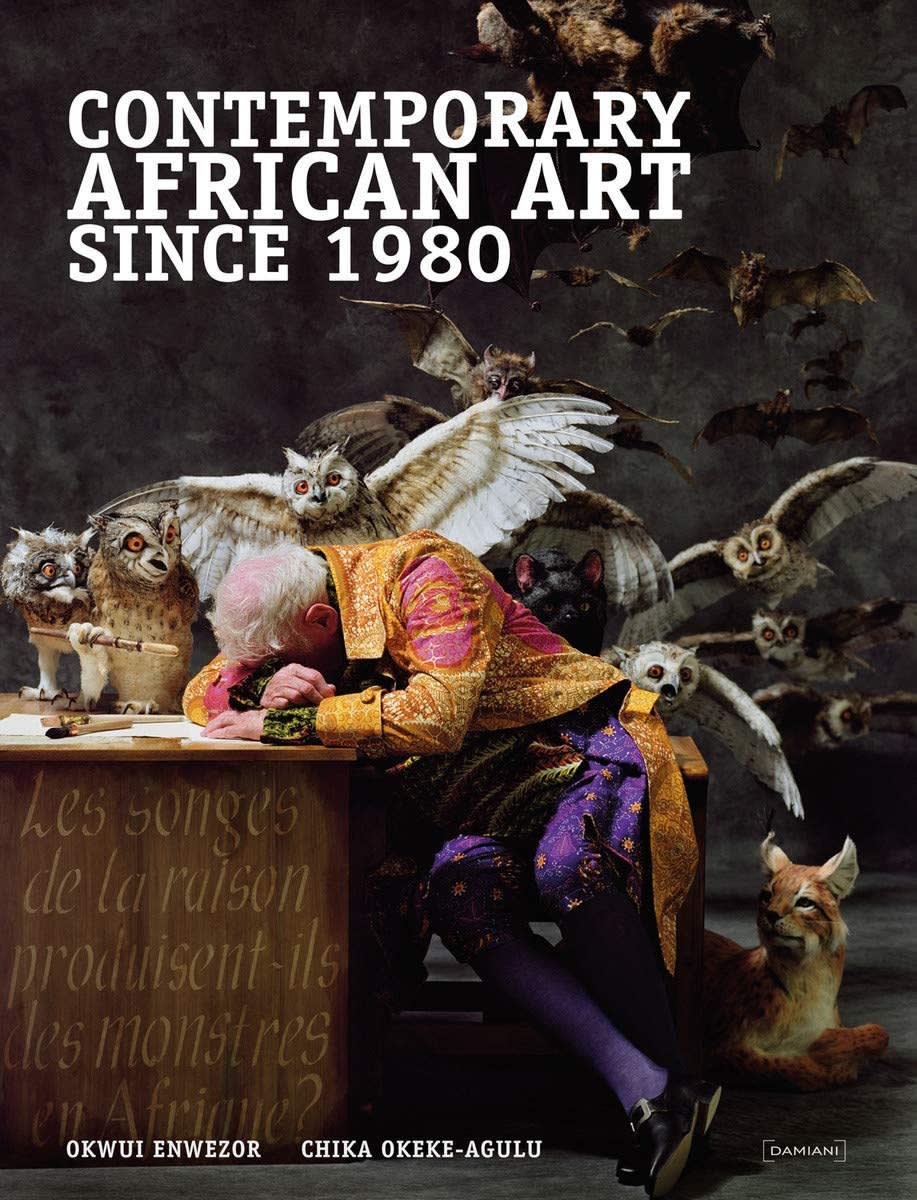 In general, contemporary African art has been yoked to post-colonialism, particularly during the wake of the 1980s, although South Africa was the last country to be free of white minority rule as late as 1994. Indeed, decolonisation was a long and onerous process that spanned around 50 years, and the shoots of an independent, modern presentation of African art began sprouting across the continent long before the final vestiges of colonial rule set sail.
It is also important to have in mind what we are thinking of when we discuss 'contemporary art'. In their book Contemporary African Art Since 1980, Nigerian art critic and curator Okwui Enwezor and artist and art historian Chika Okeke-Agulu importantly reference Terry Smith, who states that a good guide for contemporary art, including African contemporary art, is that it is 'preoccupied with being in its time'. Enwezor and Okeke-Agulu also cite another thinker, Arthur Danto, who proposes another way of mapping contemporary art: namely that it is 'post-historical, as a liberation from the succession of historical periods bound to styles.' Onwezor and Okeke-Agulu observe that in the African context, this produces artworks in the framework of encountering (post-)colonialism and European modernity, and then consequently 'march[ing] towards a post-historical paradigm where traditional [African] styles no longer designate the aesthetic coordinates of artistic production.'[1] There is therefore a sense of liberation and of breaking off any obligation to power—whether that power is temporal, stereotypical or colonial. This ultimately means that contemporary artists in Africa and its diaspora no longer felt bound to traditional modes of African art-making, and felt free to reject or incorporate these styles in new artworks according to their practice.
These are already good preliminary templates for further understanding African Contemporary Art. In order to better comprehend the composition and timeline of the subject, however, including where African Art sits in the world art market today, one must look back to the trains of thought, political situations and means of creative expression that preceded it and toiled the fertile ground.
Foundations in African Modernism and Negritude
The eclectic stew of African art that we encounter today was first stirred by its predecessors, the African modernists, and the literary/political contributors of Negritude. In the 1930s, Aimé Césaire, Léopold Senghor and Léon Damas founded Negritude, which is a critique and theory that addresses African identity, rebukes colonialism, and encourages the cultivation of Pan-African thought amongst individuals of African descent worldwide. The term was coined by Césaire in an article in L'Étudiant Noir (The Black Student), a magazine he had started with Senghor and Damas when they were students in Paris. The movement inspired legions of black (and non-black) authors, philosophers, theorists and artists to contemplate the positioning of the black individual, to reassess and fight for a more equal standing in the world.
In the decades that followed, artists from various African countries began to respond to such trains of thought and incorporated these values within their artworks. South African artist Ernest Mancoba was one such individual, who is today considered one of the 20th centuries greatest artists, and a forerunner of Abstract Expressionism. Mancoba defined African modernity by taking up non-traditional modes of making, rejecting figuration that could be associated with any stereotypes regarding 'African-ness' and demonstrating his art in an interpretive, rather than representational way.[2]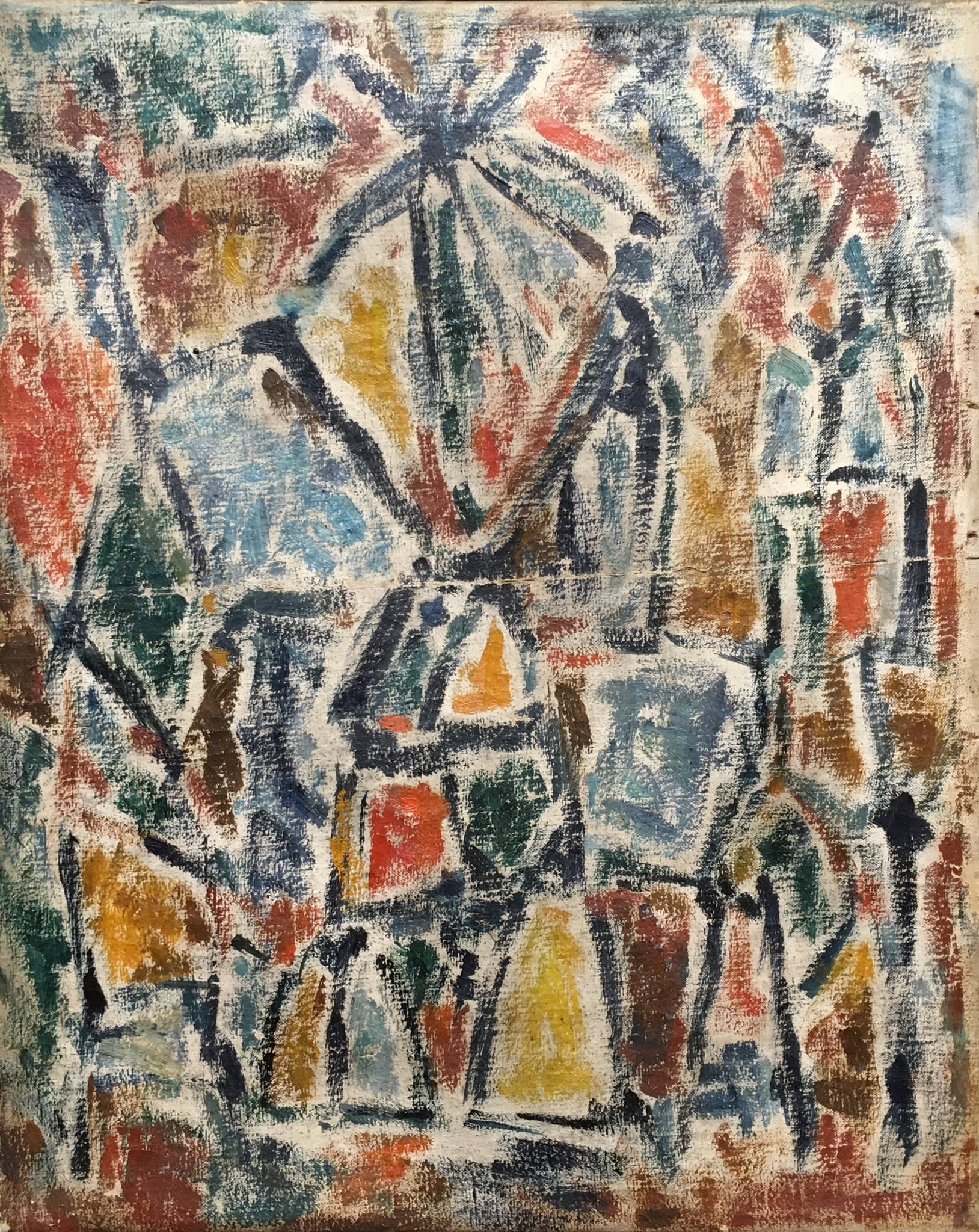 Ernest Mancoba, Untitled (3), oil on canvas,
Nigerian artist Ben Enwonwu, on the other hand, presented a different vision of African modernity through his practice. He experimented with combining traditional Nigerian art forms with modern techniques and artistic movements. His work 'Negritude' combines African and Western imagery, and is to this day one of the most expensive works of art by an African Modernist artist.
Ben Enwonwu, Tutu (1974), oil on canvas, 97 x 66.5 cm

Ibrahim El Salahi, a Sudanese artist most known for leading the 'Khartoum School' in the 1960s, is another crucial modern artist. The Khartoum School is known for its contributions to furthering the African modernist and pan-African movement.[3] El Salahi's works are mostly abstract or geometric, therefore defying any particular stereotypical definition of African style or sensibility.
Ibrahim El Salahoui, The Mosque (1964), oil on canvas 30.7 x 46 cm
These artists are considered three of many significant contributors to African modern art. However, their fight was against racism and colonial powers, towards a respected and pluralistic African identity and vision. With the decolonisation of most African countries having been achieved by the 1980s, artists began to shift their focus and means of expression. A new wave of African art was developing.
Post-colonial artistic expression (1980s onwards)
After the independence of most African countries from colonial rule, freedom of expression exploded on the continent. New art forms appeared, and African artists addressed new themes and concerns as they became more connected and globalised. Abstract art was usurped by conceptual art, which often involved using materials on-hand in order to make statements about the effects of globalisation upon Africa. Indeed, Bronwen Evans, the author of the Contemporary African Art website, conjectures that the sheer volume of African art produced from recycled and found objects (nowhere else on the planet has produced such an output of artworks in this media), has resulted in an art form and expression completely unique to Africa—the artists 'bequeathed a new art context to the world.'
Where is Contemporary African Art today?
Today, the African art market is more lucrative and thriving than ever, although total sales still amount to a fraction of the global market. The promising prospect, however, is that African art sales are continuing to see an increase, and there are more African art-centric events, fairs and exhibitions now than ever before.
Several important exhibitions have been instrumental in promoting the work of African artists throughout the Western world. 'Seven Stories about Modern Art in Africa' at the Whitechapel Gallery in 1995, for example, aimed to portray the scope of African modern art history through the works of 60 artists, and was curated by five African curators. 'Looking Both Ways: Art of Contemporary African Diaspora' (Museum of African Art, New York, 2004), 'Fiction of Authenticity: Contemporary African Abroad' (Contemporary Art Museum, St Louis, 2003) and 'The Short Century: Independence and Liberation Movements in Africa, 1945-1994' (Museum Villa Stuck, Munich) are also significant exhibitions that furthered education about African modern and contemporary art in the Western hemisphere.
More importantly, however, events and exhibitions in Africa itself are attracting global attention. The Dakaar Biennale (Dak'Art), for example, is a major contemporary art exhibition that has been running since 1996. The Joburg Art Fair has been running in Johannesburg since 2008. Recently, in 2018, the opening of the Museum of African Contemporary Art Al Maaden (MACAAL) in Morocco, paired with the trendy 1-54 Contemporary African Art Fair's first appearance in Marrakech, meant that significant art market activity is being generated and accelerated on the continent. We are reaching a point in history where blockbuster exhibitions in major Western museums are no longer required to give Africa a platform to speak. African art can make its own stance and assert its presence. As African countries get wealthier, invest into more art, and continue to build crucial museums and cultural institutions at home, the world can expect to see an even more distinguished crop of artists arise. The African art market may be but a blip in the market now, but we've to see incredible growth yet.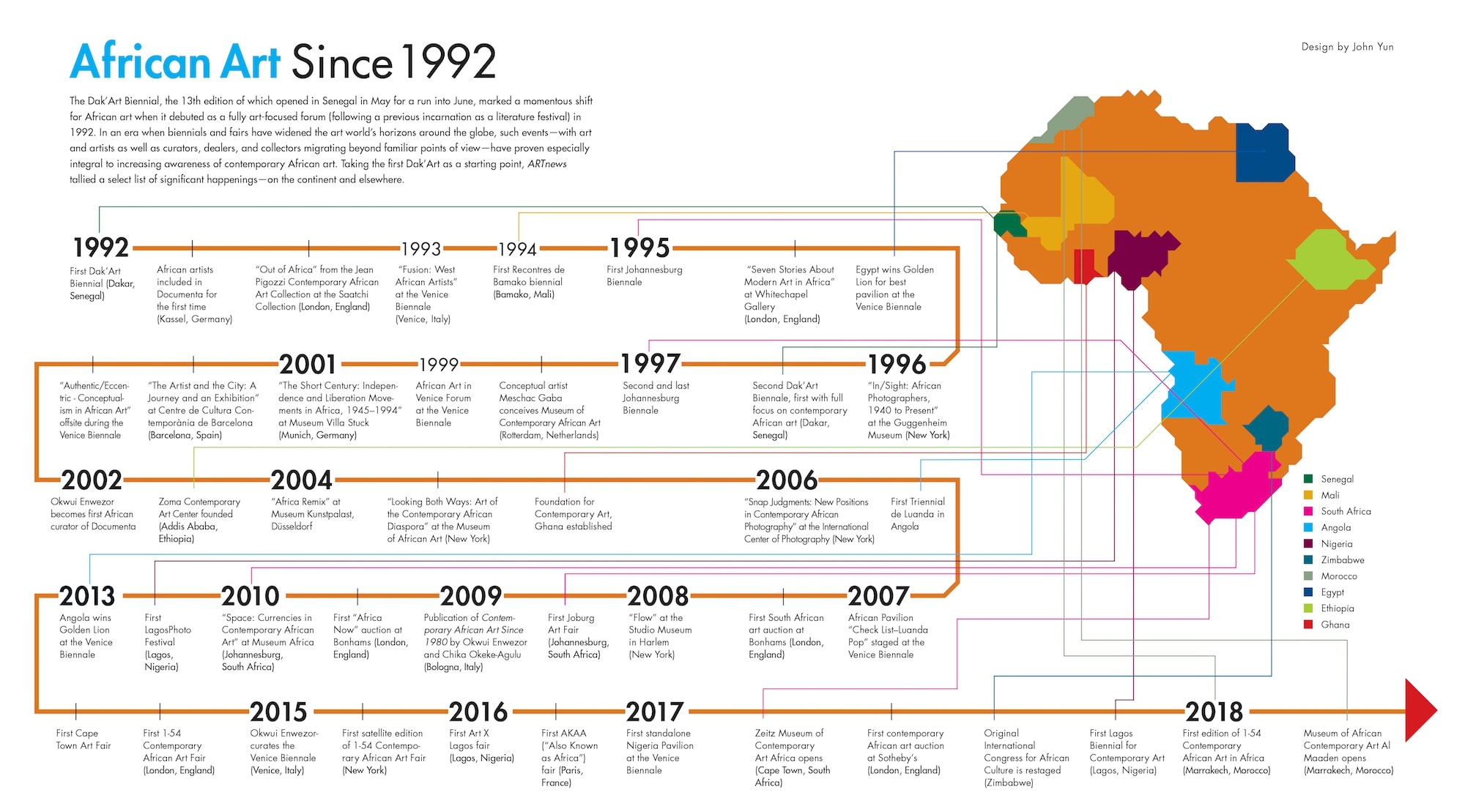 These days, the plurality of African art is breathtaking. African artists on the continent and black artists that live in other countries all present a different voice and vision of blackness, African identity, and positioning in a contemporary climate that is at once remarkably connected and yet increasingly nationalistic and divided in some aspects. Each artist's practice thus comes together as pieces of a mosaic—each reflect a different sunbeam and present a different colour or shape. Yet, once pieced together, a holistic vision is displayed: a diverse, impressive presentation of a shared landmass and historical allegiance allegiance—a creative force to be reckoned with.
---
[1] Enzewor, Okwui, and Chika Okeke-Agulu. Contemporary African Art since 1980. Milano: Damiani, 2009.
[2] 'African Modernists.' Contemporary African Art, n.d. https://www.contemporary-african-art.com/african-modernists.html.