Lubaina Himid CBE (b.1954) is both an artist and a curator. She has made her mark in the art world by furthering the Black Arts Movement, of which she was one of the primary members in the United Kingdom in the 1980s. She particularly centres her work around black female artists, both in terms of subject matter for her own art, and assisting the careers of fellow women artists.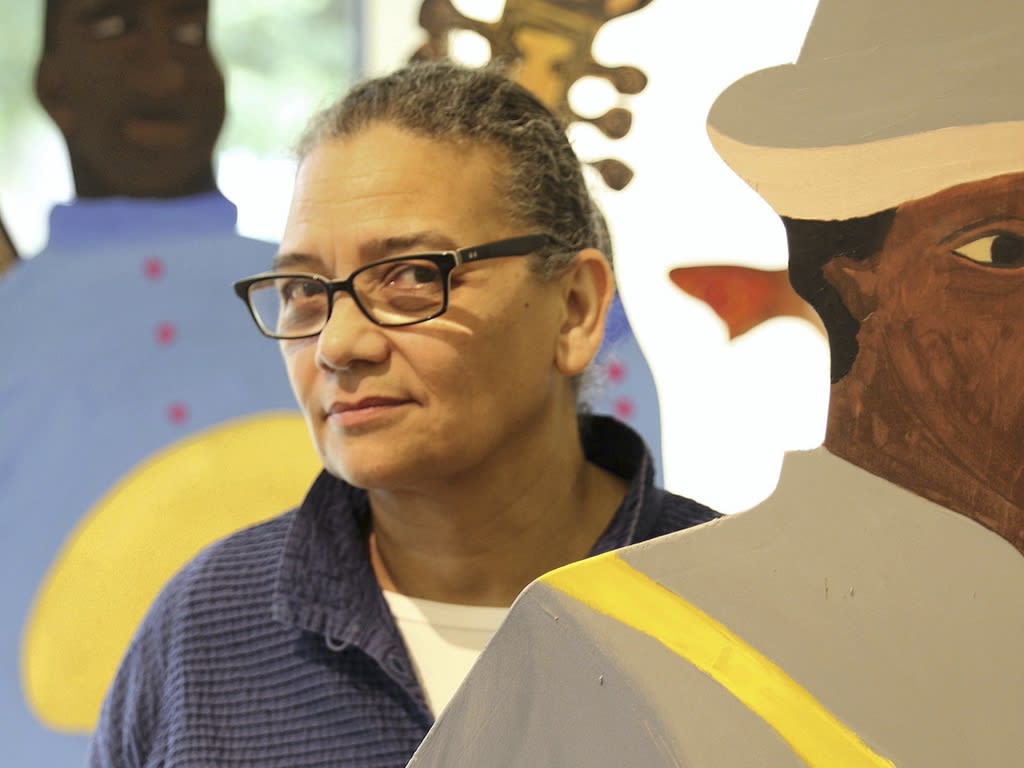 Lubaina Himid CBE
Himid was born in Zanzibar, Tanzania and moved to the United Kingdom with her mother when she was only four months old. Her mother was a textile artist, and Himid has often commented that the way her mother would observe colour, shape and texture in fabrics informed the way she perceived and looked upon the world herself. This way of seeing consequently results in her vibrant artworks.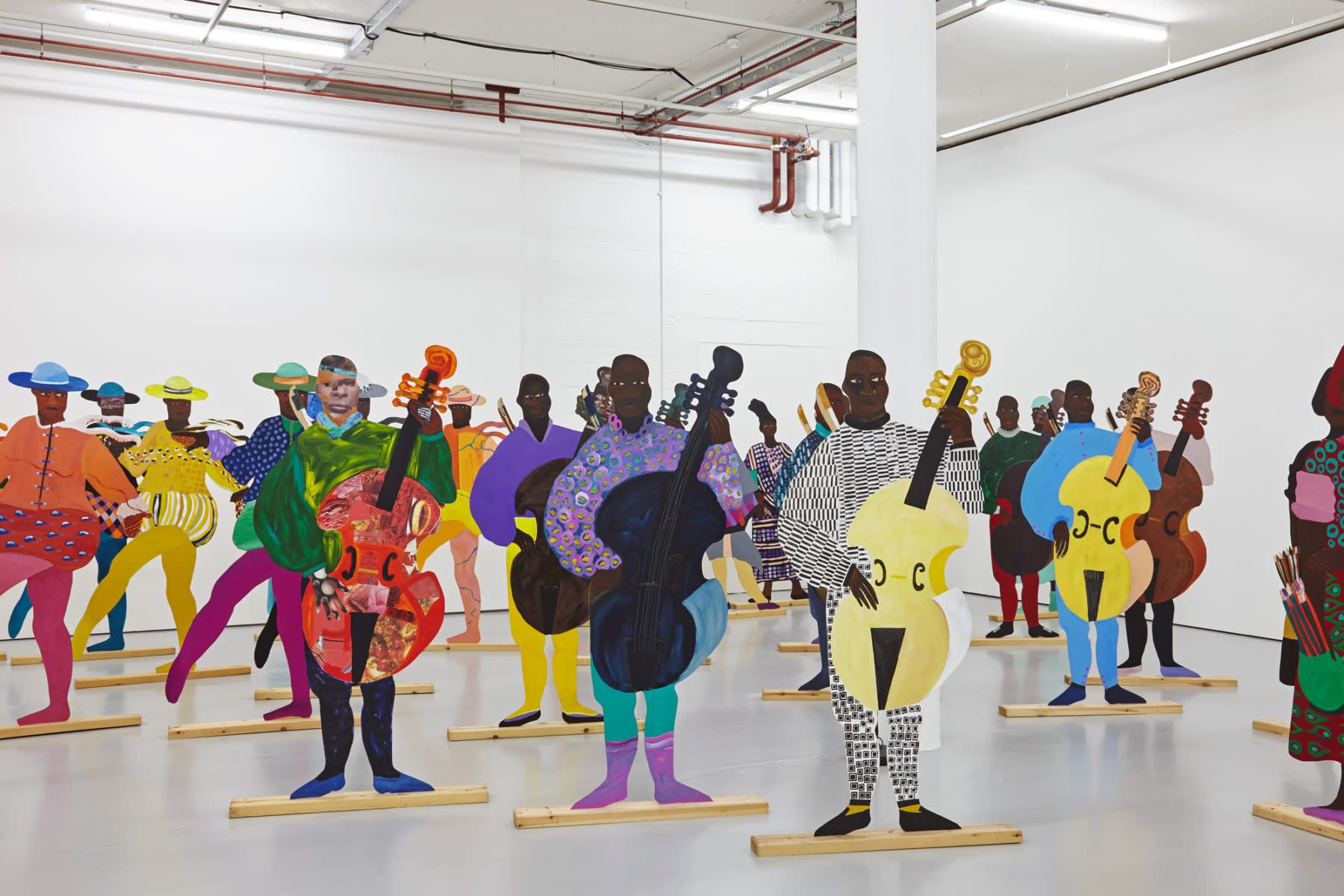 Lubaina Himid CBE, Navigation Charts Spike Island (2017)
Himid studied Theatre Design at Wimbledon College of art, and completed an MA in Cultural History at the Royal College of Art. This combination of practical making and theoretical and historical academic upbringing would become the foundations of her career, particularly in the way she has a foot in both the fine art and curatorial worlds. Indeed, Himid has curated some noteworthy exhibitions that have propagated the work of various black artists, especially women, including 'The Thin Black Line' at the ICA, London in 1985, 'Five Black Women' at the Africa Centre (1983) and 'Black Women Time Now' at the Battersea Art Centre (1983-4).

Lubaina Himid CBE, Thin Black Line(s) 1985
In her own practice, Himid addresses black identity and the black individual's relationship to the past, present, and globalisation at large. The Carrot Piece (1985) is one of Himid's more well-known pieces that was exhibited at 'The Thin Black Line' exhibition. It depicts a white man waving a carrot before a black woman, trying to tempt her, however the woman walks away—she has everything she needs in her arms. About the work, Himid remarked, 'we as black women understood how we were being patronised ... to be cajoled and distracted by silly games and pointless offers. We understood, but we knew what sustained us… and what we really needed to make a positive cultural contribution: self-belief, inherited wisdom, education and love.'
Lubaina Himid CBE, The Carrot Piece (1985), acrylic paint on plywood, wood and cardboard, and string | © Tate
In 2010, Himid was appointed a Member of the British Empire (MBE) for her contribution towards black women's art. This was followed by appointment as a CBE in 2018 for further contributions to the arts in both her practice and curatorial career. In 2017, she won the prestigious Turner Prize. She was the oldest person to win the award, and the only black woman. Rewriting the history of art is Himid's aim, and it is through these record-breaking achievements and salient exhibitions that she achieves this. Above all, she is not only changing perspectives by exposing her own story, but by 'telling stories of the black experience that are both everyday and extraordinary.'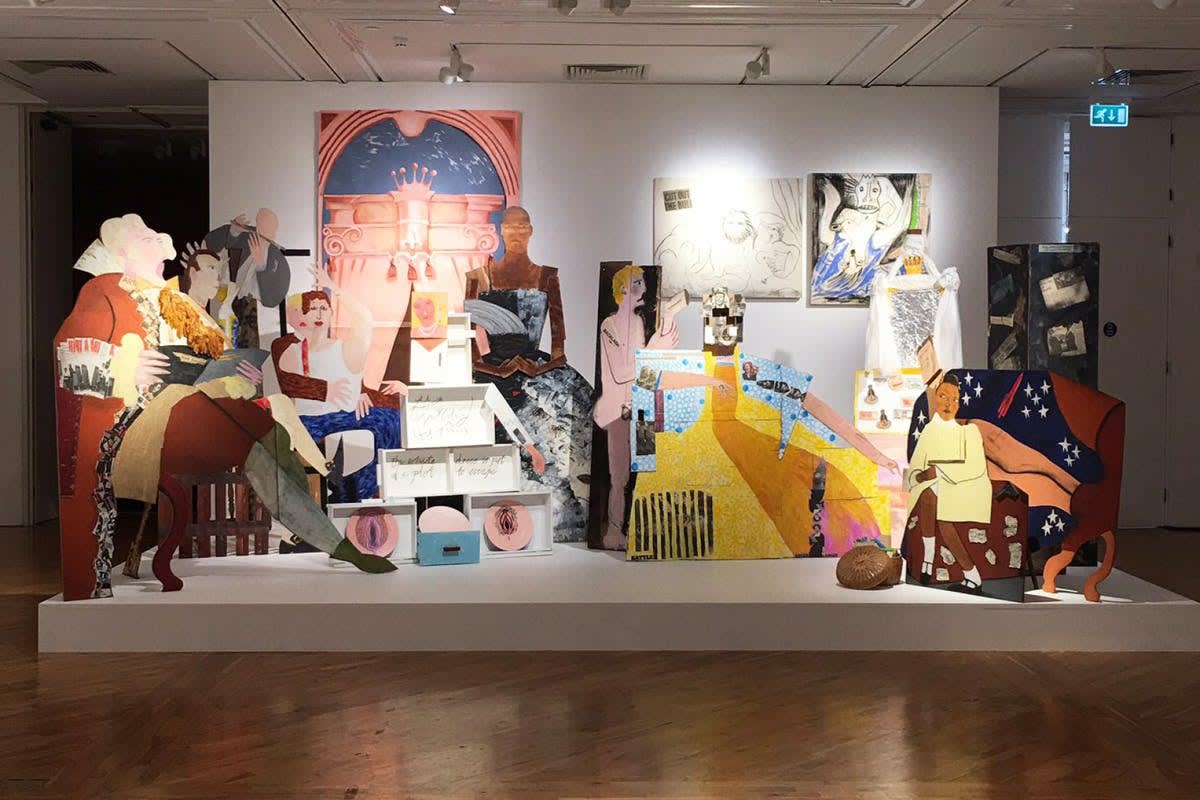 Lubaina Himid CBE, A Fashionable Marriage (1987), winner of Turner Prize 2017, inspired by William Hogarth's Marriage a la Mode 4 (at The National Gallery - London)
Lubaina Himid was born in 1954, and now works at the as a professor of contemporary art at the University of Central Lancashire.