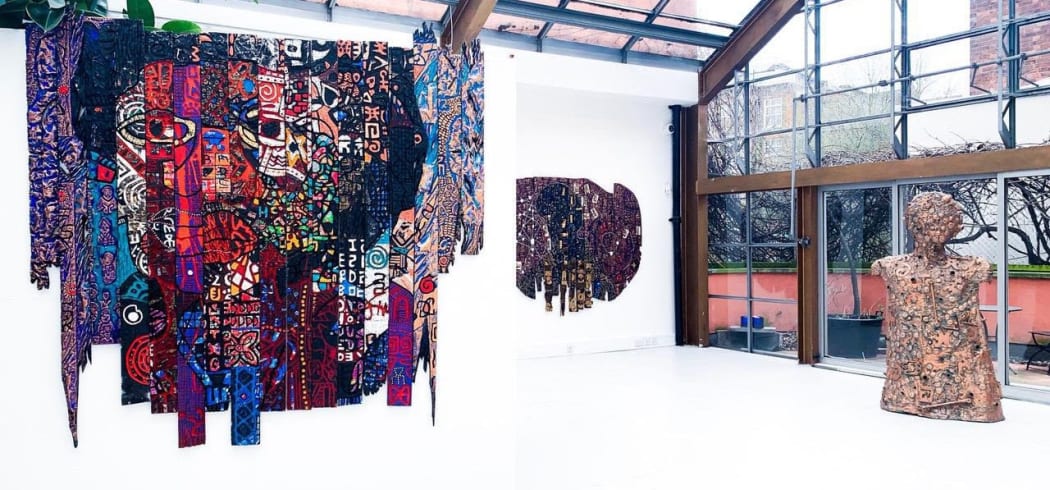 In the UK, everyone is excited to return to galleries this April as the lockdown rules are lifted! Whether you missed these shows in December, want to visit the new exhibitions of the season, or just want to catch up with what's still online, we've got you covered! Check out our list of the not-to-miss Contemporary African Art exhibitions in London.
Baudouin Mouanda 'The Ghosts of Congo' - on view until May 4th, 2021 - Sulger Buel Gallery (online)
Working with photography since 1993, Baudouin Mouanda defines himself as a "photographer of life", and his peculiar way of depicting reality is clear in the two photography series presented in this exhibition- "Seasonal Skies'' and "Ghosts of the Corniche". In these works, the artist doesn't approach photography conventionally, but instead considers the historical side of his country and the aftermath of the repeated wars that have grieved the Congo. If you want to know more about the latest trends in contemporary African photography, check out our related article.
© Baudouin Mouanda 'Congolese Dream IV' (2020), Photography printed on fine art 360g Baryta paper, 60 x 90 cm, ED.5+2AP
Gonçalo Mabunda 'Night Citizen' - on view until April 23ʳᵈ, 2021 - Jack Bell Gallery (online)
This exhibition presents a new body of work by the sculptor Gonçalo Mabunda. The artworks are made by proposing AK-47s, rocket launchers, pistols, and other objects of destruction. By giving them an anthropomorphic form, Mabunda draws on the collective memory of his country, Mozambique, which has only recently emerged from a long and terrible civil war.
© Goncalo Mabunda 'The Throne of the Living', 2020, Mixed media, Dims tbc
Rachid Koraïchi 'Tears that Taste of the Sea' - on view from April 13ᵗʰ, to June 12ᵗʰ, 2021 - October Gallery
Rachid Koraïchi works across an impressive range of materials which include ceramics, textiles, bronze, Corten steel, alabaster, print, etching on paper, and paint on canvas. He is influenced by a fascination with signs: symbols, glyphs, and ciphers drawn from a variety of languages and cultures. The body of works presented in 'Tears that Taste of the Sea' were conceived during the last year of the global pandemic crisis and will include his blue and white ceramic vases from the Lachrymatoires Bleuesseries, paintings from the Handkerchiefs of Hope series, steel sculptures representing vigilant guardian figures, and one large etching titled Le Jardin d'Afrique.
© Rachid Koraïchi, from the series Lachrymatoires Bleues - Blue Lachrymatory Vases, 2020. Ceramic with cobalt oxide glaze, 51 x 32 x 32 cm each
Yinka Shonibare CBE 'African Spirits of Modernism' - on view from June 4ᵗʰ, to July 31ˢᵗ, 2021 - Stephen Friedman Gallery
The British-Nigerian artist Yinka Shonibare, was born in London, but moved to Nigeria when he was three years old. The straddling of these two cultural identities had a profound influence on his work, which often engages with themes of identity, globalisation, and post-colonisation. His new show at Stephen Friedman Gallery will focus on themes of human hybridity and transformation, comparing icons of European Classical antiquity with African artefacts from Picasso's own collection. The exhibition is comprised of colourful and polymorphous quilts, three hand-painted sculptures depicting mythological creatures, and a new series of African masks that explores Shonibare's identity as a "post-colonial hybrid".
© from Yinka Shonibare CBE 'African Spirits of Modernism' at Stephen Friedman Gallery
'Tête-à-Têtes part 2'- on view from April 30ᵗʰ 2021 - David Hill Gallery
David Hill Gallery presents the second part of 'Tête-à-Têtes – West African Portraiture, from Independence into the 21st Century': this group show will bring together the work of some of the most influential and important African photographers celebrating the emergence of a new identity and style in post-colonial West Africa.
© Rachidi Bissiriou, untitled, 1978
Gerald Chukwuma 'Eclipse of the Scrolls' - on view until May 8ᵗʰ, 2021 - Kristin Hjellegjerde Gallery, London Bridge
In this body of works presented at Kristin Hjellegjerde Gallery, Gerald Chukwuma plays with intricate patterns, layers, and colours. Shapes and themes compete to win the viewer's attention: ancient symbols are juxtaposed next to contemporary and historic references. This seems to be a metaphor for the turbulence of history, particularly in Nigeria: while beautiful, these works remind us that only shared truths live on, especially when so many facts are buried with their victims.
© Gerald Chukwuma: The Constellation of a Naked Sky, 2021
Zanele Muholi – on view until 31 May 2021 - Tate Modern
Tate Modern presents the first major UK survey of the Black, queer, non-binary (who uses the pronouns they/them/their) visual activist and acclaimed photographer, Zanele Muholi. The exhibition presents a vast selection of works covering the artist's entire career: From their early series Only Half the Picture (2003-6), in which Muholi captures moments of love and intimacy as well as intense images alluding to traumatic events, to Faces and Phases (2006) where the depicted subjects look directly into the camera lens, mirroring the viewer's gaze, to the more recent series Somnyama Ngonyama (2017) – translated as 'Hail the Dark Lioness' –where Muholi use self-portraiture as a tool to narrate themes of labour, racism, Eurocentrism, and sexual politics.​
Zanele Muholi Qiniso, The Sails, Durban 2019 © Zanele Muholi Courtesy of the Artist and Stevenson, Cape Town/Johannesburg and Yancey Richardson, New York
Whether you're looking for something more daring and related to social issues such as the works of Zanele Muholi, or if you're looking for something more traditional and aesthetical as Rachid Koraïchi's ceramics, sculptures, and paintings, or something related to cultural identities and postcolonialism like Shonibare's exhibition, London will offer something for every taste this Spring. Will you visit some of these shows? Let us know in the comments below!