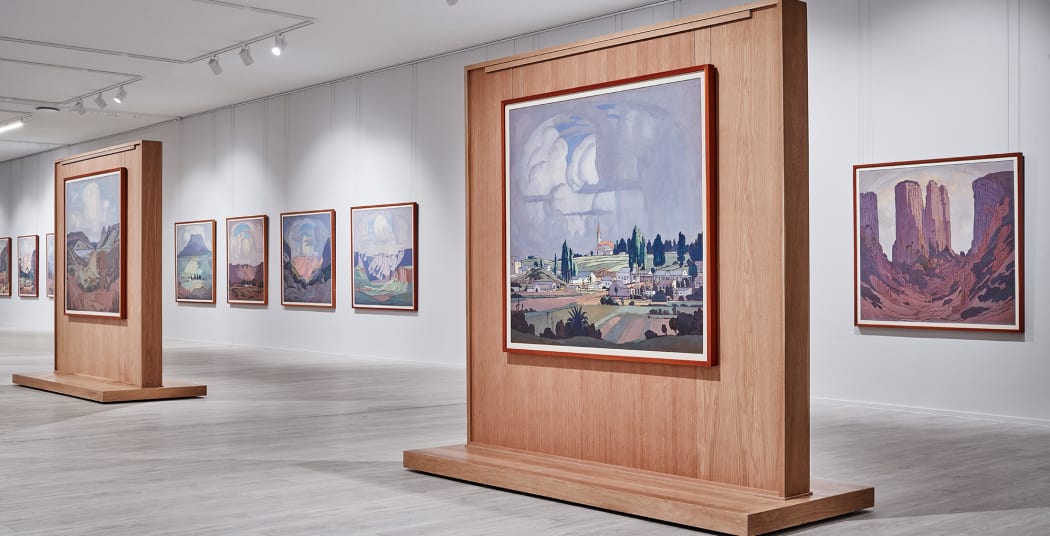 To navigate the history of art of a complex, multifaceted and multicultural continent as Africa, especially if you just got passionate about it, can seem like an overwhelming maze. But no worries, we are here to help you. Follow our series of "Artists you should know or watch" in each country, and you could soon almost sound like an expert!
South Africa has always been one of the continent's most established art markets. Nowadays, the country continuously flourishes with emerging artists and has a lively scene for galleries, exhibitions spaces, art fairs and auction houses. But what about its artistic roots? From Colonial art, where white South African artists portrayed what was seen as 'the New World', spanning throughout the 20th Century and the impact of African forms, and finally getting to the emerging of black artists, South African history of art is surely complex and multilayered, as the country itself.
Irma Stern (1894 - 1966) was born in the Transvaal of Jewish-German parents and she's largely considered as one of the first painters who introduced Expressionism to South Africa. She is best known for her paintings, but also worked as a sculptor and ceramicist. Due to her dual heritage, her art is rooted both in the European Jewish tradition and is enriched by her experiences in South Africa. She spent most of her youth traveling from place to place and several of her works were inspired by these travels. Stern developed a modern, expressionist style painting portraits rendered in saturated colors often depicting Black African people as subjects. These works challenged the conventional idea of beauty of those times and, at first, her style was mainly misunderstood by the conservative, shockable public of Cape Town - one critic wrote a review titled "The art of Miss Irma Stern, ugliness as a cult." She then gradually won acceptance and eventually acclaim.
Irma Stern in her studio at The Firs, Cape Town, in 1936. National Library of South Africa
The artist has a collection and trust to her name: the Irma Stern Trust Collection, housed in 'The Firs', Chapel Road, Rosebank, Cape Town, where she lived and worked from 1928 until her death. The trust's permanent collection contains her own works with the addition of Stern's personal collection of artefacts that she gathered during her travels around Africa and Europe.
Nowadays her works are to be found in many galleries and public collections in South Africa and abroad. In recent years, Stern's works have repeatedly set records for South African artists at auction: infact, one of the highest prices ever achieved for a South African painting is Stern's 'Arab Priest' (1945), at R52,303,600 (around 3,800,000 USD) in 2018 at Bonhams London.
Irma Stern, Arab in Black (1939). Photo: courtesy of Bonhams
William Kentridge (b. 1955) is one of the most prominent South African artists and he is best known for his prints, drawings, and animated films. He attended the University of the Witwatersrand, Johannesburg (1973-76), Johannesburg Art Foundation (1976-78), and studied mime and theater at L'École Internationale de Théâtre Jacques Lecoq, Paris (1981-82). Influenced by the history of South Africa, and having witnessed it first-hand, Kentridge's art reflects on the years before and after Apartheid: through his oeuvre he narrates political events through powerful allegories.
William Kentridge The hope in the charcoal cloud 2014 (detail) Collection of Naomi Milgrom AO © William Kentridge
He often uses inexpensive, simple materials such as charcoal, pastels, and paper, drawing of human figures and landscapes in an expressionist manner. Representing violence and trauma in his pieces, he also tries to depict the processes of commemoration and forgetting. In his 2018 conversation with Ocula Magazine, the artist said that, for him, a close relationship exists between the human body and the landscape, "both in the sense of the work that is done on the landscape, from its defacement and construction—a bit like the changes that can be affected on a person." In 2019 Zeitz MOCAA hosted his major retrospective, 'Why Should I Hesitate: Putting Drawings to Work' curated by Azu Nwagbogu.
William Kentridge. © Marc Shoul, courtesy Salzburg.
Nelson Makamo (b. 1982) studied at Artist Proof Studios in Johannesburg and received the Vanguard award from the Harvard African Students Association, Harvard, in 2019. Makamo mainly works with charcoal, acrylic, water colours, mono-types, silk screen and oil paintings. His works often depict striking close-up portraits of children from his birthplace, Limpopo, the northernmost province of South Africa: he believes that "they embody the peace and harmony we all strive for in life, the search for eternal joy lies in the child within us all, we are just so consumed with worldly things that we forget the simplicity of life through a child's perspective."
Nelson Makamo, "We are Angels with Dirty Faces," © Andile Buka
In 2019 TIME magazine's cover featured, for their "Optimists issue", one of Makamo's artworks. The theme of optimism is a central tenet in Makamo's oeuvre - his young models, he believes, are just beginning to see the beauty in the world. He commented on the choice saying: "Later on in life we sometimes forget there's beauty in being a human being, but children are just discovering that."
In the same year, he was interviewed by Trevor Noah during his Daily Show and Oprah Winfrey bought one of his artworks to hang in her home. In 2020 his work was displayed during Christie's exhibition 'SAY IT LOUD (I'm Black and I'm Proud)', an online selling exhibition celebrating 22 young, emerging and mid-career artists from across Africa and its diaspora curated by Destinee Ross-Sutton.
Nelson Makamo works in his studio in Johannesburg. Matsela Moshokoa for TIME
Gerard Sekoto (1913-1993), artist and musician, is widely regarded as one of the fathers of South Africa's modern art and as a pioneer for urban black art and social realism. Sekoto was born at the Lutheran Mission Station in Botshabelo and thanks to his father, a missionary, he was introduced to music at an early age. He trained as a school teacher at the Botshabelo Training Institute in 1928. Later on he decided to launch his professional art career, as a self- taught artist, in 1938. Sekoto then moved to Sophiatown, Johannesburg, in 1939 where he started painting urban pictures of the city's everyday life using bold colors and an expressionist style.
Gerard Sekoto photographed while painting one of his portraits. Image: Retrieved from Revisions.
In Sekoto works the colours are often pastel tones, juxtaposed to bright primary colours that highlight the former. The brush movements and the way the paint is applied can be compared to the Post Impressionist painters' style with loose brush strokes.
In 1940 the Johannesburg Art Gallery purchased one of his pictures: 'Yellow Houses, Sophiatown' (1940); it was the first painting by a black South African artist to be acquired by a South African art institution. In 1947 he left South Africa to live in Paris, where he stayed until his death in 1993. His work is in major public collections including the Smithsonian's National Museum of African Art in Washington D.C. and Iziko South African National Gallery in Cape Town.
© Gerard Sekoto 'Yellow Houses, Sophiatown' (1940) - Johannesburg Art Gallery
Marlene Dumas was born in 1953 in Cape Town, South Africa. She gained a BA in Visual Arts at Cape Town University, then moved and completed her studies in Haarlem, in the Netherlands. Since 1976 she has lived and worked in Amsterdam and is one of Holland's most widely acclaimed artists: in 1995 she represented the country during the 46th Venice Biennale. One of the main inspirations for her paintings, collages, drawings, prints and installations are her personal memories; the subject of her pieces span from newborn babies, models, strippers and figures from popular culture. Even though her artworks might be categorised as portraits, this is not completely true: in fact the people depicted, rather than representing an actual person, represent an emotion or a state of mind.
© Marlene Dumas. Het Kwaad is Banaal (Evil is Banal). 1984
Dumas has a global reputation in the auction market: in February 2005, at Christie's, London, her work 'The Teacher (sub a)' (1978) sold for GBP 1.800.000 (around 2.500,000 USD). This made Dumas, at the time, the world's most expensive living female artist. She then bettered her own record with the sale of 'The Visitor' (1995), auctioned for GBP 3,177,250 at Sotheby's, London, in 2008, and of 'Magdalena (Underwear And Bedtime Stories)' (1995) for USD 3,615,000 sold at Sotheby's, New York, in 2017.
Marlene Dumas in front of the wall of works in progress in her Amsterdam studio. Credit Jackie Nickerson
Jacobus Hendrik Pierneef (1886-1957) is certainly one of the most iconic South African landscape painters and his modernist and geometric style revolutionized the country's art. Born in Pretoria from Dutch parents, in 1901 Pierneef moved back with the family to the Netherlands because of the outbreak of the Second Boer War in South Africa. In Europe, the young Pierneef had the chance to admire the artworks of the old masters, giving him inspiration and a lasting impression on his creative sensibility. Back in Pretoria at the age of 18 Pierneef showed his works in a group exhibition for the first time. The show, including works by Anton van Wouw and Hugo Naude, was visited by various well known personalities.
© Jacobus Hendrik Pierneef 'An Extensive View of Farmlands' (1926)
The artist developed a visual language based on the character of the land and the quality of light to be found in Africa, reducing and simplifying the landscapes to geometric structures, with flat planes, lines and colour representing nature's harmony and order. Pierneef's work can be seen worldwide in many private, corporate and public collections, including the Africana Museum, Durban Art Gallery, Johannesburg Art Gallery, Nelson Mandela Metropolitan Art Museum, Pierneef Museum and the Pretoria Art Gallery.
Esther Mahlangu (b.1935) is a South African artist known for her iconic bold large-scale paintings referencing her Ndebele heritage. Mahlangu was born on a farm outside Middleburg, in what is now the Mpumalanga province. When she was just 10 years old she learned traditional Ndebele wall painting and beadwork: among Ndebele people artistic heritage is handed down from mother to daughter; as a young woman reaches puberty she withdraws from male society for three months and is taught the ceremonial patterns. Even though she now switched natural pigments with vinyl ones, Mahlangu keeps on using wispy chicken feathers to apply the paint into geometric patterns in bright colors, outlined in stark black.
She draws mainly freehand, without first measuring or sketching and, even though Mahlangu work can seem solely abstract, her compositions are actually built upon a highly inventive system of signs and symbols.
Esther Mahlangu painted two mural-scale works, which will serve as a gateway to the Virginia Museum of Fine Arts' African Art Gallery. © David Stover /Virginia Museum of Fine Arts
In 1986, researchers from Paris who were travelling the world to document traditional arts saw the paintings on Mahlangu's house and invited her to create murals for an exhibition of international contemporary art, the Magiciens de la Terre ('Magicians of the World'). She spent two months in France painting a house in front of thousands of spectators, and decorating a wall inside the Angoulême Museum of Fine Arts.
In 1991, to mark the end of apartheid, BMW invited Esther Mahlangu to make a work of art for their Art Car project.
Dr Esther Mahlangu, "Ndebele Abstract", 2019. Acrylic on 4 Stretched Canvases, 360 x 240 cm. Courtesy of Melrose Gallery.
Esther Mahlangu's 1991 BMW Art Car. Photo courtesy of BMW.
Even though she is now 85 years old, the artist is now more than ever active in the contemporary scene and participated in many collaborations and projects in recent years. In 2018 the artist was conferred with an honorary doctorate (Philosophiae Doctor honoris causa) by the University of Johannesburg. In 2020, in a collaboration that celebrates the heritage of South Africa, Carol Bouwer Bags and Esther Mahlangu have come together to unveil 50 custom Carol Bouwer handbags. In 2020 she became the first South African to be commissioned to paint an artwork for a Rolls-Royce Phantom.