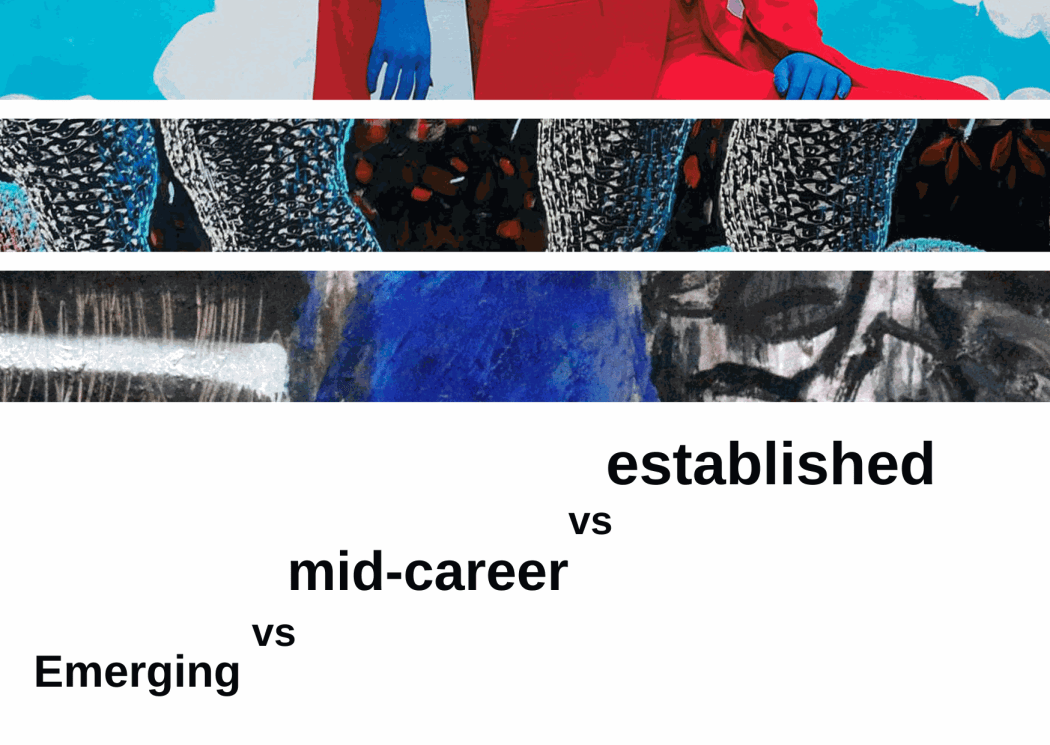 Building a strong art collection requires an understanding of the art ecosystem as well as the market before deciding on a strategy to build your own. Have you ever heard experts or gallerists referring to artists as emerging, mid-career or established and wondered what it all means? Are there specific criteria to differentiate them or is it all just subjective? And how does that influence the price or desirability of an artwork you consider buying?
Here we touch on the differences between the three main stages of an artist's career and their work, and how understanding this is useful in establishing value for collectors. These categories — emerging, mid-career and established artists — are used regularly by artists, gallerists and critics but these delineations can be a matter of contention.
The contention arises from the fact that when compared to other careers, art careers often don't have clear stepping stones that guide artists from one rung of the ladder up to the next. Compounded with the art world's fascination with all that is new and that some artists and genres such as street art have historically defied definition — these categories and labels can prove to be challenging. However, for some artists, gallerists and collectors the differences between artists' career stages can also prove to be rather helpful when examining art. So what are these differences and what use are they to collectors?
Faith47 @ Johannesburg, South Africa


Let's start by discussing why these labels are useful. First, they allow us to understand what makes an artwork valuable. Then, these categories help us understand an artist's career development. Lastly, understanding these labels allows us access to art.
Emerging
Emerging artists are often described as young artists or recent graduates but this label isn't necessarily synonymous with being younger or inexperienced. Rather it describes an artist who is at the beginning of their career — irrespective of their age. The term describes an artist who has exhibited in a handful of shows and caught the eye of professionals such as gallerists, curators or critics. This artist is in the process of building recognition by consistent exhibition participation, securing gallery representation and garnering reviews from critics or features in publication. Some artists may — by choice or otherwise — remain in this category for the duration of their careers.
Blue Boy - Impressionist sky by Krisjan Rossouw. Image courtesy of the artist
For collectors investing in emerging artists is appealing because of affordability and accessibility of the entry-level pricing. Supporting emerging artists offers collectors a chance to closely observe the progression of an artist's career and follow milestones with the potential of a sizable result at a major auction house further down the line. The low barriers to being an entry level collector make emerging art incredibly appealing — that said there is some risk involved. Your work may catapult in value, or it may not, with no precedent or market trends to observe for emerging artists, it's hard to say.
When speaking about collecting emerging art it's become quite popular to quote the anecdote of "proletariat collectors" Herbert and Dorothy Vogel who famously used their modest salaries to only buy emerging art. Today, their collection is one of the most significant post-60s collections in the United States. The lesson here is that this couple bought what they loved, and what they could afford over time. In turn their collection developed cultural significance and value.
Herbert and Dorothy Vogel surrounded by art in their New York City apartment. Image courtesy Fineline Media.
Mid-career
Defining an artist as mid-career speaks to those who have already established a sizable audience, a consistent body of work and defining style over a period of a number of years. The difference between emerging and mid-career artists is established by looking at the recognition their artwork has received from a local or national perspective through the presentation of their work to the public and in publications. To establish this category a collector can see that this particular artist has a past, ongoing present and a future in their art career. What is interesting is that despite age or experience, an emerging artist can be quickly propelled into this category.
Untitled 26 by Yéanzi. Image courtesy of the artist
For a collector, these artists have a solid body of work that allows you to monitor their progress both in terms of artistic development and growth on the market. Tapping into a mid-career at the right time could result in a rapid value interest as the artist receives greater recognition. This category is perhaps better suited to a collector who is slightly risk averse with a moderate amount to spend on collecting. You can clearly observe trends, establish whether the artist has a future and make an informed decision. Artists who fall in this category include Kudzanai Violet Hwami, Bonolo Kavula, and Pavillon54 artist Saint-Etienne Yéanzi.
Bonolo Kavula, Lewatle at Norval Foundation, 2022. © Michael Hall
Established
Often referred to as 'blue-chip' artists, at this point this artist has established an extensive body of work and is also widely recognised due to the scope of their representation in public exhibitions and publications. This artist has an advanced career due to their work appearing in respected and well-known institutions as well as significant collections. Being absorbed into institutions and collections means the artists will enjoy historical significance and a place in cultural discourse. Contemporary African artists such as Julie Mehretu and Wangechi Mutu fit neatly into this category.
Wangechi Mutu, 'You are my sunshine'. Image courtesy of the artist
These works traditionally retain their value and often sell for astounding prices in galleries and at auction. These works are considered to be less volatile in the art market as their values appreciate reliably so perhaps a collector with a larger pocket and no desire to take large risks is suited here.
While the distinctions are helpful, not all artists fit into them tidily. Some artists bypass levels or change status rapidly or posthumously. Plus, buying art solely based on this kind of categorisation will only be fractionally rewarding — if collectors combine their desire to create an alternative asset class with a love of art, the process of collecting will develop into lifelong devotion whose payouts far exceed finances.
So now that you know, what kind of collector do you think you are or will be and what type of artists are you more likely to collect?