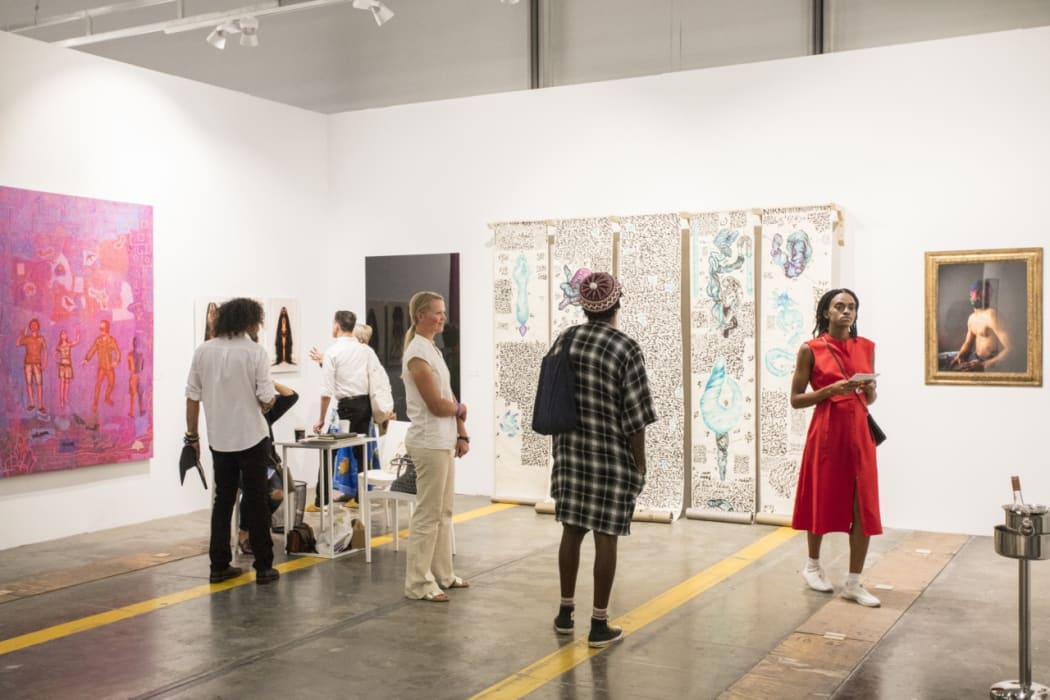 A new year welcomes new trends in the art world. While it is difficult to predict the future of any industry, specific movements will transform the art world this year. After years of uncertainty due to the pandemic, the year ahead will face some challenges with the art market set to contract. Even so, there will continue to be exciting developments. In this article, we will review the significant trends in style and collector behavior set to rise in the art world in 2023. As momentum begins to build on what is surely another exciting year, here are our predictions for the four trends that will shape 2023, and what you should watch out for in the coming year.
Move towards abstraction.
Though it is not uncommon to hear the declaration that painting within contemporary art is dead, it continues to thrive, albeit in various forms. During the pandemic, portraiture reigned supreme, and figuration was everywhere. This year, the tide is turning, and the art world is trending towards abstraction in painting. Whitechapel Gallery will retrospectively survey the rich history of women artists working in the realm of abstract expressionism in the exhibition Action, Gesture, Paint. Emerging artists such as Yolanda Mazwana and Mongezi Nchapayi have been steadily building their following and collectors keen on abstraction could observe their work.
Mongezi Ncaphayi, 'Turquoise Memories', 2021, Courtesy of SMAC
Just as there is a vast spectrum of figuration, abstraction is no different. Whether you like the flow and tranquility of Fatima Tayob Moosa's earth-inspired abstracts or the bold works of Yapi Roger and Kofi Agorsor, Pavillon 54 has options for you to view.
Fatima Tayob Moosa, Flight of Whispers (2022), Oil on canvas.
Women getting the recognition they deserve.
2023 promises to offer a sensational group of groundbreaking art exhibitions by women artists elevating them to their well-deserved status. Despite playing active roles and pioneering — according to the Burns Halperin Report, which seeks to track representation in museums and the art market, women artists have been undervalued in the art market.
Graphic by Nehema Kariuki. Courtesy of the Burns Halperin Report 2022
Artists Carrie Mae Weems and Marina Abramović will both have their first major UK exhibition dedicated to the artists at the Barbican Art Gallery and the Royal Academy of the Arts respectively. Last year concluded with Helena Uamambe winning the Baloise Art Prize, the biggest art award associated with the Swiss edition of the Art Basel art fair, Bronwyn Katz was selected to be El Anatsui's mentee in the Rolex Mentor and Protégé Arts Initiative and Bearnie Searle will have a major retrospective at the Norval Foundation opening in March of this year.
Kiné Aw, 'Aliénation 2', 2019, Acrylic, charcoal and pigment on canson
As curators and academics devote more exhibitions and books to these female artists, collectors should take note. The development is part of a larger trend to give female artists their flowers, while also presenting a chance to invest in more emerging artists such as Kine Aw and Maflada Vasconcelos.
Hybrid models will prevail.
New art buyers, popularly called "Next Gen" collectors, are continuously reshaping the traditional art market. These new collectors like buying everything online and art is no exception. That said, online galleries will remain popular as will any gallery or artist that maintains a strong online presence.
All data based on Artsy survey responses, Image Courtesy of Artsy.
However, seeing artwork in person trumps viewing it on a computer screen. The physical art world made a 'post pandemic' return in 2022 and this year will look to keep this momentum. There will be a range of in person fairs, auctions and exhibitions focused on contemporary African art, with a jam packed calendar for this year's art season. Johannesburg and Cape Town are set to go ahead and host their fairs in person, 1-54 Contemporary Art Fair will open its doors again in Marrakech this February and other announcements are certain to follow.
The future is here.
The NFT market has been left relatively unstable after the cryptocurrency crash in late 2022, however, Yatreda continues to ride the NFT wave and find success. The collective combines motion portraits with blockchain to celebrate Ethiopian history in the style of tizita- nostalgiaand longing for the past.
Yatreda, 'Royal Armada of Aethiopia'. Sold for 9.48 ETH ($15,020.00)
Image courtesy cryptoart.io
Collectors and enthusiasts of new media who are looking for alternative avenues to pursue could consider AI-generated art — an artwork (visual, audio, or otherwise) generated by a machine learning process, or machine generated images created using "learned" information. It seems doubtful but in a short space of time the number of artworks produced by AI artists has dramatically increased, not only that but some of these works have been sold by large auction houses such as Christies for unexpected prices and have found their way into important collections. AI is just one of many technologies that will have an impact on the future of the art market and although it is too early to predict what those changes will be, it is exciting to witness this revolution play out.
'Portrait of Edmond de Belamy, from La Famille de Belamy', 2018. Courtesy of Christie's Images Ltd.