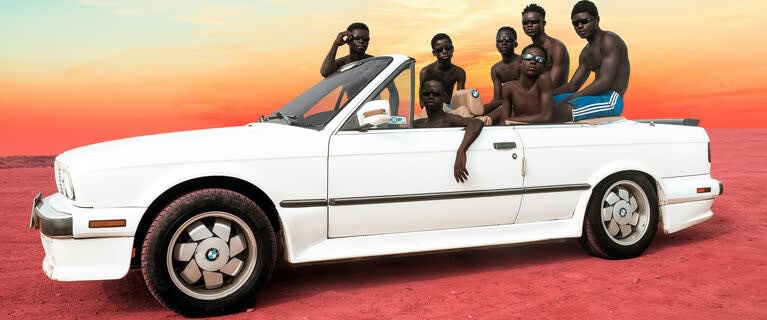 New-York hosted two art fairs at the end of spring: Frieze New York & 1-54 New York. With fairs and other arty events progressively reopening their doors to the public – much of the display and outreach still took place online. Online viewing rooms or platforms and talks are your co-hosts of choice. What have been this year highlights? For the first time, Frieze New York was housed in the recently built art facility The Shed in Manhattan. With a low-key attendance and gathering capacity, the fair emphasized its development and community/social engagement, notably through the Tribute to The Vision & Justice Project. As Frieze presents it: "the project is dedicated to examining art's central role in understanding the relationship between race and citizenship in the United States" or in other words: "how are the arts responsible for disrupting, complicating, or shifting narratives of visual representation in the public realm?". A question that most participating galleries have pledged to answer in their propositions. This concern – even more after the Black Lives Matter movement, and surely in an American context – has been at the heart of contemporary African and diasporic visual art. This initiative has been the occasion to honour the efforts of a generation of artists, cultural thinkers and practitioners who have striven to address and remedy the omissions and injustices conveyed by and in American visual culture. The screening of the HBO documentary Black Art: In the Absence of Light (2021) during the fair is a case in point.
How do you unpack New York's premier art fair among over 60 galleries at The Shed and the works of 160 galleries on view via the Frieze Viewing Room? Noteworthy in this context, the Jenkins Johnson Gallery with works by Ming Smith, Blessing Ngobeni & Amani Lewis among others, as well as the Goodman Gallery, exhibiting works by Misheck Masamvu, Pamela Phatsimo Sunstrum, William Kentridge and others.
Insight of Goodman Gallery booth at Frieze New York 2021. Retrieved from artsy.net
Precious Okoyomon's performative poetry has been on everyone's lips in New York, Frieze awarding the young Nigerian-American poet its 2021 Artist Award. For the occasion, they presented a unique sensory and magical performance-activated installation titled 'Fragmented Body Perceptions As Higher Vibration Frequencies to God' commissioned as a result of their winning award. Moreover, the artist's multi-voiced piece 'This God Is A Slow Recovery' inhabited the Shed in harmonious dissonance. They remind us that poetry is certainly not dead and can transcend literary implications to meet visual art and liveliness. In their words: "poets are going to save the world".
We may well ask ourselves who is going to save the world in these times of global social unrest. As part of Frieze Viewing Room 2021, The October Gallery exhibited works by several of its artists, of which Romuald Hazoumè's poignant sculpture The Cry of the Whale (2016) that unequivocally translates notions of despair and salvation.
Romuald Hazoumé. The Cry of the Whale (LLB). 2016. Metal, plastic, wood, fabrics, 250 x 650 x 140 cm. Courtesy of October Gallery.
Finally, the much alive Addis Fine Art granted Helina Metaferia her solo debut with a series of collage works and an accompanying film addressing the underrepresentation of BIPOC women's involvement in liberation and emancipation struggles – a radical hot topic.
Helina Metaferia. Headdress XVII. 2021. Courtesy of the artist and Addis Fine Art.
With most of its activity taking place online, it must have been refreshing to see the exhibition Knotted Ties at Christie's Rockefeller Plaza as part of 1-54 New York. Textile, thread, knitting and weaving practices are increasingly shaping our awareness of contemporary African art, challenging more traditional art forms. Exclusively showing works of women, the exhibition leans towards a communal craft able to reflect the entanglement(s) of our stories, identities, intersections and cultures, while harnessing the genealogic and transmitting dimension of the medium. The exhibition featured the South African artists Kimathi Mafafo and Turiya Magadlela, as well as the established Joana Choumali.
Kimathi Mafafo. Self Realization I - (Maitharabogelo). 2021. Hand and Machine Embroidery. Courtesy of EBONY/CURATED
Simultaneously engaged on two fronts, the October Gallery displayed – among other represented artists – photographs of James Barnor whose rich body of images gives to see the highlife that characterises Ghana's post-independence period, as well as a settling African diaspora in London/the U.K – currently on view at the Serpentine North Gallery in London until the 22nd of October 2021. The 2021 Ritzau Art Prize that has been awarded as part of 1-54 New York honoured another photographer: Micha Serraf. This talented artist and creative director offers gentle, unconventional and carefully staged portraits, products of a sensational singular vision.
Micha Serraf. Stay Soft Series. 2017. Courtesy of the Artist. Retrieved from bubblegumclub.co.za
In order to adapt to online requirements, the art fair partnered with Artsy to provide an inclusive viewing experience where every artwork could be two-dimensionally screened. Art curators Christine Eyene or Omar Berrada among others are providing their highlights on the platform. Out of 446 artworks, Pavillon 54 remembers the work of Marc Padeu, Khari Turner, Abebe Dawit, Tina Williams Brewer, Jean David Nkot & Hana Yilma Godine.
Hana Yilma Godine. Spaces Within Space 2. 2019. Courtesy of Fridman Gallery
1-54 also brought forward its Forum which intention has been to "consider the role of the artists and creative spaces as vehicles and vessels that share our human narratives and as chroniclers of our accomplishments and failures". This year, both Frieze & 1-54 New York have set to promote and nurture the telling and redressing capacity of art forms and expressions. After unprecedented times of social upheavals, the uncompromising call to let art express our inner and collective discomfort and aspirations has won over the New York segment of both fairs.