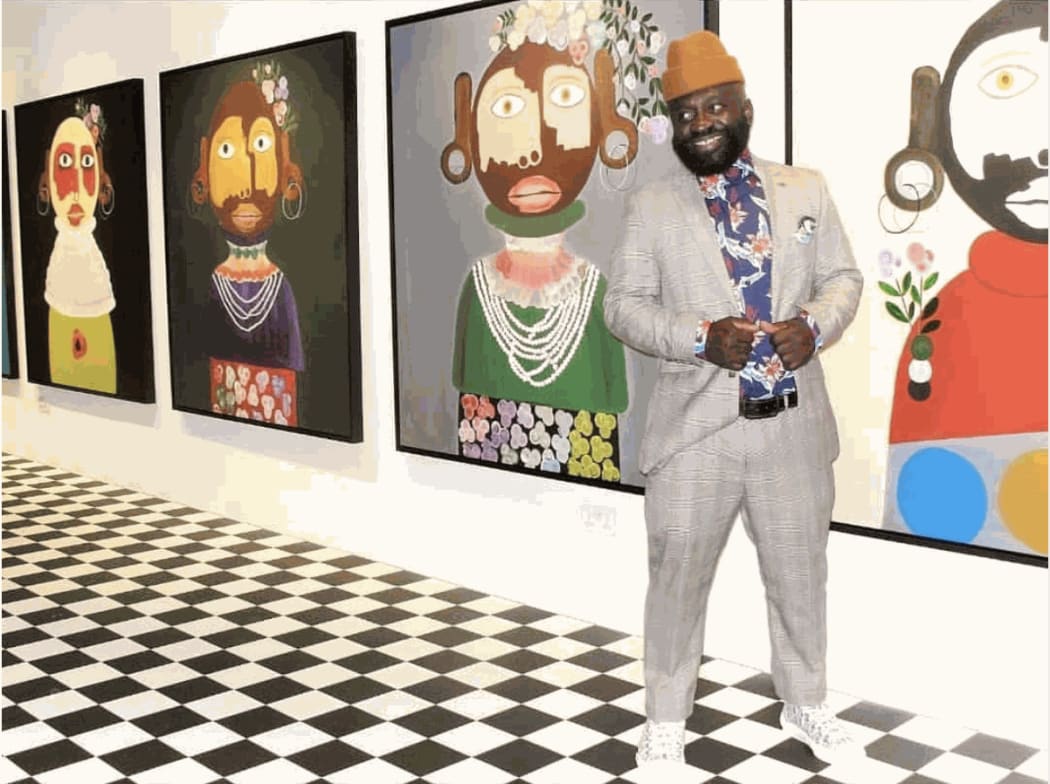 With his first solo UK exhibition 'Dreaming of Identity' at JD Malat gallery, London, Kojo Marfo (b. 1980) explores the theme of identity through his own experience of migration. The artist depicts human figures with references from Africa, representing his roots in Ghana and Akan's culture, and from the Western world - representing his travel to New York in the 1990s and his life based in London from 1999.
The fifteen big-scale acrylic paintings displayed in the show were all created in the past year and belong to two series strictly connected one to another. The first one, made of 9 portraits and entitled 'Strangers', shows the multifarious identities of people from London. Marfo, drawing from his cultural heritage, depicts the faces recalling traditional Akan's masks traits. This results in neutral, stylised figures that don't explicitly state their gender nor their ethnic background. The skin on these mask-like faces seem chipped, peeled, revealing many layers, patches of different colors in one character's physiognomy, representing some sort of universal humanity. The only details that distinguish these otherwise anonymous figures are the bright colored or patterned clothes, the flowered headgears, the earrings and nose rings.
© JD Malat Gallery - Kojo Marfo 'Dreaming of Identity', Gallery view.
© JD Malat Gallery - Kojo Marfo 'Stranger #8' (2021), Acrylic on canvas, 61 3/8 x 56 3/4 in 156 x 144 cm
The second exhibited series, made of six works, represents families, animals and social gatherings with figures similar to the ones portrayed in 'Strangers'. In these works the references to Western modern artists styles such as Léger's and Picasso's cubism and Basquiat's primitivism are quite clear, but the inspiration for the visual compositions seems to draw from Baroque family portraits such as Velasques' 'Las Meninas'. This is especially noticeable in 'Noble' (2021) or 'Dowager' (2021) where characters are displayed as if they are posing for a painter: standing, staring straight at the viewer, with the shorter ones in the foreground and the taller ones in the background. These figures are decorated with flowers, bright colors, jewelry and, just as often in 17th Century noble families portraits, depicted with some neck ornaments that seem to be ruff collars, and accompanied by farm animals.
The checkered floor represented in this series matches with the gallery's one, connecting and augmenting the artworks in the real-life dimension of the room.
© JD Malat Gallery - Kojo Marfo 'Lotus' (2021), Acrylic on canvas, 82 1/2 x 63 3/4 in 209.5 x 162 cm
© JD Malat Gallery - Kojo Marfo 'Noble' (2021), Acrylic on canvas, 73 1/8 x 82 1/4 in 185.5 x 209 cm
© JD Malat Gallery - Kojo Marfo 'Dowager' (2021), Acrylic on canvas, 73 5/8 x 82 1/4 in 187 x 209 cm
Talking about his own work, the artist said that he aims to highlight social issues, such as inequalities, religion, politics, and spiritualism. "I want my artwork to create a connection with people, to be a symbol for everyone to relate to. No matter what you are going through, or where you live, I want my art to help people think and reflect on their inner lives and how it relates to the wider world."
Kojo Marfois is a Ghanaian, London based, self-taught artist whose interest in art and visual culture is rooted in his African background. He draws inspiration from Akan artifacts, sculptures and carvings that he had the chance to be exposed to growing up in Ghana.
"I want people to see my work as a reflection of my Akan culture and my struggles living in the West." He started collaborating with JD Malat Gallery when, back in 2020, he applied to be part of the 'Isolation Mastered' group exhibition. He was selected, among others, by the art historian and Programme Director at Sotheby's Institute of Art Dr. David Bellingham, by the YBA artist Gavin Turk and art dealer Simon de Pury. Dr. Bellingham wrote the accompanying essay for 'Dreaming of Identity' providing a commentary to the artist's culturally layered and multi-referenced imagery.
Kojo Marfo: Dreaming of Identity Date: Thursday, 10 June 2021 to Saturday, 17 July 2021 Location: JD Malat Gallery, 30 Davies St, Mayfair, London, W1K 4NB