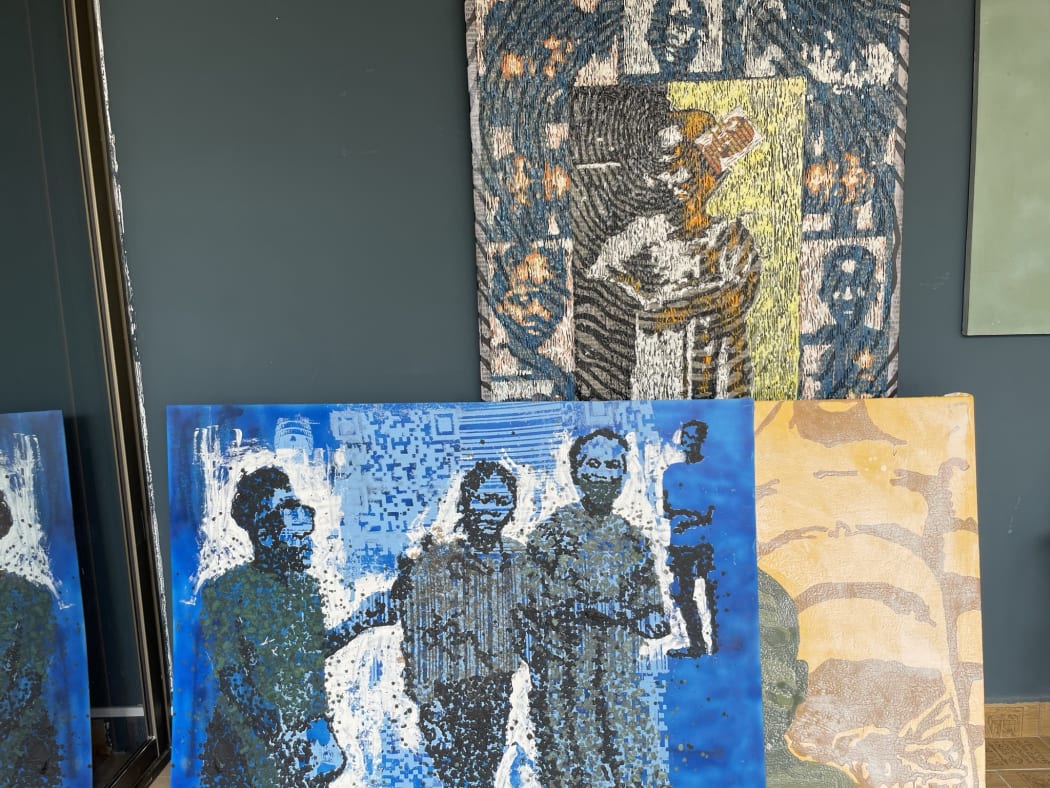 Pavillon 54 had the chance to have a chat with Saint-Etienne Yeanzi: born in 1988, He graduated in painting and photography at the " Lycée d'Enseignement Artistique "of Cocody and the National School of Arts in Abidjan, in 2012.
Yéanzi, a street art enthusiast, worked as a commissioned portrait painter for ten years. Since 2013, he has been pursuing personal work using melt plastic material. As many other African artists, he doesn't create such pieces with the intention of becoming 'Environmental' artists, but rather, he uses the materials around him as a part of his existing culture and makes a more poignant statement about the effects of capitalism, as well as Western colonialism and consumerism on the African continent. Watch the video of the interview.
When did you first approach art?
To talk about my first contact with art I would say that it happened so naturally that I don't really remember it. I just know that for as long as I can remember - I must have been 5 or 6 years old when I started - I was very early on attracted by comic books, cartoons, and then I started to make my first little drawings. It's really something that I grew up with, as far back as I can remember. In the end it's essentially the comic books and cartoons that fascinated me, and that drew me to art for the first time.
Saint-Etienne Yeanzi,
Untitled 4
, 2021, Melted plastic on recycled paper, 80 x 118 cm.
What are your inspirations?
I have an academic background in art, I attended the business school of the Abidjan Academy of Fine Arts. I am subsidized from the art school, and I have a lot of sources of inspiration. I am a bit like a sponge, that is to say that I am very curious, and as soon as I meet someone who has something that interests me, I let it come over me. However, I have a very particular selection of the experiences that I go through, and I draw the best from it, so my main sources of inspiration are the overall history of Africa and the history of the World in particular. In the evolution of things, I'm also in love with the hyperrealism of the 70s in the United States, and Pop Art, with Andy Warhol and Richard Hamilton in England. I have a real Historian background, so I got close to everything that I liked about history, and I absorbed it all. My work sort of is the sum of that.
Saint-Etienne Yeanzi,
Untitled 3
, 2021, Melted plastic on recycled paper, 110 x 220 cm.
However, I also received an academic training, I had very good teachers who inspired me a lot and that means a lot to me today. So right now, I wouldn't be able to give you a name, but let's say that I am very inspired and very influenced by the general history of the world and of Africa in art, culture and civilization.
What are the main themes expressed in your art?
"The main themes" ... I like the expression because there is a fundamental term that motivates me in particular, and on which I have built all my work as an artist, even my pedagogical approach because I am also a teacher: it is the question of identity. The themes that derive from it are social fractures, identity fractures,ethnic divisions, religious divisions, ideological divisions ...So in fact, everything that flows from the question of identity when it's being asked properly.
Saint-Etienne Yeanzi,
Untitled 1
, 2021, 90 x 90 cm.
The question of identity is "who I am?", "Where do I come from?", "Where am I going?", in reference to the work of great artists like Paul Cézanne and Paul Gauguin, who had already worked on topics like that. Once properly asked, these questions bring us back to the fundamentals of modern societies, the constructions of modern societies and projections towards the future within the stakes of globalization, and of humanism itself, because I am someone deeply humanist.
So in the end, that's my main theme, the question of identity, and the topics, or the sub-topics that derive from it.
How do you use plastic materials to create art?
I don't really appreciate being summed up only by my technique because it's great to see it as art, but for me it is the theme that first dictates what I have to do. At the start of this adventure, I have a theme. A theme as important as identity crises - Brexit comes I believe 3 or 4 years later, so I do not know if it is a premonitory work to question the social divisions and fractures in order to know what kind of people we are when we project ourselves within a community or a society. It's already a difficult theme, I have to make my theme clear, so as a creator I have to use materials and tools that communicate more easily. It's like that when I'm in deep thought, then, I listen to the news a lot, and it's while listening to the news, when I hear on the radio that the state of Ivory Coast enacted a law to ban plastic bags - I already knew about their negative effects, for the oceans, the seas and all that - that's how I started looking into it. This is a plague so it's something that people understand.
Saint-Etienne Yeanzi, Untitled 8, 2021, Melted plastic on recycled paper, 145 x 210 cm.
Plastic is a material that people generally live with, it's used everywhere, it's in households, so it's really a material that is close to people, that people know. So if I succeeded in using it to present a theme as important and as powerful as the question of identity, that would really be a big step.
What's your take on the importance of ecology today?
For me, the type of human-being that we are, who should evolve in a world,
in a society, we are gradually destroying [the world] f
or other kinds of truths ... We can't destroy our home,
a place where we all live, like that. E
cology should not even be a concept, it is really a crucial global emergency, which must
motivate all of our wills, it shouldn't be something we just
campaign about, it really should be something as immediate as
thinking about putting your child in school, putting food on the table, we cannot
destroy the environment we live in. I think
it's something so elementary that we shouldn't even make people
aware that we are destroying our planet, because if it's damned,
where are we going to live?
How do you think portraiture changed your art practice today?
Originally, to me, portraits are really something that I did like a reflection, It didn't even take any effort, there was this entire period, all my childhood, where it was the absolute best of times. I mean, rarely in life have I been so fulfilled. Originally, there wasn't anything for sale, there was no worldwide art market, it wasn't about selling or buying the works, really, it was all just for me. I'd say that it was the period of my life that brought me the most joy.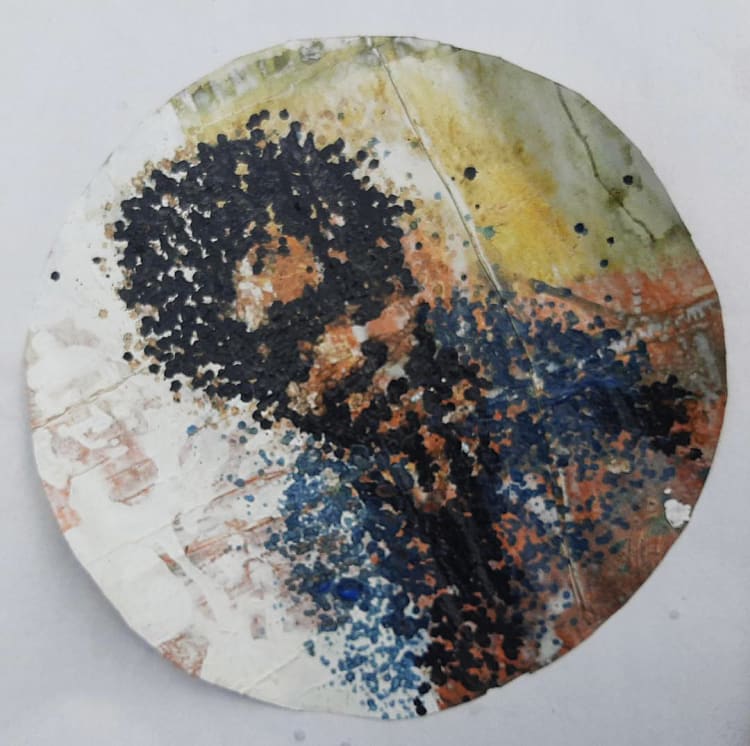 Saint-Etienne Yeanzi,
Untitled 2,
2021 Melted plastic on recycled paper, 90 x 90 cm.
How do you think portraiture changed in contemporary art?
It's not just a question of the practice of portraiture, it's general. We have artists like Bruce Clarke, the South African artist, like Ibe Ananaba the Nigerian artist, and other artists also like JR in France, the use of this pictorial technique has evolved a lot, to the point of becoming sort of a primary means of communication, because that is what the face is. Facial expressions, facial mobility, all this strength that emerges from the face, the fact that the face is ultimately our identity, that it is immortalised, filed on identity papers, filed for cameras, filed in databases, ultimately, the manipulation of the image, the manipulation of the portrait, occupies a central place today.
How do you relate to the idea of African Diaspora?
For me, who travels a lot, it's the act of meeting others that gave birth to this project on these explorations of the question of identity, therefore meeting others is very decisive. In my reflection, our way of interacting with others will be very decisive in the scope of our modern identity, so in our commercial relations, in our ideological relations, in our social relations, in our religious relations, it is very very decisive. I am not a difficult person - I don't know, maybe it's because I'm an artist - I would say that I know how to reach out to others without being too uptight. I'm not afraid to disappear because I know who I am and where I come from. I think it's the fear of disappearing that causes people to be wary and to avoid reaching out, so it's this fear of disappearing that also causes people to avoid interacting with one another. This idea of approaching others is very very welcome to me. For those of us who have lived in Western society for a very, very long time, for generations, for years, this really is an important issue because it is about our way of reaching out to others, it's not only decisive for our future but for the future of the African continent as well. It's how we grow when in contact with others that will determine who we will be.
What's your take on the current highlight on black visual culture?
First, I would say that I am happy about it, because it is beneficial for me, for us, so we have to be happy that it is happening now because a few years ago, you had El Anatsui and other artists, who were not worth what they are worth today, therefore it's obviously very very gratifying for us. But there is also the fact that the so-called African creation happened to be born at a time when it undergoes too much of this identification. An artwork is a creation that is made for the world, so whether it is visual or living art, really, it's a creation for the world. I want to say that the process came quite late, that it should have happened much earlier, but it is a social, a politico-social heritage, so I understand how it's happening today. But it should lead African artists to realize what they are really worth. The role of the artist is no longer this black man on his knees who stretches out his hand and begs to be carried, begs to be fed, no, the African creation should become aware of all its strength, of what an impact we can have on the development of the modern world, of the current world. May African artists become aware of the fact that today, they have a seat which is not given to them, but which is legitimate. So we have to realize that this platform, which seems to be an honor bestowed upon us, should be much more appreciated, as a beacon, a sign to make us aware that from now on, we will have to be taken into account.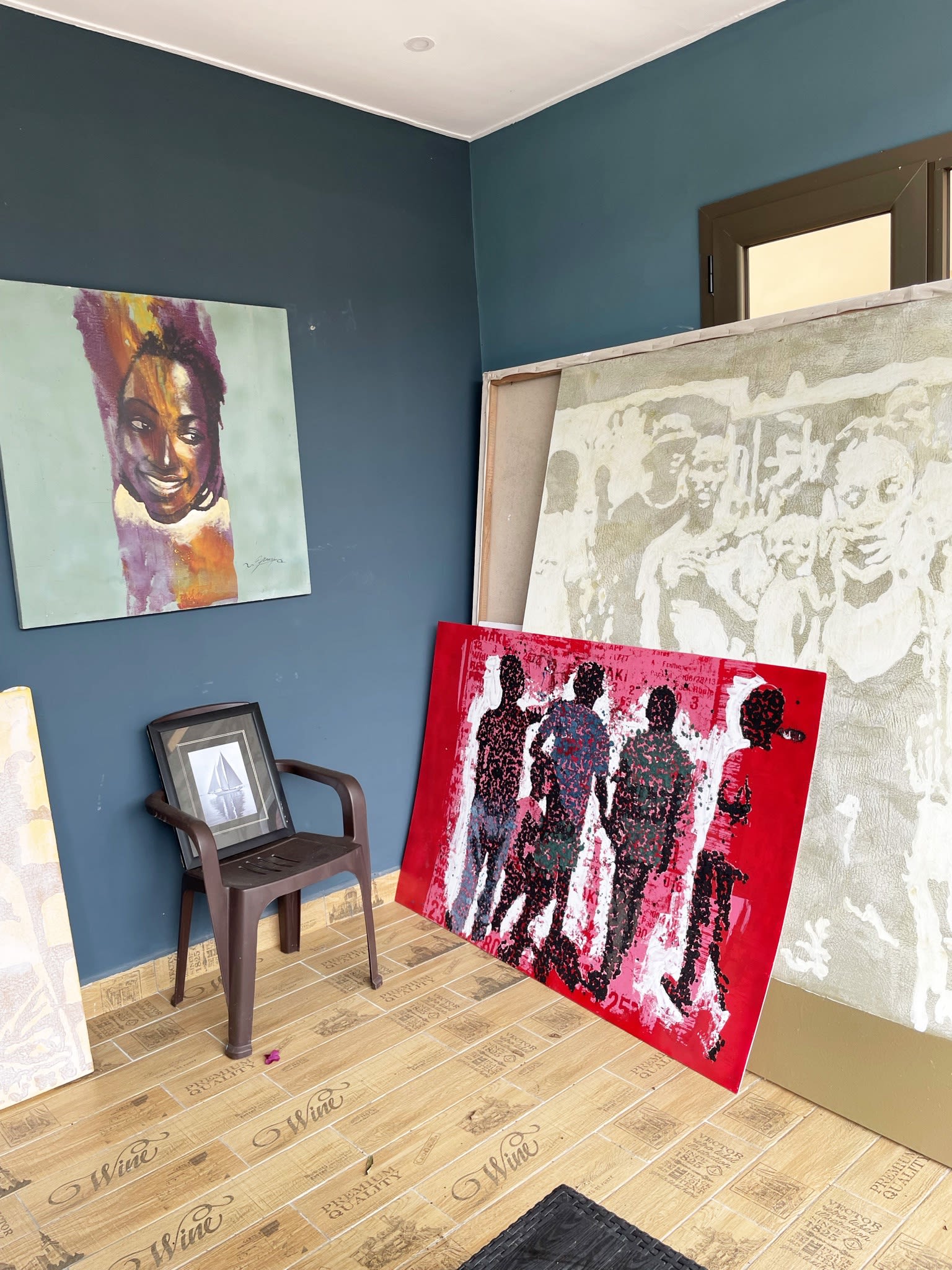 Saint-Etienne Yeanzi's Studio, 2021.
And that we have things to say, and that we must not be silent, and that we must speak up when we have real things to speak up about. That's what I can say in relation to that, it's that it is in the very psychology and the very mindset of African artists that things must be much clearer and that they must try to learn from this recent highlight on art from our continent.