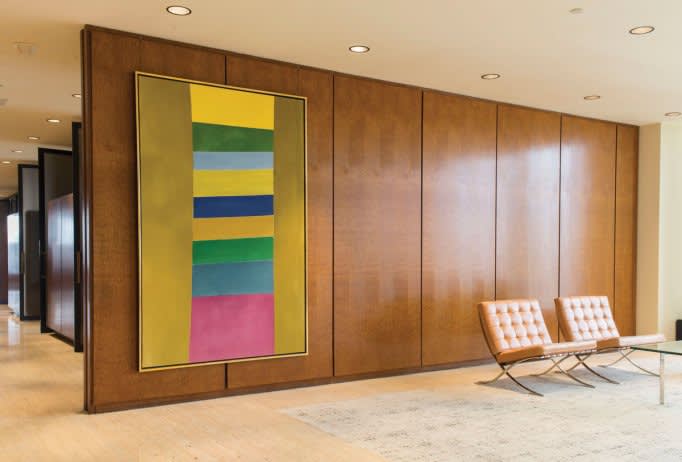 Did you know that some of the most prolific, high quality art collections in the world belong to banks? For example, Deutsche Bank, one of the primary sponsors for Frieze art fair, has collected over 70,000 artworks over the years. But why are big businesses and corporations interested in collecting art? And can small to medium-sized businesses follow suit?
How did it all begin?
There are many reasons why businesses start art collections. The first corporate art collection can be traced as far back as the Renaissance period, in 1472, when Monte dei Paschi began collecting for his bank in Siena, Italy. The trend of corporate collecting as we know it today, however, broadly began in the 1950s, when David Rockefeller began acquiring artworks for Chase Manhattan Bank (now JP Morgan Chase). Shortly afterwards, other banks began buying the artworks of famous contemporary artists such as Andy Warhol, Sol LeWitt and Barbara Kruger, to name just a handful.
To begin with, art collecting amongst businesses began as reflections of the CEO or founder's personal taste. Today, however, businesses acquire artworks for a multitude of reasons, and art advisors are hired in order to select and manage the collections, often in the aim of fulfilling an ulterior purpose. UBS and Deutsche Bank, for example, have made art collecting a core aspect of their corporate identity. The pursuit of art often aligns large companies with a cultural sensitivity, or even philanthropy, boosting the overall public image of the business. Indeed, some corporations acquire art with specific philanthropic intent, buying from lesser known emerging artists or artists from marginalised groups to actively support their careers. For other businesses, collecting art is an investment opportunity. They retain artworks that will appreciate in value over time, thereby making a profit on their collections. More often than not, corporate art collections are founded with the aim of achieving all three objectives.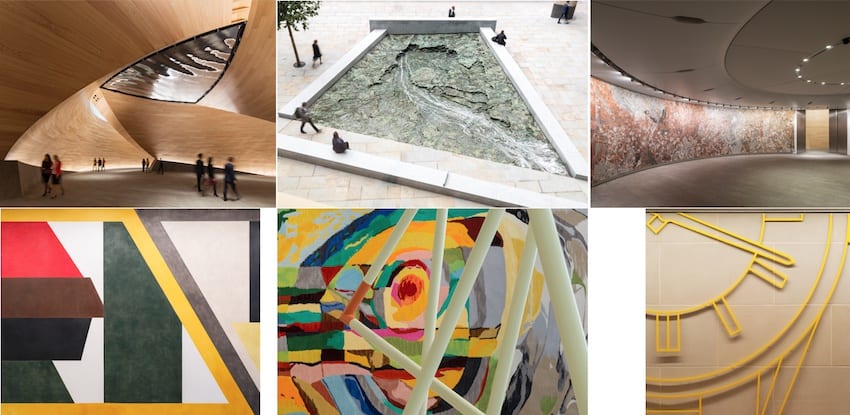 Bloomberg – Michael Craig-Martin, Olafur Eliasson, Arturo Herrera, Cristina Iglesias, David Tremlett and Pae White
The benefits of corporate art collections
There are various proven benefits to having a corporate art collection. One of the most notable results of having art in an office space is an active promotion of creative thinking and the elevation of mood and positivity in the workplace, thereby making employees more engaged and productive. As already mentioned, collecting art can also improve the business' image in the public eye, by aligning the company with a taste for sophistication, a cultural awareness, and an investment in the community and the arts. This brings us to the third great benefit of collecting art: an active involvement in building the career of an artist. Great satisfaction can come from supporting talented young artists who are struggling to launch their careers, or artists from disadvantaged or minority backgrounds who are underrepresented in the art world. The effort to support these artists by acquiring their works can be a genuine unifying element within the company as well, as employees can feel a stronger connection to the business and a sense of pride knowing that they work for a company that is actively supporting the arts. Lastly, if an art advisor is hired and art collecting is done carefully, artworks can yield profit over time, making it a great investment.
Deutsche Bank – Damien Hirst's Biotin-Maleimide (1995) and Anish Kapoor's Turning the World Upside Down III (1996)
The Biggest African Art Collections
Some of the biggest African Art Collections include the CAACart (or the Jean Pigozzi) Collection, which is based in Geneva and is the largest private collection of contemporary African art in the world. The collection was initiated by Jean Pigozzi and André Magnin after the watershed Magiciens de la Terre exhibition in Paris in 1989. This exhibition, though not without its criticisms, is largely considered to be the first truly international exhibition where artworks from different countries were displayed, with a strong spotlight on African artists. Closer to home, did you know that the restaurant chain Nandos also has a huge African art collection? The company has been championing South African art since one of its stakeholders, South African Richard Enthoven, proposed the initiative. Enthoven also has a private collection of higher value contemporary South African artworks, but among the Nandos restaurants themselves, over 22,000 works have been collected and are displayed publicly across 1,094 restaurants globally, making it perhaps one of the largest (if most discreet) collection of African artworks on display.
The Standard Bank Corporate Art Collection is another one of South Africa's most significant corporate collections, with over 1,200 pieces of work mostly by local artists. Works from the corporate art collection are displayed in the public and executive offices of the Standard Bank office buildings, as well as in other Standard Bank facilities across Africa. The collection features art collected over a long period of time, from early works by South African modernist masters such as Gerard Sekoto, George Pemba, JH Pierneef, Durant Sihlali, Alexis Preller, Irma Stern and Gladys Mgudlandlu, to contemporary works by artists such as William Kentridge, Sam Nhlengethwa, Diane Victor, Pat Mautloa and Penny Siopis. The bank has even established the Standard Bank Young Artist Awards in 1981 to celebrate emerging South African artists who show exceptional talent but have not yet received recognition and acclaim. The corporate collection then also include works by some of the award winners, such as Hassan and Husain Essop, Mary Sibande, Nandipha Mntambo and Beth Armstrong.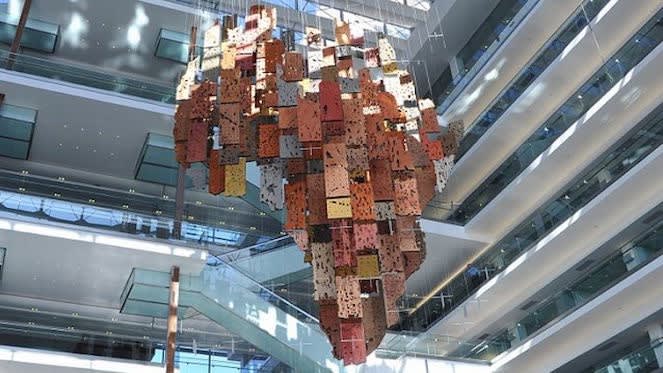 Standard Bank – Marco Cianfanelli's Seed
Can small to medium-sized businesses collect art?
Given the various benefits of having artworks in an office space, there is no reason why small to medium-sized businesses can't begin their own art collections. Luckily, today there is no shortage of small art galleries or online galleries (including our own Pavillon54 e-gallery) that can provide a large selection of artworks that suit various tastes and budgets. The intention to collect in a smaller business may be different from those of large banks and luxury brands, however, as there may not be the hefty budget required to purchase artworks from established artists for the purpose of investing. With a smaller budget, artwork acquisitions should reflect the personality and vision of the brand and should be seen as a morale-booster for the company, and a way to actively engage with the artistic community in a positive way.
Today, with the public call for institutions and art businesses to be held accountable for their complicity in racist or oppressive systems, corporations should look to collect smart by diversifying their collections and investing in underrepresented artists or artistic movements that have great potential. As just one example, contemporary African art has been trending in the art market in recent years, but still represents less than 4% of global art sales. Not only does this mean that African art is more affordable to begin with (so smaller businesses can also purchase with the intention of investing), but it leaves incredible room for growth. Collecting African art thus achieves the triple objective of positioning a company as a self-aware, modern and inclusive entity, actively engaging in a flourishing yet growing arts community, and is also likely to be a significant investment that will yield profit over time.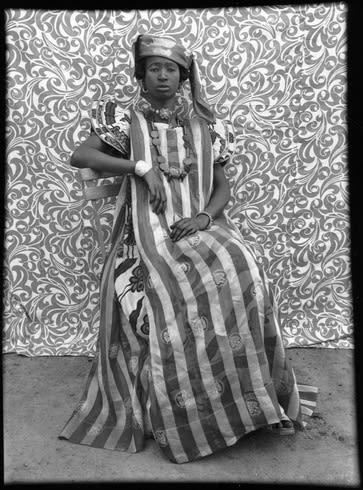 Monsoon – Seydou Keïta's Untitled (No. 305), 1956