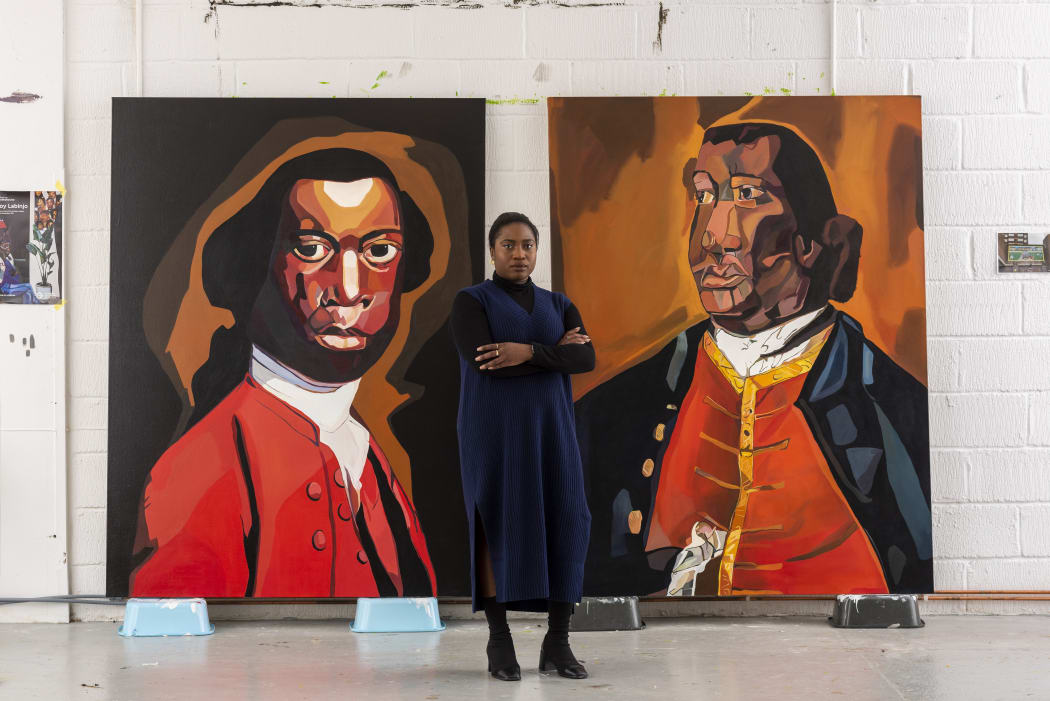 Who is Joy Labinjo?
Lovers, collectors and dealers of African art have a new rising star to keep their eyes on: Joy Labinjo. The British-Nigerian artist, who paints large-scale figurative paintings, often of black individuals, has leapt to rapid success in recent years, known for her talent in capturing sensitive, independent, contemplative, and vulnerable people — sometimes all in one. Rooted in her experiences of growing up as a multicultural black female in the United Kingdom, often being subject to racist remarks and marginalisation, Labinjo's practice aims to celebrate Blackness in all its forms and nuances. The figures that the artist represents often derive from individuals that are drawn from her personal life and memory. Indeed, Joy Lanbinjo recounted the moment when she began organising the family photo albums at the age of ten years old — an activity that is rooted in much of the artist's creative output today. Using these memories as a starting point, the artist then combines found images and historical material to her works, to produce paintings that touch on themes of identity, race, history, identity, family, and community.
Joy Labinjo, Bride-to-be, 2019. Courtesy the artist and Tiwani Contemporary.
Joy Labinjo's works often put complete emphasis on the figures she paints, making them the absolute star of the work. Whether she is capturing the image of historically important black people in Britain, such as Olaudah Equiano, a former slave who bought his freedom and became the first black person to vote in Britain, or creating sensitive nude self portraits to combat the policing of black women's bodies, Labinjo often opts for simple backgrounds, and favours colour-blocking. Indeed, it is Labinjo's use of colour-blocking that is most striking about her pieces. The artist often opts for the juxtaposition of various shades of brown and oranges for the skin tones of her figures, with little blending, which reveals the materiality and painterly quality of the works. When a viewer looks upon a Labinjo piece, the eyes are therefore immediately drawn to the figure being celebrated, as the gaze runs across the different shades and brushstrokes that are completely distinct, and yet exist in perfect harmony.
Joy Labinjo, Terrfa Firma VII, 2022 © Joy Labinjo. Courtesy of Tiwani Contemporary
The message and the sensibility of Labinjo's painting has launched her young career to rapid success. Represented by Tiwani Contemporary Gallery, the artist has not only exhibited in both the gallery's locations in Lagos and London, but has also shown at the Museum of African Contemporary Art Al Maaden in Marrakech, the Royal Academy in London, and has been bought by the UK's Government Art Collection. In 2022, Labinjo created an acclaimed commissioned work for the Brixton Underground station in London. The artist has also won the Woon Art Prize in 2017. With the appetite for Contemporary African Art still on the rise, and with artists from Africa and the Diaspora hitting new auction records every year, it is likely that Labinjo is set to exhibit at even more prestigious locations and reach new heights in her artistic career. Pavillon54, in any case, will be keeping a close watch on this artist's promising trajectory, and cannot wait to see more beautiful creations from this exceptionally talented artist.