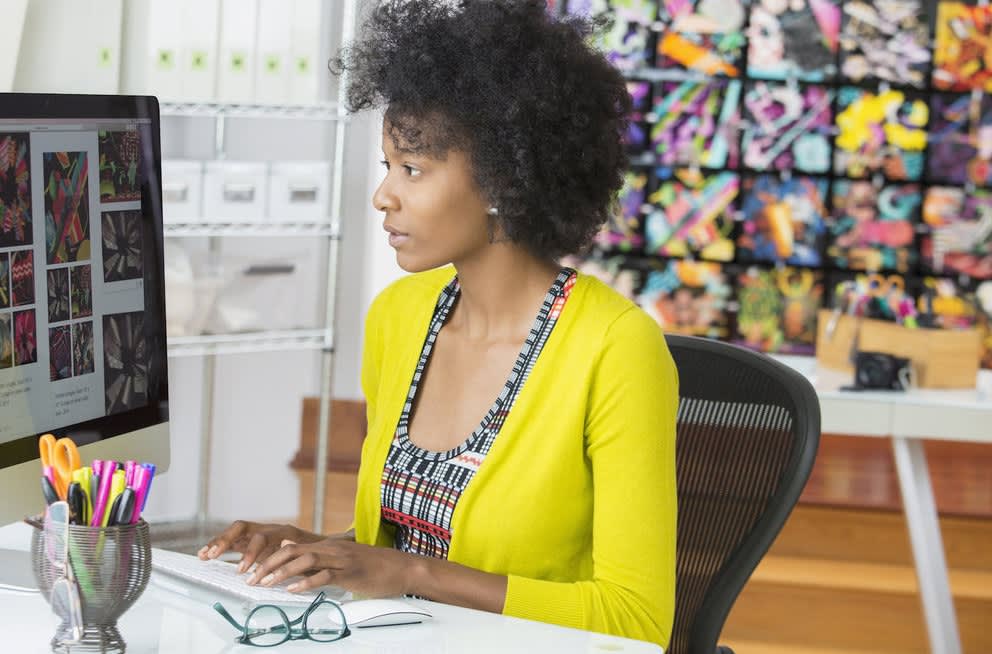 It is undeniable: online art sales continue to grow. According to the 'Hiscox online art trade report 2018', the amount of art bought online has shown consistent growth over the past five years. In addition to this, 79% of young art buyers (under the age of 35) expressed that they use social media, especially Instagram, to discover new artists, and 32% of buyers said that social media had a significant impact in their decision to purchase art. This consistent increase in online methods of scouting the art market demonstrates that purchasing art digitally is becoming more prolific. Artech start-ups pioneered the way for making means of buying and selling art online easier and more convenient than ever, however we are also seeing traditional art institutions incorporate online methods of buying art. Regardless of whether one prefers to go with young, innovating start-up companies, or massive auction houses with decades of legacy, therefore, it is irrefutable that art e-commerce is a crucial facet of the future of the art market. Here are three benefits of buying art online that have spurred on this revolution.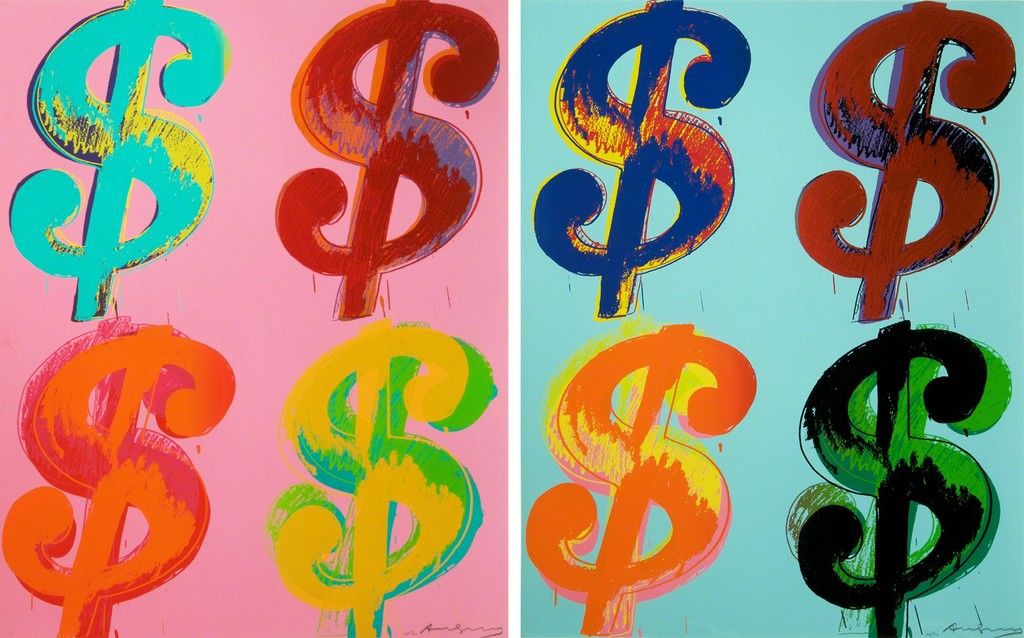 Andy Warhol, Dollar Sign $ 4 (1982), screen-print on Lenox Museum board, 81.3 x 101.6 cm
1. Benefit from a diversity of artists and styles
Many online art platforms cater for a global audience, which means you are sure to encounter different art movements, techniques and media, with styles and cultural influences from a multitude of countries. Saatchi is the biggest and one of the oldest online art platforms, and has tens of thousands of artists available online. Although anyone can sign up for this platform (and therefore you might have to comb through a few 'fake' or inexperienced artists), you are sure to find a wide diversity of styles and prices, from around £40 for a print, up to the tens of thousands. Singulart is a relatively new platform that has come to dominate the continental European online art market, and is rapidly expanding in further-flung continents. They have significantly fewer artists (around 2500), but represent painters, photographers and sculptors from 85 different countries, and, with their application-only selection process, focus on exhibiting the works of quality professional artists from around the world. Artsper is one other such platform that represents 15,000 artists and also makes buying works of art from all over the world fuss-free.
In addition to this, many Artech platforms—and even traditional auction houses such as Sotheby's, who are increasingly investing into their online auctions—use algorithms or integrate AI technology to make sure that the artworks you are exposed to are catered to your tastes and preferences. The websites use cookies to detect what kinds of artworks you have viewed before, in order to provide a more tailored and personalised shopping experience.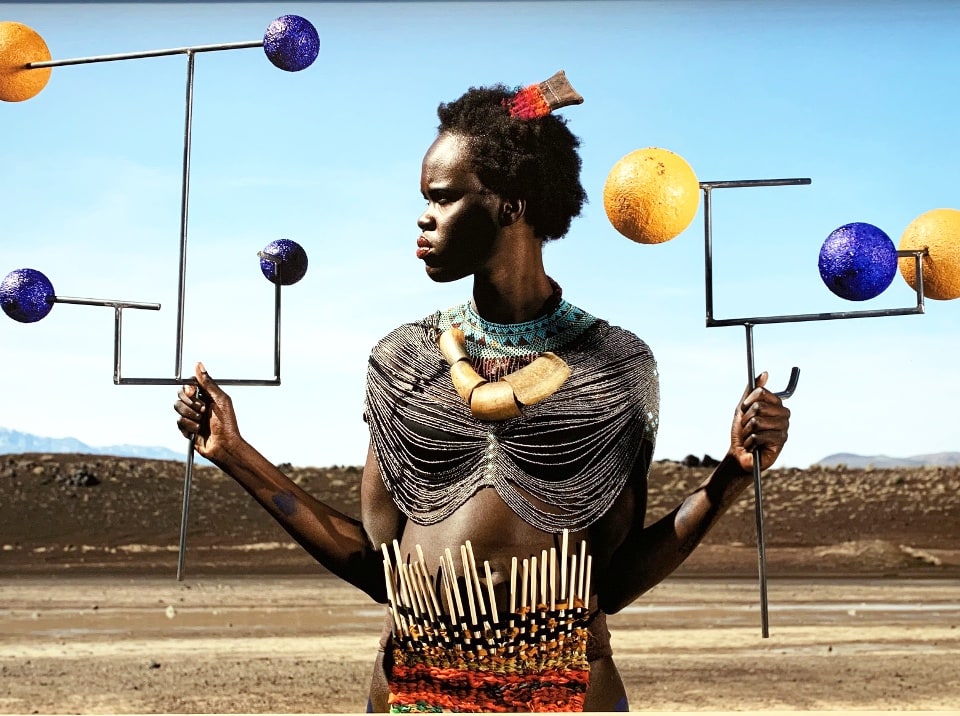 Djeneba Aduayom, Untitled (2019), fine art print on hahnemüle, 30 x 45 cm
2. Easy shipping, customs and returns
One of the key offerings for each of these online platforms is facility of movement of an artwork. They aim to make the art buying process as simple and efficient as possible, and often offer services such as free shipping, customs, insurance and returns. This is a crucial element of the online art buying process, as a work is often unable to be viewed physically, and buyers cannot risk paying extortionate amounts only to receive a work of art and find it does not look like how they imagined. Although this rarely occurs (feedback from many online buyers has demonstrated that customers are often even more happy with their artwork once viewed in real life), knowing that online platforms are often willing to make the international shipping process as smooth as possible for both artists and clients makes online buying an efficient method of acquiring artworks.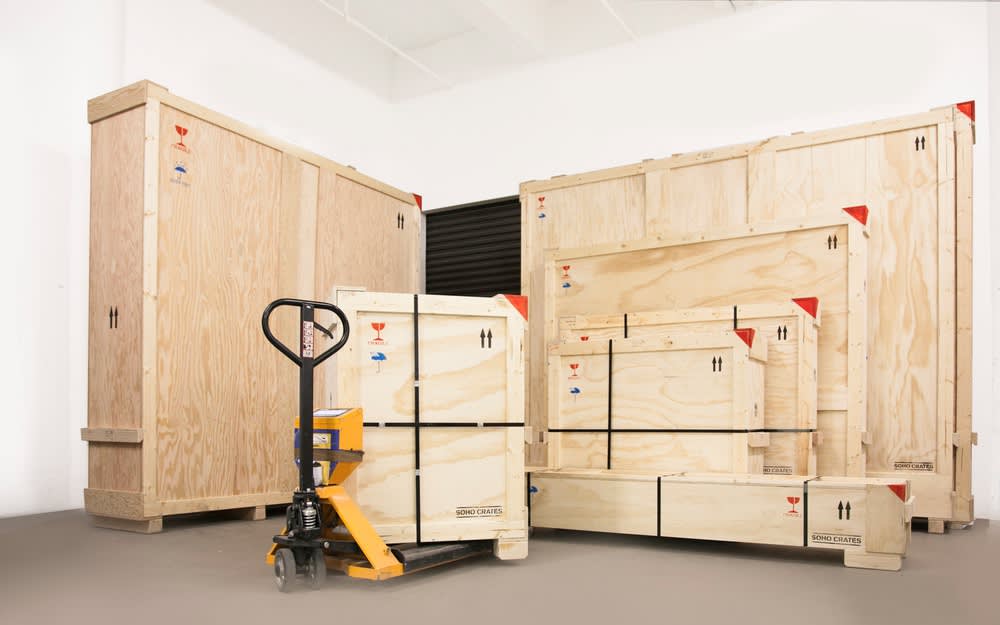 International shipping
3. Price transparency
One of the traditional physical art market's most notorious frustrations is the lack of price transparency. When buying a work of art from a gallery or art dealer, you often cannot be sure if you are being overcharged, especially when buying a work of art that has an impressive provenance (this means it has changed hands via reselling or donation, and has gained value depending on who has previously owned it). This is because there is no clear, consistent record of previous purchases available for the public to view, in order to make sure that prices are justifiable and fair. Essentially, this means dealers are able to mark-up the price of an artwork however they like, according to their 'professional estimations'.
However, with the rapid integrations of technology into the online art market, especially block-chain, lack of price transparency in the art market could become a thing of the past. Block-chain technology proposes a single, public access, decentralised database of transaction histories for artworks, meaning that customers themselves can check the provenance of an artwork and determine if they are getting the best price for the piece. This database does not yet exist (although many leaders in the art industry are hopeful for it), but for the time being, online art platforms are still offering the most transparent methods for buying art, as you can often see the prices directly viewed on the website. The aforementioned online galleries also sell original artworks on the primary market, which means they have not been sold before and are being directly bought form an artist. You can therefore be sure that your money is going directly to help spur on an artist's career, and not into the pocket of a dishonest dealer trying to swindle more money than what is acceptable.
Art e-commerce is still a relatively recent venture, and is sure to see many more developments and evolutions, such as integrations of AI and block-chain technology. The jury is still out on how this will affect the art market—both physical and digital—on the whole, but for now, one thing that is clear is that digital means of buying art will only become smarter and more prominent. Have you made an art purchase online recently? How was the experience?