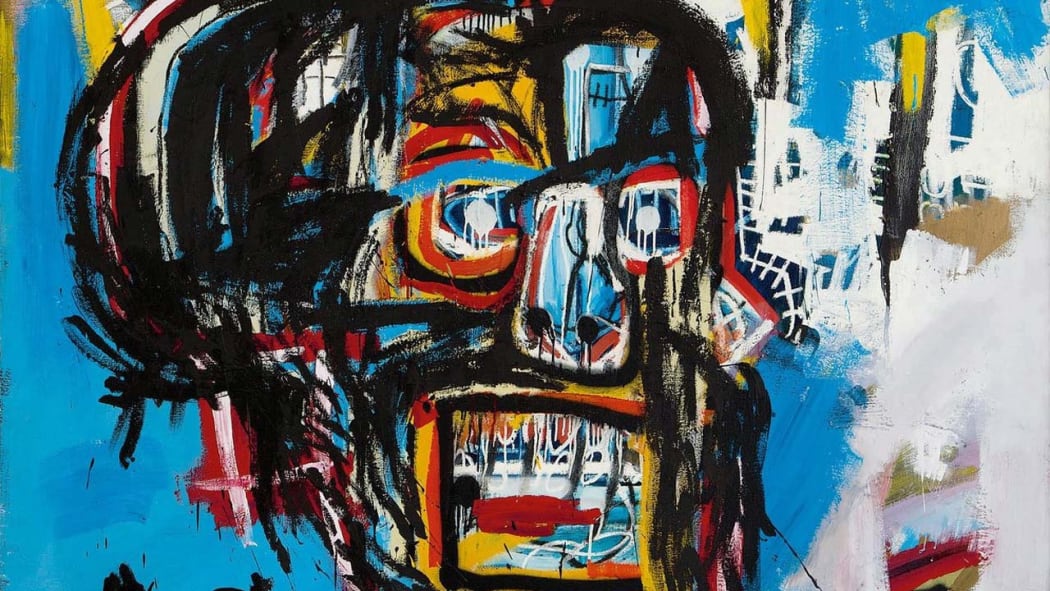 The influences of African art on various artists and movements throughout history recount fascinating stories of cultural exchange, theft, homage and colonialism. In this series of articles, Inspired by Africa, we assess the ways that some of the most famous artists in the world borrowed from African art to create some of their masterpieces. For this second exploration, we examine how adored New York artist Jean Michel-Basquiat searched his roots to battle racism and create his unique artistic vision.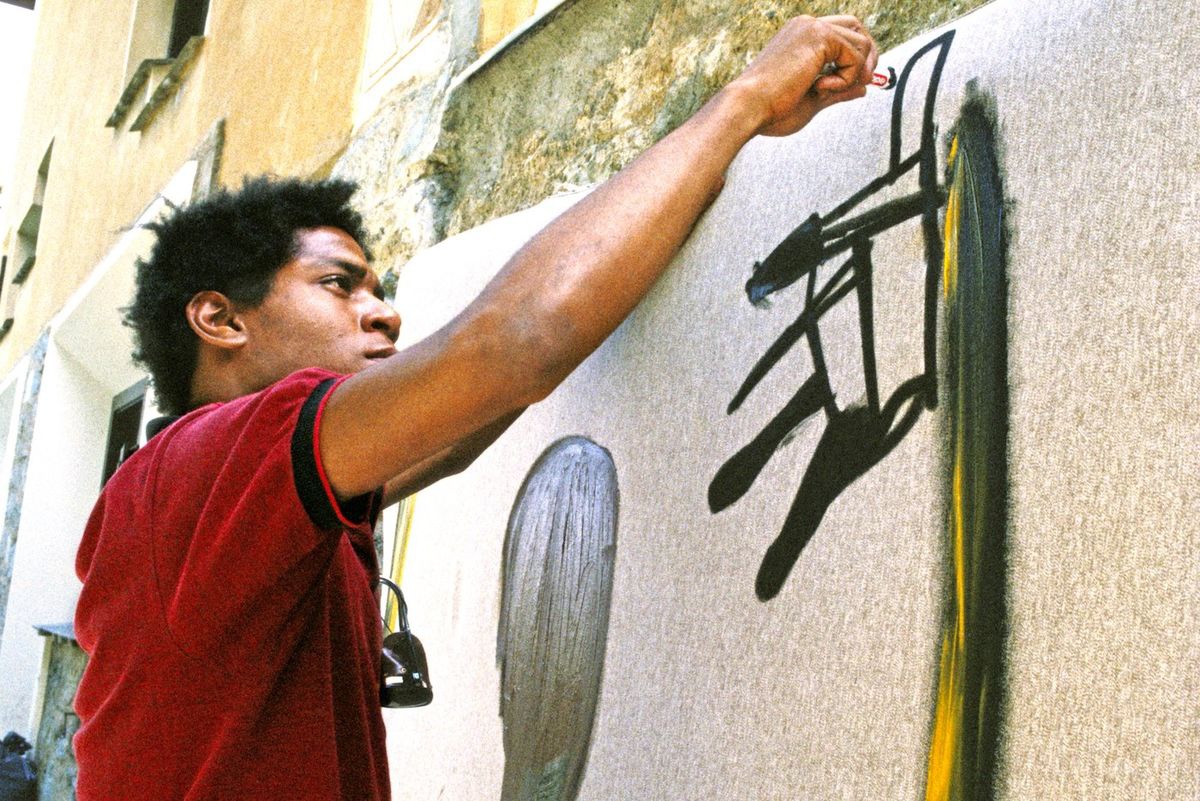 When Jean Michel-Basquiat was a little boy, his mother took him to all the great New York art museums—the Museum of Modern Art, the Metropolitan Museum, the Brooklyn Museum… he walked the halls of them all. She encouraged the artistic talent she saw in him, whilst the young artist's father came home from his accounting job and gave him paper to practice doodling on. Basquiat's childhood, and his experience growing up with mixed Haitian and Puerto-Rican heritage, influenced much of his artistic style during his famed, yet short-lived, adulthood. Indeed, much of the artist's oeuvre can be considered a visual pilgrimage of his own place in the world—in New York city, in his social setting, in his role as an artist, and his place as a black man—and the artist dug into the visual codes of his ethnic roots to map out this personal journey, and share it with the world in order to make a statement about society at large.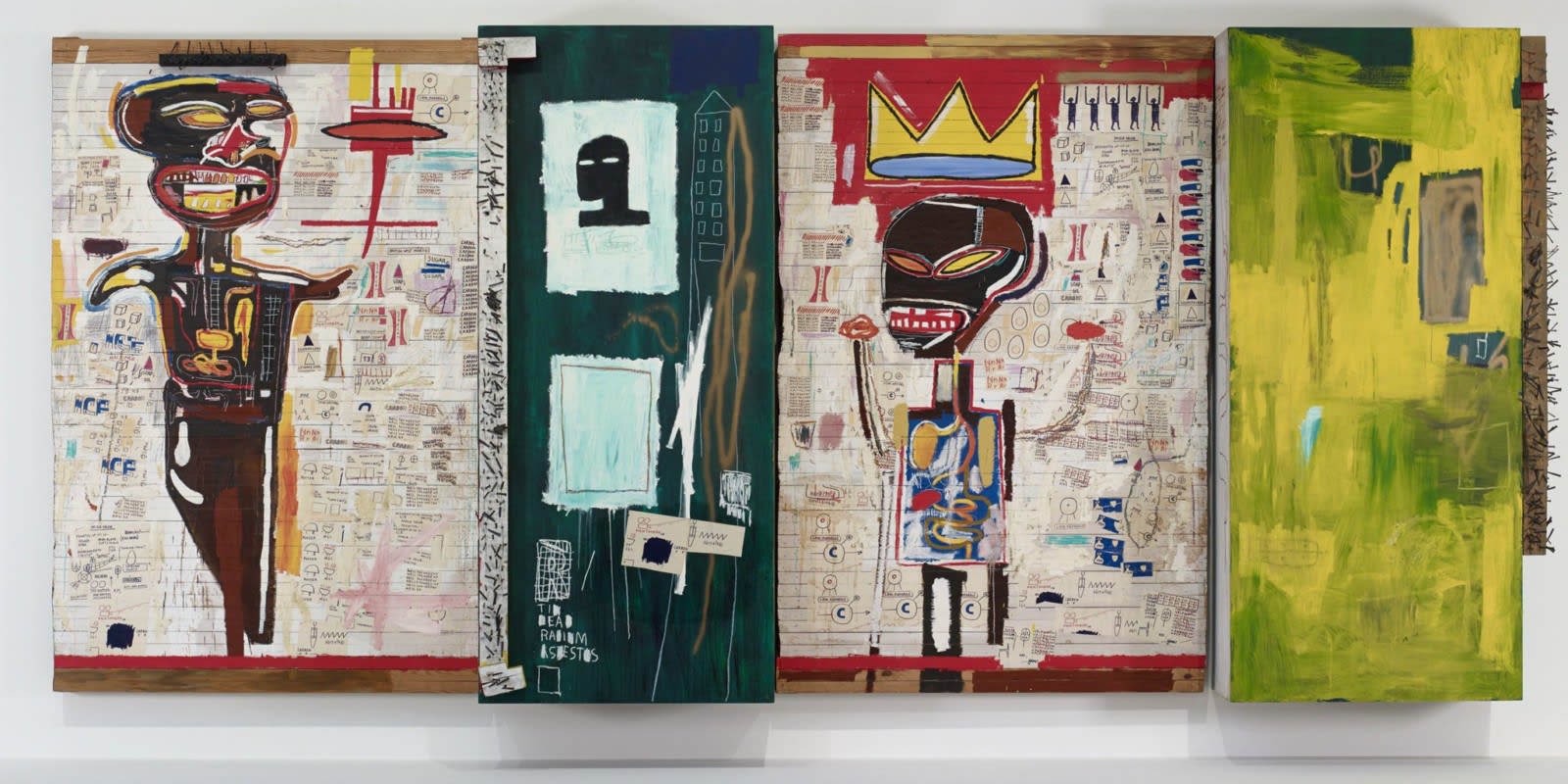 Jean Michel Basquiat, Grillo (1984), oil acrylic photocopy oilstick and nails on wood, 243.8 x 537.2 x 47 cm | © Fondation Louis Vuitton, Marc Domage
The subject of Basquiat's paintings is primarily the black man, sometimes self-portraits, rendered in a coarse, stick-man format. Basquiat tapped into African history, symbolism and stylisations in his artworks, to proclaim solidarity with his black roots. For example, his figures often have mask-like facial features which echo some traditional African masks, and certain works throughout Basquiat's oeuvre such as Flexible (1984) and Portrait of Glenn (1985) have red, yellow and green accents which align with his interest in pan-Africanism.[1] He combined these refrences to Africa with influences of street and graffiti art, to create a visual language and message that could be understood in context by his audience in the West. He used this language to speak of the brutality he lived and witnessed.
Jean Michel Basquiat, Irony of a Negro Policeman (1981), acrylic on canvas, 183 x 122 cm
Indeed, one of the most lasting impressions of Basquiat's life and work is how he constantly battled racism. He even used the visual language of Primitivism—a movement that typically consisted of European artists appropriating artistic elements from African cultures—in order to turn racial appropriation on its head and reclaim these symbols and techniques. For example, he used the violence of coarse marks and expressive brushstrokes on his canvases to comment on police brutality and racial discrimination. In his painting The Death of Michael Stewart (Defacement) (1983), a rough silhouette of a black, unidentifiable figure, is being beaten by the police. This painting was created after the death of the young artist Michael Stewart, who died at the hands of police brutality. Basquiat's response was to purposefully utilise the strong lines, scribbles of colour and simplified forms in his artwork to comment on the defacement and erasure of Michael Stewart. In doing so, he also aligned his allegiance to traditional African art, reclaiming the language of Primitivism, and made sharp commentaries on the racial injustice he witnessed before him in his time.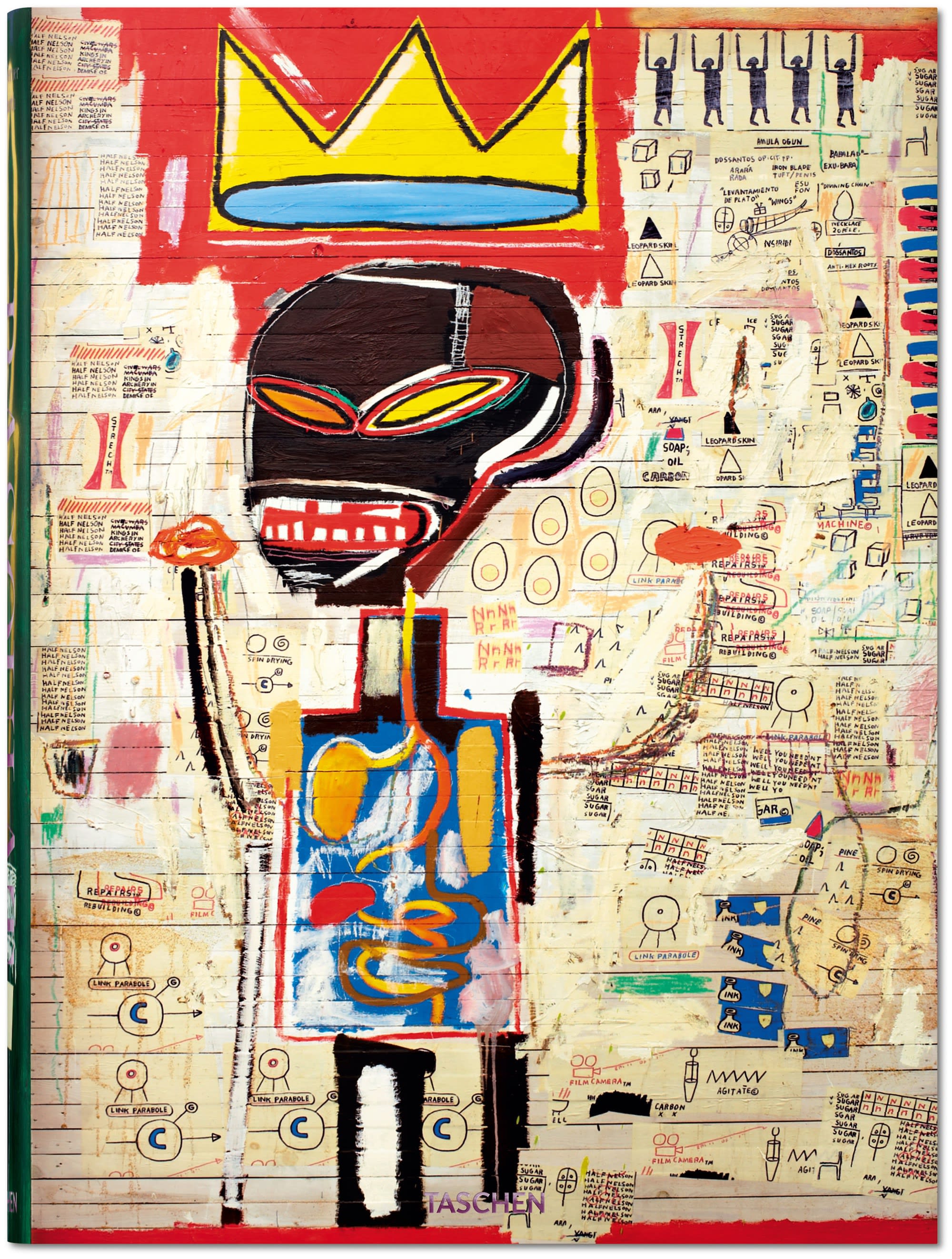 Jean Michel Basquiat – Hardcover, 29 x 39.5 cm, 500 pages, Taschen
Today, Basquiat is one of the most loved artists in the world, with huge retrospectives of his works having been held at the Barbican Gallery in London and the Fondation Louis Vuitton in Paris in recent years. His fame remains because his works are just as relevant now as they were in the 70s and 80s. Michael Stewart dying due to police brutality was echoed in the death of Eric Garner decades later.[2] Racial hate crimes have doubled over five years in the United Kingdom since the Brexit referendum.[3] Perhaps, therefore, there is a certain comfort in the works of Basquiat. A comfort that there has been, and will be, people pointing to the strength of their predecessors and re-incorporating the visual language of their arts to take a stand against contemporary racism. Just as Basquiat did all those years ago.