The story of British-Nigerian artist Yinka Shonibare is one that spans two continents, countries and cultures. He was born in London, but moved to Nigeria when he was three years old, where he spent his childhood. The straddling of these two nations, and ultimately two cultural identities, thus has a profound influence on his work, which often engages with themes of identity, globalisation and post-colonisation.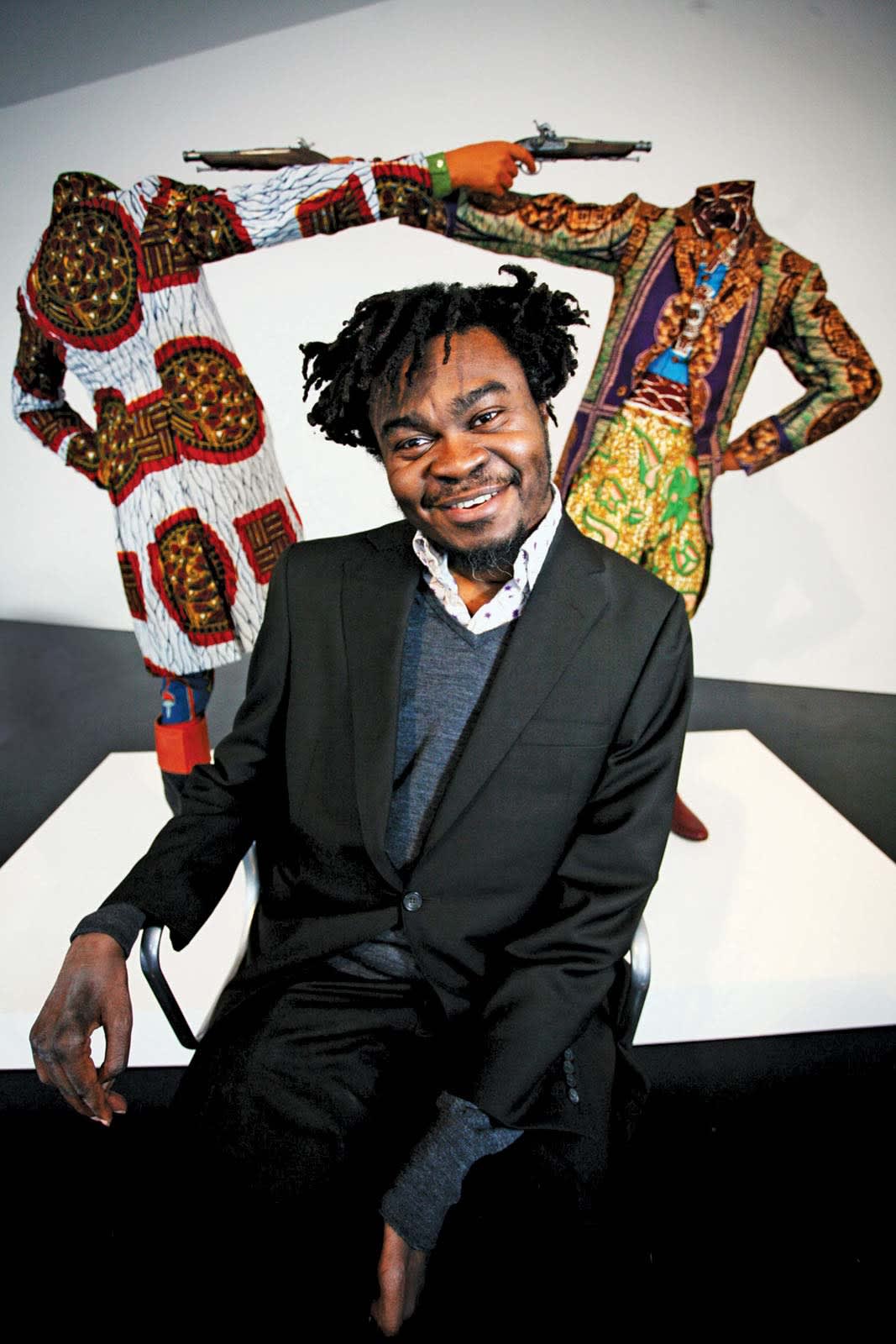 Yinka Shonibare MBE, How To Blow Up Two Heads At Once (Gentlemen), 2006 - in the background
Shonibare began his artistic career when he graduated from Byam School of Art (now Central Saint Martins) and Goldsmiths in London, with his BA and MA in Fine Art, respectively. At Goldsmiths, he graduated with the Young British Artists (YBA) generation, many of whom went on to become some of the most famous contemporary British artists today, such as Damien Hirst, Tracey Emin, Sarah Lucas, and others. He therefore began producing art during a critical moment, when the spotlight was on British art. When he was 18, he contracted transverse myelitis, an inflammation of the spinal cord that would lead to a long-term disability. The artist's nerve and attitude allowed him to pursue his artistic career, however, and Shonibare is now a patron of Shape Arts, a charity that supports disabled artists.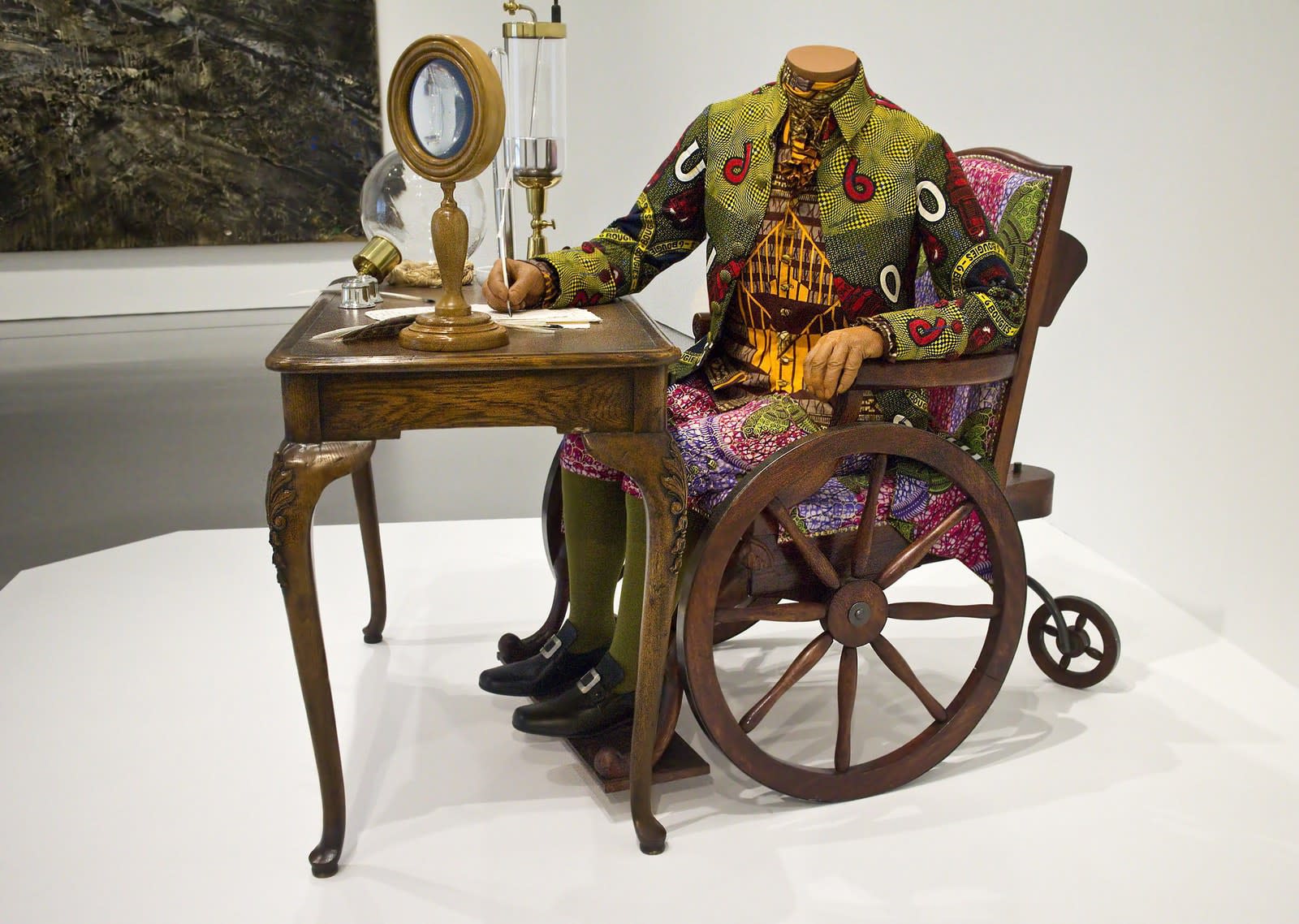 Yinka Shonibare MBE, The Age of Enlightenment (2008)
Shonibare admits that he often gets bored of particular materials and media, hence his incredibly diverse output of sculpture, painting, film and photography. In most works, however, there is the common thread of using the language of Western art history and literature to create a discourse around the relationships between Europe and Africa. His works often appear playful and colourful, yet they are tinged with irony, combining Dutch wax-printed fabrics (typically associated with 'African' clothing, and which Shonibare considers a symbol of the African diaspora) with colonial themes such as 19th century attire, or Western Antiquity. His series of Venuses, for example, are clad entirely in wax-printed fabric, which raises the question: is the Venus an African woman? Or is it a woman who has colonised the world and appropriated Africa's fashions? Shonibare's work poses these challenges, and it is this combination of institutional critique, the rise of Brit Art, and the decolonisation of the British Empire that marked the young Nigerian as an artist to watch.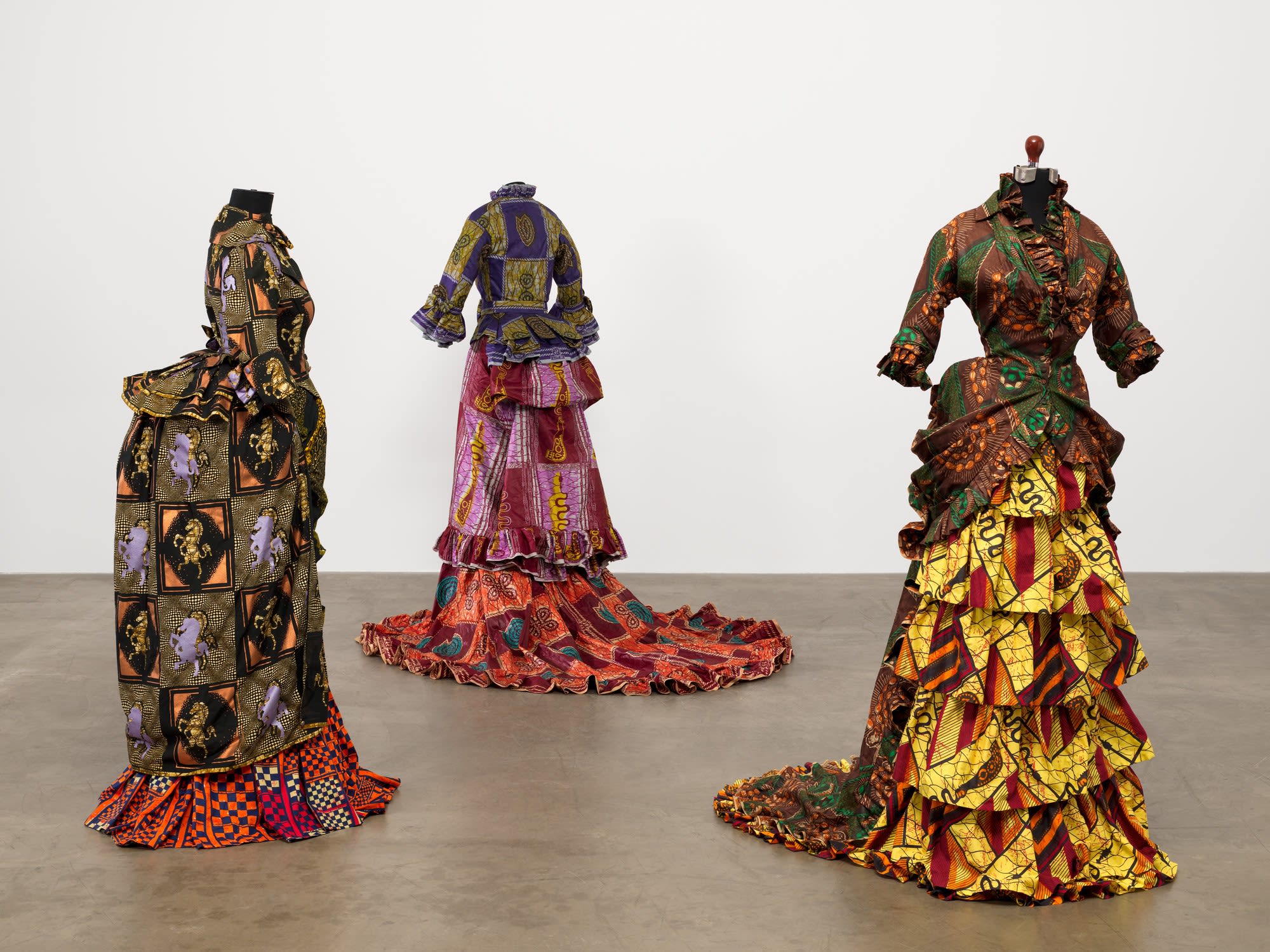 Yinka Shonibare MBE, How Does a Girl Like You Get to Be a Girl Like You? (1995)
Indeed, he caught the eye of the late curator Okwui Enwezor, who commissioned him to create an installation for Documenta XI in 2002, a quinquennial that has now been cemented in art history as one that destabilised and re-thought all the structures of artistic display and globalism as we know it. Soon after, Shonibare was nominated for the Turner Prize in 2004, and in 2010, he was chosen to create the Fourth Plinth in Trafalgar Square, London. The resulting work was his now-iconic Nelson's Ship in a Bottle. He was the first black artist to be commissioned to create the Fourth Plinth.
Yinka Shonibare MBE, Nelson's Ship in a Bottle (2010), a scale (1:30) replica of HMS Victory in a bottle
The artist was first appointed an Order of the British Empire, an MBE, in recognition for his contribution to the arts in 2004. In January 2019, he was appointed CBE. Yinka Shonibare CBE lives and works in the United Kingdom.