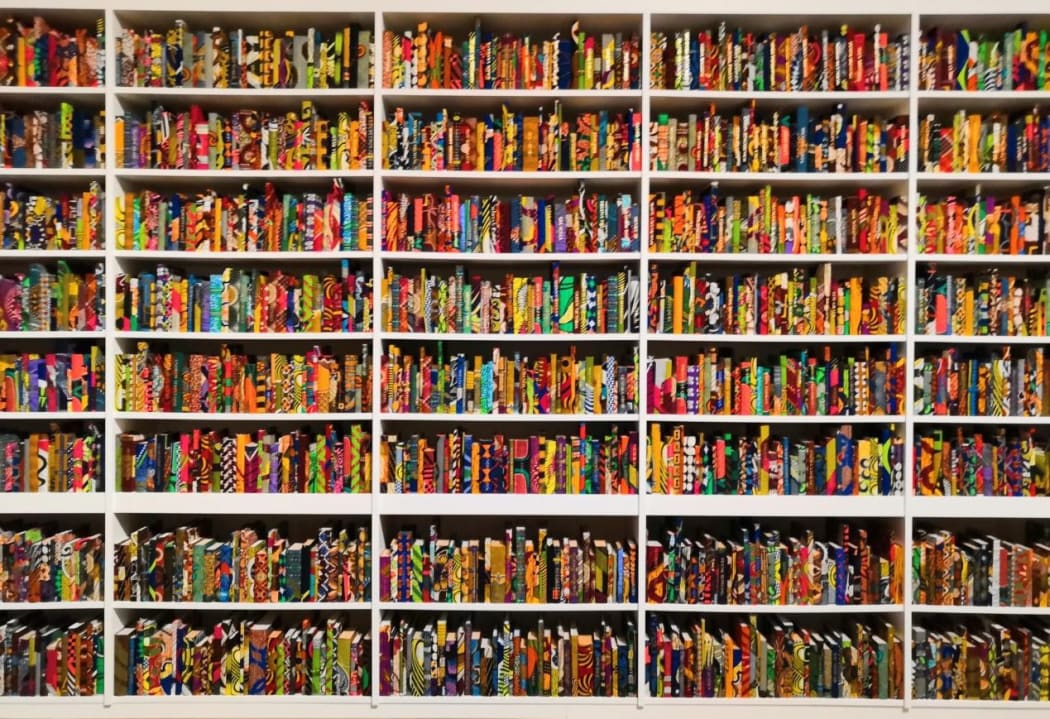 As auction houses establish sales dedicated to African modern and contemporary art, galleries look to diversify their rosters of artists, and the African art market continues to grow, it is important to take note of which artworks and artists are performing well. This is especially true if you are hoping to make an investment in African art. Below, we have compiled the top 10 most expensive African artists to date, highlighting which works landed them the record-breaking position, and why.
Marlene Dumas
It's no secret that female African artists perform exceptionally well on the art market compared to their Western counterparts. South African artist Marlene Dumas (b. 1953) tops our list, with her work The Visitor (1995), which sold for a whopping $6.3 million at Sotheby's London in 2008. The work depicts six women in a darkened room, looking towards the light shining through an open door, with their backs turned to the viewer. The painting is shrouded in mystery—who are these women, and whom are they waiting for? Upon further discovery, we learn that this painting was based off a photograph of a brothel in Nevada, USA around 1960. The work thus recalls artworks of a similar theme—such as Picasso's Les Demoiselles d'Avignon—and marks Dumas' contribution to an ongoing theme that has fascinated artists for centuries.
Marlene Dumas, The Visitor (1995), oil on canvas, 180 x 300 cm
Julie Mehretu
Julie Mehretu (b. 1970) is a name that is well-known in the contemporary art world today, and her work has extended beyond the 'African art' category to reach a truly global audience, as her record-breaking sale in Sotheby's Hong Kong demonstrated early last year. She is most known for her large-scale gestural abstract paintings. Black Ground (Deep Light) (2006) is one such work, and sold for $5.6 million, at Sotheby's Hong Kong in 2019. Of this work, Mehretu stated that Kandinsky was a source of inspiration, particularly his theories about 'the implosion and/or explosion of our constructed spaces', where chaos and violence reside.
Julie Mehretu, Black Ground (Deep Light) (2006), acrylic and ink on canvas laid down on board, 182.9 x 243.8 cm
Irma Stern
A quick search of 'most expensive African artists' on Google will pull up a whole slew of artworks by another South African artist, Irma Stern (1894 – 1966). Several of her paintings have topped the records for her most expensive artwork sold over the years, and her current top lot is Arab Priest (1945), which sold for just over £3 million at Bonhams London in 2011. The artwork was reportedly sold to a museum in the Middle East. This portrait of a priest was produced during Stern's stay in Zanzibar, where she immersed herself in Middle Eastern culture. The works produced during this period of Stern's life are today considered among some of her most important, and thus pieces from this time consistently perform well at auction.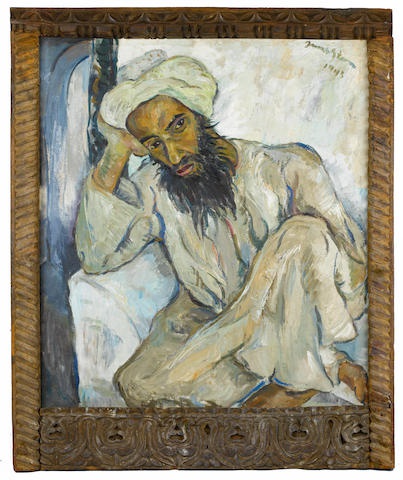 Irma Stern, Arab Priest (1945), oil on canvas, 97 x 86cm
Njideka Akunyili Crosby
As a woman, African, and the youngest artist on this list, Nigerian Njideka Akunyili Crosby (b. 1983) is easily one of the most fascinating artists living and working today. In 2018, her work Bush Babies (2017)sold for $3.4 million at Sotheby's New York. Crosby's works have often been noted for their 'emotional nuance', especially when it comes to themes of transculturalism—of the bond between coming from Nigeria, but living in America. She states: 'It really is about what it means to be someone who has existed between multiple worlds and carries all those influences with them at once… I'm trying to use my work, and my life story, to explore this idea of a liminal space, or a third space, where multiple things come together to yield a new thing'.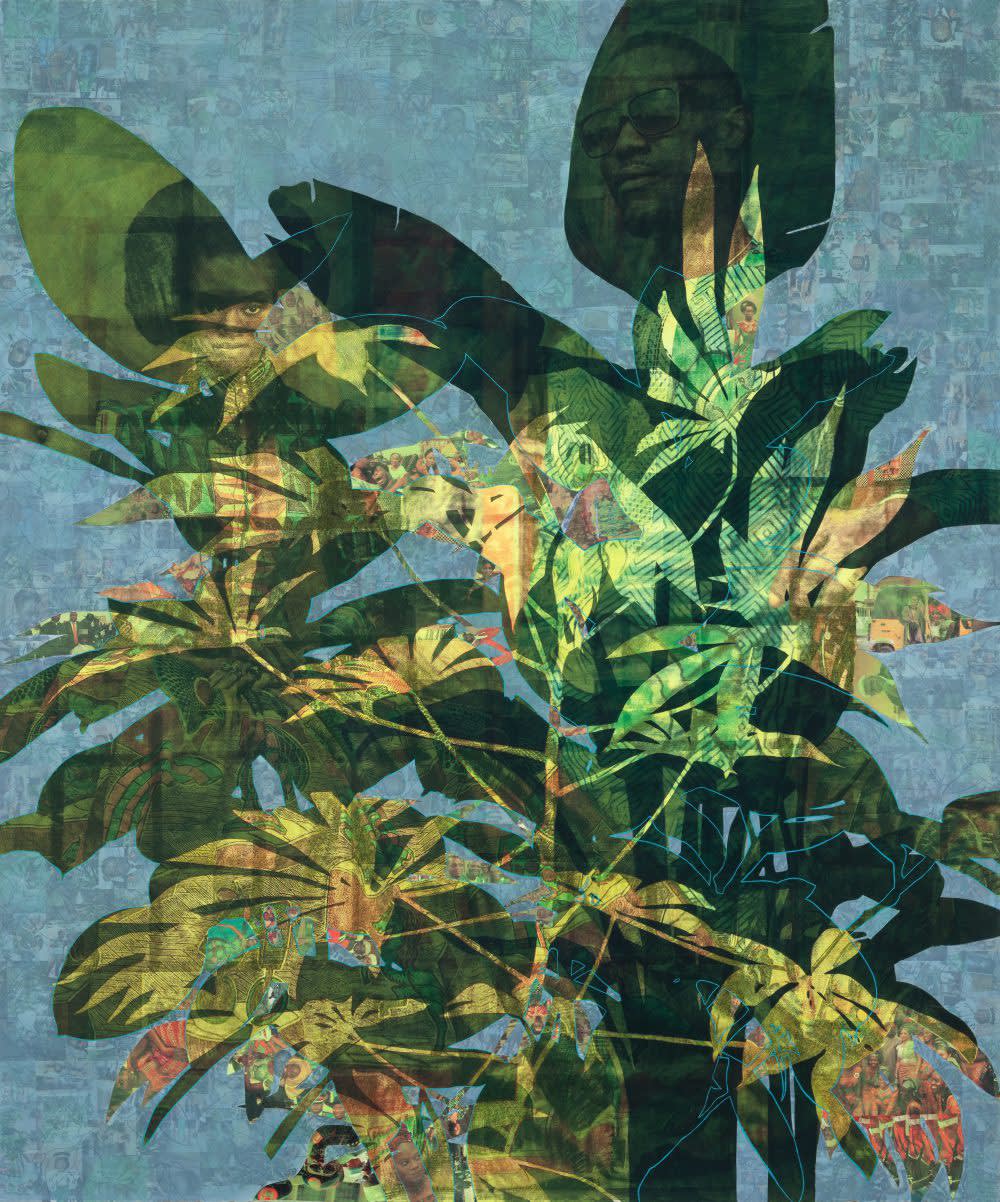 Njideka Akunyili Crosby, Bush Babies (2017), acrylic, transfers, colored pencil and collage on paper, 183 x 152 cm
Mahmoud Said
Les Chadoufs, a 1934 painting by Egyptian artist Mahmoud Said (1897 – 1964), sold for $2.4 million at Christie's in the United Arab Emirates in 2010. Said's mission was to create this painting as a metaphor for an Egyptian Renaissance of art and culture. The figures in the piece are actively working together, likely in the name of industrial development, and the strong pyramidal composition of the work carries symbolic meaning for progress, as well as being a clear reference to Egypt's own architectural and cultural history.
Mahmoud Said, Les Chadoufs (1934), oil on panel, 89 x 117cm
Ben Enwonwu
Ben Enwonwu MBE (1921 – 1994) is widely considered one of the fathers of Nigerian modernism. In 2018, the artist's oil on canvas painting Tutu (1974), appeared on the art market after decades of being lost. This spell of absence behind the work increases its mystery and rarity, which helped it achieve an astounding $1.6m at Bonhams London. Nigerian novelist and poet Ben Okri remarked that the rediscovery of the painting was 'the most significant discovery in contemporary African art in over 50 years'.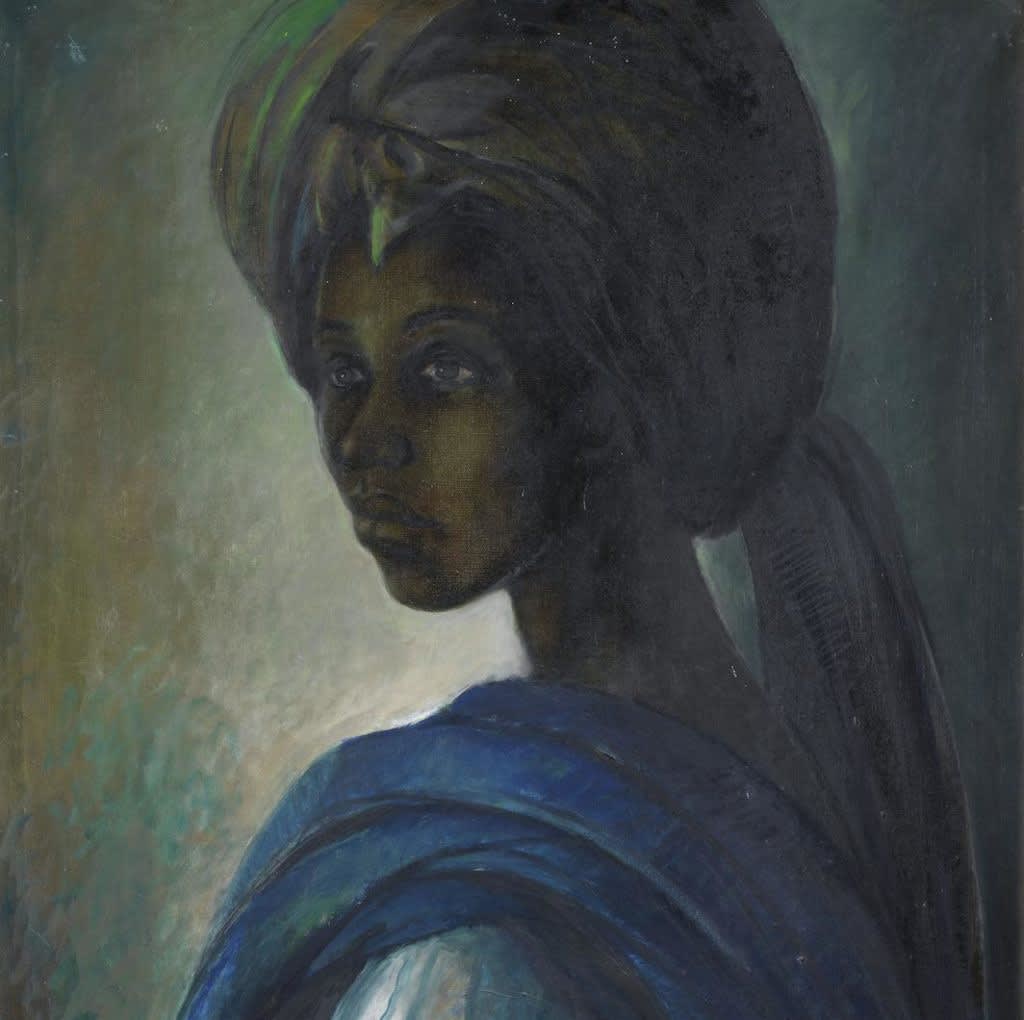 Ben Enwonwu, Tutu (1974), oil on canvas, 97 x 66.5 cm
William Kentridge
South African artist William Kentridge's (b. 1955) artwork Procession (2000) is a 25-piece bronze sculpture in which 25 figures are placed in a line. The work achieved a price of $1.5 million at Sotheby's New York in 2010. Kentridge is an incredibly versatile artist, who has created everything from drawings, prints, performances and films, as well as sculpture. This work is likely connected to his animated film, Shadow Procession (1999). As Kentridge is most famous for his film work, the close association of the sculpture to the film may be part of the reason why this particular work is Kentridge's most expensive work of art at auction to date.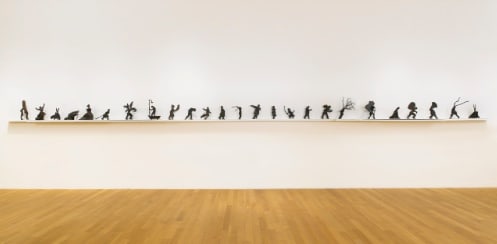 William Kentridge, Procession (2000), bronze in 25 parts, dimensions variable
El Anatsui
El Anatsui (b. 1944) is one of the most famous Ghanaian artists today. In 2018, his work Recycled Dreams (Uniting the World with a Stitch) (2005), which is one of Anatsui's classic draping wall-hung sculptures made of bottle caps and aluminium, achieved $1.5 million at Christie's New York. Anatsui's works resemble medieval tapestries, as well as indigenous Ghanaian arts and crafts, and touch upon themes of cross-cultural unity, environmentalism, and consumerism in the modern age.
El Anatsui, Recycled Dreams (Uniting the World with a Stitch) (2005), found aluminum bottle caps and copper wire, 186.7 x 251.5 x 10.2 cm
Jacob Hendrik Pierneef
Jacob Hendrik Pierneef (1886 – 1857) was a South African landscape artist, who is sometimes referred to as one of the South African modern masters. His works derive from the landscapes of his homeland, though the artist often took a flatter, more geometric, and almost illustrative approach to his subject matter, allowing colour and line to reign. An example of such a work is his record-breaking Farm Jonkershoek with Twin Peaks Beyond, Stellenbosch (1928), which sold for $1.4 million at Strauss & Co., South Africa, in 2017.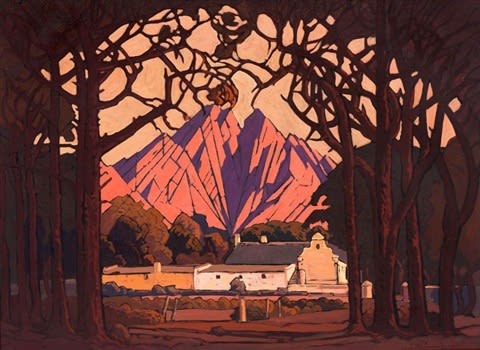 Jacob Hendrik Pierneef, Farm Jonkershoek with Twin Peaks Beyond, Stellenbosch (1928), oil on canvas, 73.5 x 100.5 cm
Abdul Hadi El-Gazzar

Abdul Hadi El-Gazzar (1925 – 1965) is considered one of the most influential members of the Egyptian modern art movement, despite his short career. In this work, The Construction of the Suez Canal, a watercolour and gouache piece, El-Gazzar documents the creation of one of the most important (and controversial) canals in Egyptian, French and British imperial history. Though the artist recognised the trade and industry that the canal brought in, it was the political upheaval that followed during the Suez Crisis that inspired El-Gazzar to create this piece. It sold for $1 million at the Christie's auction in Dubai in 2014.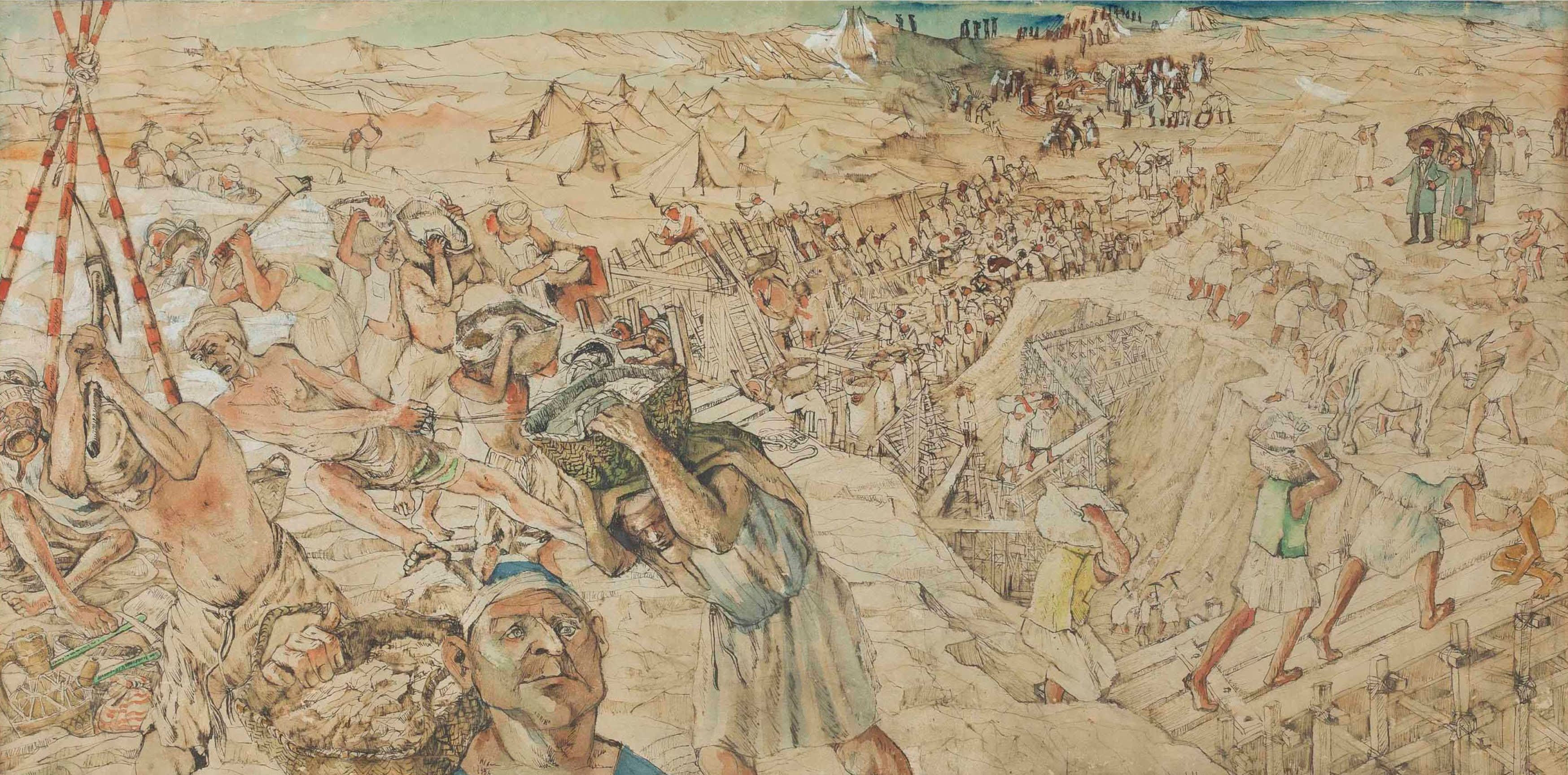 Abdul Hadi El-Gazzar, The Construction of the Suez Canal (1965), watercolour, gouache and ink on paper, 35.5 x 70.5cm