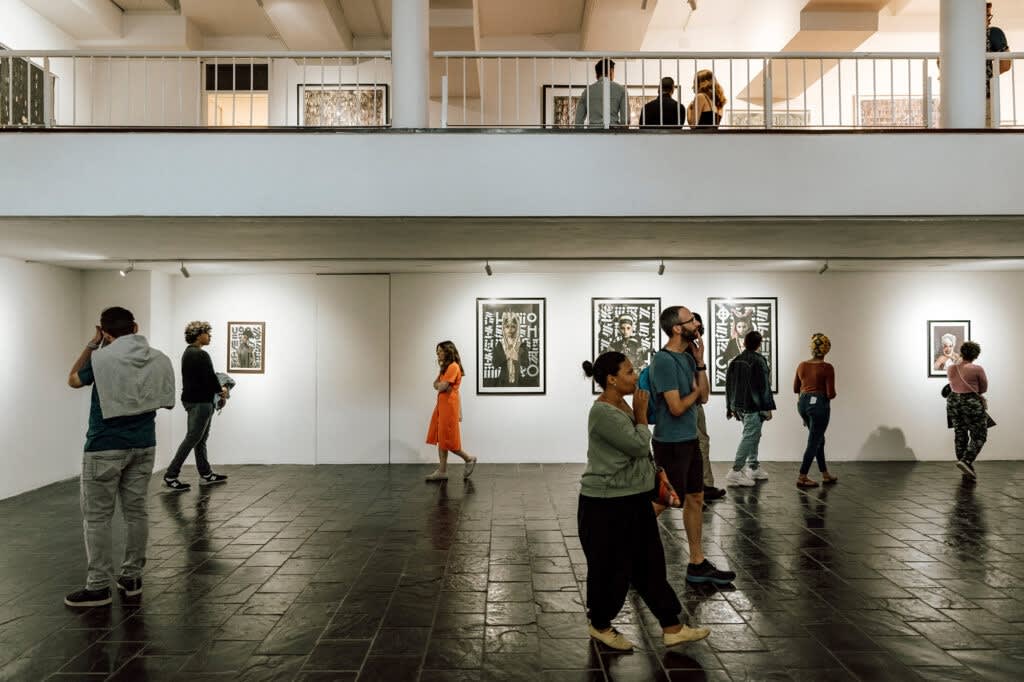 One of Pavillon 54's favourite things to do is to physically visit and scope out the artistic scene in various countries in Africa. This has been hard to achieve during the pandemic, however we fortunately managed to visit South Africa recently, and have already compiled a list of the 7 emerging artists to watch there. In this next instalment of our series on the art scene in South Africa, we highlight the 7 top art destinations in South Africa that every art lover has to experience.
Zeitz MOCAA
Did you know that the Zeitz Museum of Contemporary Art Africa (or the Zeitz MOCAA), hosts the largest collection of contemporary art from Africa in the world? Based in Cape Town, the museum's mission is to exhibit, collect, preserve and research art from the African continent and its diaspora, whilst also executing educational and enrichment programmes for artists and art lovers. For a crash course in contemporary African art history, this museum should take top place on your list.
Zeitz MOCAA. Photo credit: © Hufton+Crow
August House and Bag Factory Artist Studios
South Africa is home to some incredible art communities, such as August House and Bag Factory. Self-described as 'the artist's playground', August House is a collective art studio of around 40 African artists, where collectors can come to buy art directly from its makers. Incredible artists such as our very own Mbongeni Buthelezi have been residents of August House. Bag Factory is another such artist collective, a non-profit which provides studio spaces and a residency programme for African artists and stimulates interaction between artists and the local public. Tracey Rose was a previous resident of this particular artist studio, demonstrating the impact and support such artistic hubs provide for future career development and exposure for emerging artists in South Africa.
August House, © Heather Mason / Lonely Planet
Strauss & Co Auctions
In terms of the secondary market in South Africa, Strauss & Co is the place to go. Whether you wish to participate in their online art auctions, or pop in to their locations at Johannesburg and Cape Town, Strauss & Co has it all: fine art, art books, jewels, decorative items and wine. For African Art Collectors who are looking for new artworks and antique items for their collection, Strauss & Co is a top destination.
© Luxuryxclusives.com
Norval Foundation
Not far from Cape Town, art lovers will find the Norval Foundation, an art foundation and architectural wonder. Apart from the outstanding nature of the building itself, which is set against a mountain and vineyard landscape, the Norval Foundation is a centre for art and culture in South Africa. Initiated by the Norval family, the Foundation collects modern and contemporary art from South Africa and beyond, with the aim to research, educate, and make accessible the art of the country. Today, it holds one of the leading collections of South African artists in the world.
Norval Foundation © Elle Decor South Africa
The Cape Winelands
Also not far from Cape Town are the Cape Winelands, most famously Franschhoek and Stellenbosch. Known for exquisite wines and an idyllic natural environment, these towns have become tourist attractions for the wealthy, and with this has brought an onslaught of quaint art galleries, some of which are quite exceptional. Take, for example, the gallery at the Grande Provence Heritage Wine Estate in Franschhoek. Though the estate collects contemporary art from South African artists who work in all types of media, the gallery is most known for its sculpture. Stellenbosch is also known for its array of art galleries, most notably the Dylan Lewis Sculpture Garden and the Gavin Collins Art Gallery.
Grande Provence Heritage Wine Estate - Anton Smit, Stream of Consciousness
© wantedonline.co.za
First Thursdays
First Thursdays is a gallery hop event which takes place on the first Thursday of every month in Johannesburg and Cape Town. The walk is centered around the programme of galleries and cultural hotspots across the city that are open until late. The aim of the event is to make art accessible to people from all walks of life, and also to support these cultural centres by actively supporting and raising awareness of what the arts scenes in these cities have to offer.
First Thursdays Braamfontein, Johannesburg © inyourpocket.com
Turbine Art Fair & Investec Art Fair
Last, but by no means least, South Africa is home to some of the continent's leading art fairs. The Investec Cape Town Art Fair is the largest contemporary art fair in Africa, and hosted 107 exhibitors and 22,000 visitors in its 2020 edition. The goal of the fair is to be a cultural and economic hub, where the fast-growing African art market meets the global art industry. Turbine Art Fair is another important event in the South African art calendar. The fair puts emphasis on supporting emerging artists and making the acquisition of artworks more accessible and inclusive, making it an excellent location for the budding African Art Collector!
RMB TAF | Turbine Art Fair © Turbine Art Fair
Whether you are a seasoned art collector, a newly initiated collector, or simply a lover of the arts, South Africa has an array of incredible museums, tours, events and fairs to attend, both for cultural and economic gain! We recommend visiting both the major national sights (such as Zeitz Mocaa) and the more local ventures (such as First Thursdays) for the full experience. Have you ever visited these cultural centres or attended these events? Let us know your thoughts in the comments below!