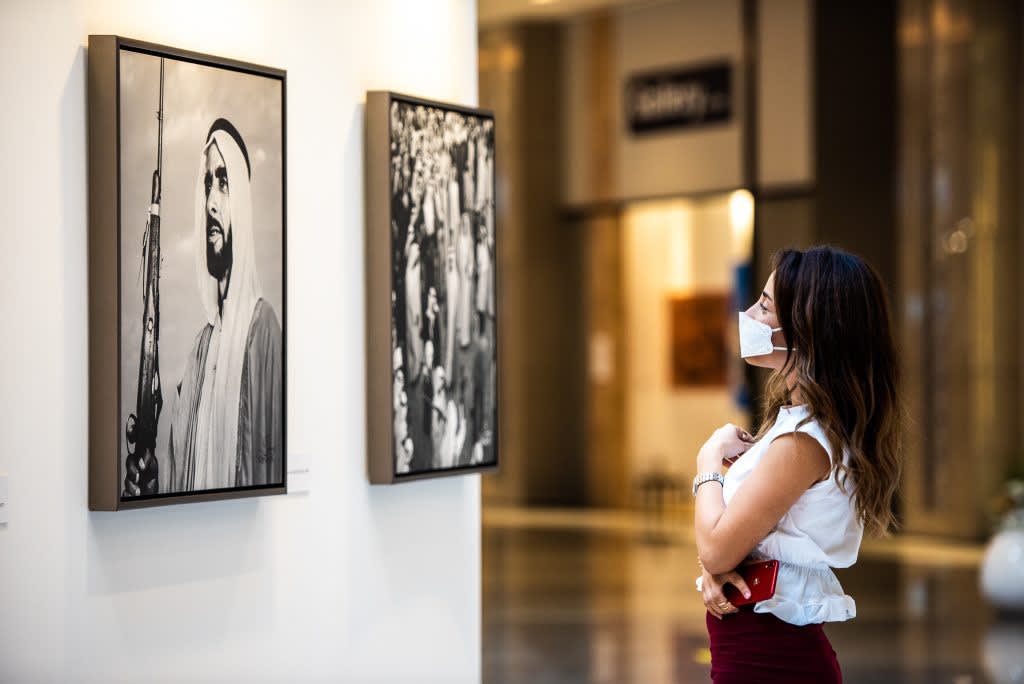 Art world professionals and connoisseurs wait with bated breath for the annual Art Basel x UBS Art Market report each year. This report, one of the most comprehensive in the industry, provides a full assessment of the market's performance of the previous year, allowing businesses to analyse the current state of the market, and plan accordingly for the years ahead.
But with such an in-depth document, which covers statistics from art dealer sales, auction house performance, art fairs, online sales and more, it can be time-consuming to read the full report and extract the most essential information. We've summarised the key takeaways from the Art Market Report 2021, and have also highlighted some of the key impacts on the African art market from the year 2020.
The Global Art Market
Unsurprisingly, with the hit of the COVID-19 pandemic, overall art and antiquities sales in 2020 dropped by 22% last year compared to 2019. The three largest art markets, the US, China and the UK, retained their positions as global art market leaders, though the markets fell by 24%, 12% and 22% respectively. Each of these markets still managed to perform better than in the 2009 recession, however. Seeing as the art market bounced back relatively quickly from the 2009 crisis compared to other industries, Pavillon 54's assessment is that the art market often performs independently from financial indices such as the S&P 500 or FTSE 100. Whilst other industries flailed for a couple of years following the 2009 recession, the art market bounced back in 2010. We might experience a similar occurrence in 2021, if not for the glaring difference that COVID-19 is still present, is still putting countries in lock down, and physical art events, museums and galleries remain closed or severely restricted. As a counterpoint to the difficulties of the physical art market, the online art market experienced an all-time high, doubling in value to $12.4 billion last year, and claiming a record stake of 20% of the art market as a whole.
Dealers, Auction Houses and Art Fairs
With the closures of galleries, museums, auctions houses and art fairs, the physical art market took an undeniable hit in 2020. Art dealers experienced a 20% drop in sales, with many resorting to cutting operational costs or downsizing their staff in order to remain profitable. Almost half (48%) of dealers surveyed for the report stated that they had to access loans, with 68% of this amount resorting to government support or repayable credit. Auction houses took a larger hit, with a 30% drop in sales last year. With most sales moving online—a sector that is known to sell at far lower values than its traditional, physical counterpart—and with collectors conscious of the fact that 2020 was a bad year to consign artworks to sell, auction houses experienced a drop in both the value and volume of works that came to market. All art businesses had to reprioritise their business strategies to find online editions to the standard exhibition and art fair calendars, which saw a sudden wave of online viewing rooms and exclusively digital auction sales come to the fore. These online ventures were particularly successful in attracting new collectors, especially in the auction sector. As for art fairs, 61% were cancelled altogether in 2020, 37% of fairs were held, and 2% hosted a hybrid online and offline fair or other alternative model. The majority (62%) of fairs held offered an online viewing room to supplement the restrictions put into place due to COVID. Despite the cuts in fairs, almost half of the collectors surveyed stated that they had bought an artwork at an art fair, whether physically or online, and many collectors reported that they felt comfortable and confident in attending an art fair at some point in 2021.
The auctioneer Oliver Barker "conducted" a Sotheby's sale of contemporary, modern and Impressionist artworks from a control room in London. © Sotheby's
When it comes to the African art market more specifically, it appears that there is a global disparity in how supported various regional markets felt during the pandemic. Larger markets such as the US, UK and China reported that they received a fair amount of support during this time. However, markets such as Africa and South America experienced less support, perhaps due to the fact that they are home to many smaller art businesses. Though Africa was one of the regions where many companies had to resort to downsizing in order to stay afloat (with 28% of businesses stating that they had to make cuts in their team), the region was also one of the areas that actually increased employment in the art world, with 28% of businesses expressing that they were able to increase their staff number (a much higher percentage than in other regions). This demonstrates that some businesses were able to expand during this time, and that the African art market was able to experience growth in some parts, despite the disparity among art market regions and a global force majeure.
1-54 Contemporary African Art Fair in London, 2020. Photo by Rocio Chacon.
The Online Art Market
The online art market took the cake in 2020, reporting its highest growth ever. Online art sales doubled to obtain $12.4 billion last year, increasing its market share from less than 10% (more specifically, 9%), to 25%. In the dealer and art fair sectors, this figure tripled from 13% to 39%, due to the move to OVRs (online viewing rooms) and online exhibitions. Interestingly, 32% of online sales went to new collectors, down from 57% in 2019.
Screenshot of Galerie Thaddaeus Ropac's online viewing room at Art Basel Hong, March 2020. Courtesy Art Basel Hong Kong
Many businesses stated that their focus on 2020 was to nurture their existing clientele, which demonstrates that seasoned collectors were introduced to the online art market (and thereby taking a larger share), whereas new collectors (who are typically more inclined to the online art market), took a smaller share last year. Though many had to resort to online means of buying and selling in 2020, collectors stated that they have a strong preference for physical means of acquiring art, with 66% expressing this preference. Despite collector enthusiasm to return to physical modes of buying and selling art in the future, many art businesses and art world professionals have continuously stated that they expect the hybrid online-offline model to remain post-COVID 19.
Economic Impact
Overall, global art businesses experienced a 5% fall in employment in 2020. Very few businesses were able to expand during this time, with many making staff cuts, though the majority managed to stabilise their employment. Most art businesses expect that levels of employment in the art world will stabilise in 2021, and 39% reported that they expected employee numbers to increase. The consequences of the pandemic affected varying regions and demographics differently, with economically vulnerable people, women, young people and those working in insecure contractual arrangements receiving the biggest hit.
The Royal Academy of Arts in London is one of the English museums that has gone through a staff redundancy consultation to reconsider more than 100 roles.
The art world is known to be a top-heavy industry, with mega and alpha galleries reaping in the most profit and benefit each year. Many suspect that the pandemic has increased this polarisation between large and small-to-mid sized companies. However, the pandemic also brought a great shock to the market in terms of its online market share, proving that innovation and change is possible in an extremely traditional market. The growth of the online art market allowed for new partnerships and collaborations to develop, which many have felt to have had a democratising effect. The challenge for art businesses in the future will be to capture and maintain collectors' attention, especially in an increasingly noisy and homogenising online sphere.