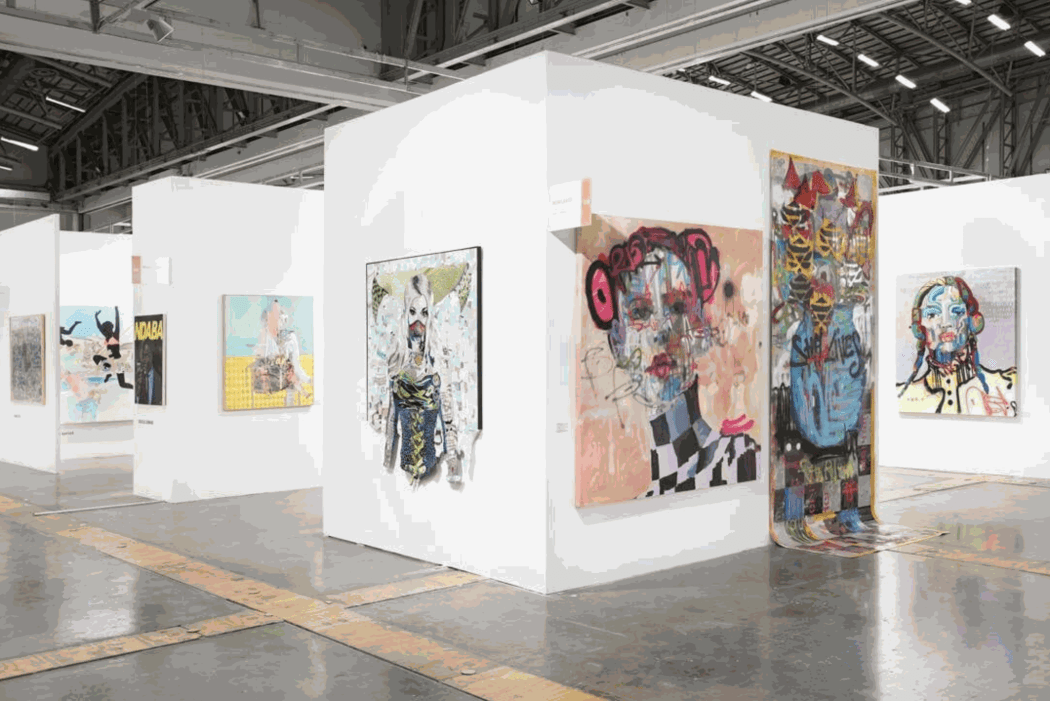 South Africa is one of the continent's most established art markets. Not only is it a hotspot for street art, but it is also home to some of Africa's most established art infrastructures, such as the Zeitz MOCAA, which houses the largest contemporary collection of art from Africa, and the Investec Cape Town Art Fair, the largest contemporary art fair in Africa. Cities such as Cape Town and Johannesburg are thriving hubs of artistic production, full of beautiful art and galleries, some of which have made an international presence at events such as the 1-54 Contemporary African Art Fair in London and New York. However, local artists and art businesses also constitute some of the fundamental building blocks of this flourishing art scene.
The team here at Pavillon54 has recently had the opportunity to visit this wonderful country, and we've rounded up 7 promising artists to keep an eye on. Read on to learn more, follow, and support these artists!

1. GreatJoy (@ngreatjoy1)
GreatJoy Ndlovu is a Zimbabwe-born, Johannesburg-based artist whose figurative work often centres around portraiture. Often depicting the artists' own inner emotional world through these portraits, rather than depicting an external reality, GreatJoy's works brim with expressive brushstrokes, pencil-work, splashes of colour and dynamic movement. The young artist (b. 1993) has already participated in a residency granted by the Southern African Foundation of Contemporary Art (SAFFCA) and is collected by various private and corporate art collections, such as the collection of famous comedian and TV host Trevor Noah, ABSA Bank, South African Horizons, Envisionit Capital Solutions, and more, making GreatJoy a one-to-watch artist in the contemporary African art market.
2. Patrick Bongoy (@patrickbongoy)
Patrick Bongoy is a painter and sculptor, born in Kinshasa, the Democratic Republic of Congo, and now based in Cape Town. Bongoy takes a mixed-media approach to his creations, using paint, strips of weaved hessian and rubber, and other materials to create sculptures or sculptural works on canvas. His practice addresses literal and figurative environmental pollution, often also commenting on the hard labour undertaken by women in the DRC to make ends meet. His works are full of movement, structure, and are charged with powerful emotion.
3. Kris Rossouw (@krisrossouw)
Krisjan Rossouw is a Cape Town photographer whose recent oeuvre, Culture Club, is a play on African Pop Art and traditional ritual clay. Rossouw's work is technicolour, exploring and defying notions of imposed and imagined identities in colour and light. A key aspect to Rossouw's work is the collaborative element between model and photographer, emphasising the dialogue and relationship within the creative process, which results in powerful and diversified portraits that celebrate the people and communities in South Africa. Discover some of Rossouw's artwork on Pavillon54
4. Chris Soal (@chris_soal)
Chris Soal is a young emerging Joburg artist who has already garnered significant media attention, won awards, and has even collaborated with the likes of Dior on a limited edition hand bag design. He also works closely with SAFFCA, the South African Foundation for Contemporary Art, a foundation that collects and supports the work of South African artists. Soal uses unconventional media such as toothpicks, bottle caps, and industrial materials to create his sculptural works, which are laden with texture and movement. The artist's works appear to have a life of their own, often dripping off the walls and onto gallery floors, or unapologetically protruding into the viewer's space. Whilst his works tend to take on an abstract minimalist form, the concepts of his work in the use of found objects undeniably veer towards a commentary on the impacts of urban living and the sociological assumptions of value.
If you are around Cape Town, the gallery WHAT IF THE WORLD is currently exhibiting some of Soal's latest works until May 01st,2021.
5. Zanele Montle (@zenele_montle_)
Zanele Montle is a visual artist and teacher based in Johannesburg. Passionate about the creative process and education, Montle's works often display bright block-coloured backgrounds with silhouetted black figures, everyday portraits of Africans honoured in paint. Indeed, Montle's work stems from a very personal root, trying to capture the spirit of loved ones and family members in her work, searching for an anchor and a support system through each painting. We love this interview with her by A Word From The Wise, which gets to the heart of the artist's upbringing and practice!
6. Georgina Gratrix (@gggratrix)
Georgina Gratrix (born Mexico, 1982) is known for paintings that feature expressive, impasto brushwork and humorous yet uncomfortable distortions of figures, objects and landscapes filtered through a colour saturated aesthetic. For over a decade Gratrix has investigated how the painted image can both seduce and challenge a viewer, while developing an immediately recognisable visual language that has a broad public appeal. Portraits of family and friends, as well as art world insiders and social media icons, appear alongside oversized still life paintings of impossibly exuberant bouquets and, to a lesser extent, verdant landscapes recalling the province of KwaZulu-Natal where the artist grew up.
In 2018, Gratrix was awarded the Discovery Prize at the 50th Anniversary edition of Art Brussels. She is also a recipient of the Ampersand Fellowship Award and completed a residencies, including at the Ampersand Foundation in New York City, USA (2018) and in Oaxaca, Mexico, in association with a Centro de las Artes Augustín (CASA).
Gratrix has also had many solo and group exhibitions around the world and has presented solo booths at The Armory Show in New York City, artmonte-carlo in Monte Carlo, and Miart in Milan.
Some of her works are currently on show at the Norval Foundation. 'The Reunion: Georgina Gratrix' is the first solo exhibition at a museum of the South African artist's paintings, bringing together 27 major artworks, completed between 2011 and 2020.
7. Levy Pooe (@levypooe)
Levy Pooe is an award-winning South African artist who obtained the prestigious Cassirer Welz Award in 2020. Pooe's work centres around the experience of the black urban individual, adopting an almost cubist-like visual language to explore themes such socio-economic disparity and class division in post-liberation South Africa—the struggles, in short, of black individuals in the city. With the Cassirer Welz prize already under his belt, Pooe is proving to be a formidable, talented artist who is well worth keeping an eye on as his career develops.
Have you managed to visit any of these artist studios? If you think of any other incredible emerging South African artists we may have missed, comment them below! Here at Pavillon54, we take a community-based approach to building and highlighting the African art scene, so don't hesitate to join in the discussion.