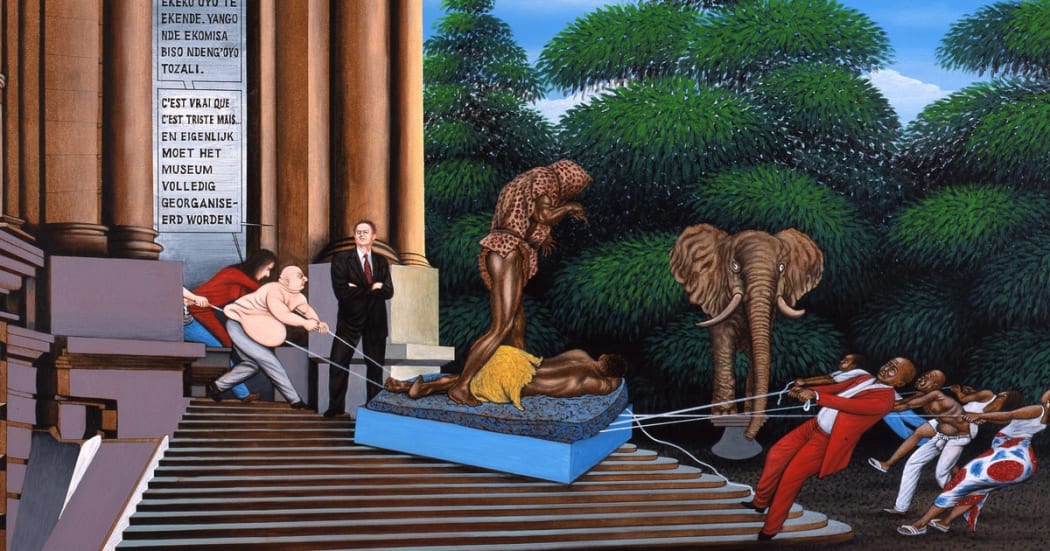 'Popular Painting school': politically charged art made for the masses in the Democratic Republic of Congo
From the late 1950's, many countries in Africa won their independence back. Lasting almost two decades, Africa's decolonization was made possible by bold political leadership, public outcry, riots and in some cases, guerrilla-style warfare. In the Democratic Republic of Congo's – known until 1997 as Zaire – the Zaire School of Popular Painting bloomed a decade after the country's independence, in the 1970s.
The term "popular" reflects the School's goal: to represent day to day life and popular art. The School was founded, in the mid 1970's, by Chéri Samba in Kinshasa. He was joined by fellow Kinshasa artists Bodo, Chéri Chérin, Moké. Most of them being self-taught artists, their art disengaged with the mainstream art. Even though it can seem to take from Western art styles, the movement was actually more independent having its root in poster painting, street art and advertising.
The exhibition 'Art Partout' (Art Everywhere), presented in Kinshasa in 1978, revealed to the public these painters who were fascinated by their urban environment and collective memory and wanted to influence the national history and identity of Zaire. Their works were meant to be addressed to the masses and were inspired by everyday life and combined bright, bold colours with text to create politically charged conversation. In fact, the pieces are heavily influenced by advertising; some of the involved artists worked as billboard painters or editorial illustrators in the city. Kinshasa's characters, such as Congo's Sapeurs (local dandies), and other city's personalities, such as politicians, local heroes and musicians, are the main subject portrayed in these works.
Chéri Samba 'J'aime la couleur' (2003)
Popular painters often added text to label key information about the depicted scene: the captions were written in a mixture of languages (French, English, Lingala and a French patois). Cheri Samba (b. 1956), who established his personal studio in 1975 in Kinshasa, was working as an illustrator and billboard painter for a magazine named Bilenge Info. Taking some of the visual conventions from billboards to be used in his own art, Samba often paints text to label key information about the scene. He once commented on the use of labels saying: "The texts that I introduce on my canvases translate the thoughts of the people I depict in a given situation. It is a way of not allowing freedom of interpretation to a person who looks at my painting." One of the key factors of the movement is its way to be strongly didactic: the messages and the stories told by these artworks are literal, giving to the viewers little or no chance for misinterpretation. This aspect was opposite to what happened in other 20th century art currents - the Expressionism or Cubism, for example - that usually weren't meant to have a direct focus or meaning.
Chéri Samba 'Une vie non Raté (A Successful Life)' (1995)
Works by Chéri Samba at the Grande Halle, Parc de la Villette, Paris 1989 © Centre Pompidou, Bibliothèque Kandinsky
Chéri Samba 'Hope Keeps You Going #2' (1997) Credit: The Jean Pigozzi Collection of African Art.
Moké 'Accident' (1992)
The production of other artists within the movement, such as Moké (born Monsengwo Kejwamfi), wasn't exclusively oriented on politic's messages and aimed more on documenting the social life in Kinshasa. While he made his name in 1965 with a depiction of General Mobutu on Independence Day, Moké's style was, in general, less political than Samba's. Popular paintings' artists wanted to have first-hand experience of the urban environment, given that the city itself was a relatively new environment. These new spaces, rhythms, social layers and differentiation in between work and leisure time were portrayed in exuberant, humorous and colourful scenes that testified the meticulous observation of everyday life in Kinshasa. Using some sort of comics-like stylization, the depictions are often chaotic, crowded, bright and loud; night-life, urban scenes, dances, nudes, bars, car crashes, military parades are displayed with no care for technicities such as perspective and depth.
Moké 'Mitterrand and Mobutu' (1989)
Cheri Cherin (born Joseph Kinkonda) was the only one in the group to have studied art at the Academie des Beaux Arts in Kinshasa, under the Austrian ceramics-artist Peter Weihs. During this time, he started to paint posters in his residential-quarter Ndjili. Following the artistic direction taken by other Popular Paintings artists, Chérin as well depicts everyday urban life scenes in a narrative depiction based on the themes of Congolese society.
Chéri Chérin 'Conflit des générations' (2005)
Conflit Kasavubu – Lumumba - Tshibumba Kanda-Matulu, circa 1970-1973
In 1970, an influential body of Zaire School work was created by Tshibumba Kanda Matulu. Matulu was commissioned by Johannes Fabian, a professor of Anthropology at the University of Amsterdam. The two became friends in 1973 when Tandu Matulu was around 27 years old and needed a sponsor to execute his aspiration to tell the history of Zaire in a series of paintings. The final collection of 101 artworks, published by Johannes Fabian in the book 'Remembering the Present: Painting and Popular History in Zaire',1996, is a powerful record of colonial abuse, post-independence conflicts and Congo's pre-colonial past.
Cover from: Johannes Fabian 'Remembering the Present: Painting and Popular History in Zaire' (1996)
Camille-Pierre Bodo 'Untitled' (2001)
Later on, some artists shifted from the movement's main style, especially in regard to the subjects depicted. Bodo, for instance, started to engage with sorcery (known as "Ndoki Zoba" in the Congo) representing partial reality with fantastic features such as bizarre flora and fauna. His richly populated paintings and odd creatures reference Flemish artists such as Hieronymous Bosch.
Camille-Pierre Pambu Bodo 'Untitled' (2001)
Camille-Pierre Pambu Bodo 'Le voyage du pélerin'(2001)
The drifting of Bodo from the main School's style matches with his experience and different perspective on the world; having had the chance to travel extensively both in Europe and the US, he once said: "I express everything that happens to me, so that I am no longer focused on specifically African topics and can address myself to the entire world."
Later on, also Chéri Samba diverged from the main Popular Paintings style; being introduced to Cubism, he became a different kind of painter from the rest of the movement and started to be less faithful to the local imagery.
The movement of Popular Painting at first didn't attract much interest inside or outside the country, but it gained international recognition later, and became one of the most influential African art movements of the 20th century. The fame came when Chèri Samba was invited to exhibit at the Centre Georges Pompidou, Paris, in 1989, for "Les Magiciens de la Terre", an exhibition of contemporary art which aimed to confront colonial stereotypes in the Western art's system.
Nowadays the Contemporary Africa Art Collection (CAAC - The Pigozzi Collection) owns the biggest collection of the group's art and, thanks to a renewed curatorial interest, many themed exhibitions were displayed, mostly internationally, in recent times. 'Popular Painting from Kinshasa' was hosted in 2007 at TATE Modern, London; 'Beauté Congo 1926-2015 Congo Kitoko' in 2015 at Fondation Cartier pour l'art contemporain, Paris; or 'Congo Art Works: Popular Painting'in 2017 at Garage Museum of Contemporary Art in Moscow.
In 1981, Kanda Matulu died, then Moké and Bodo passed away too, respectively in 2001 and 2015. Since then, The Zaire School of Popular Painting is no longer considered a formal group. But the colors, the bold visual language and lifey art style of Chéri Samba, Chéri Chérin – who still live and work in Kinshasa, DRC – and other Congolese artists continue to share the voice and vision of the DR Congo and the Zaire School of Popular Paintings with the world.