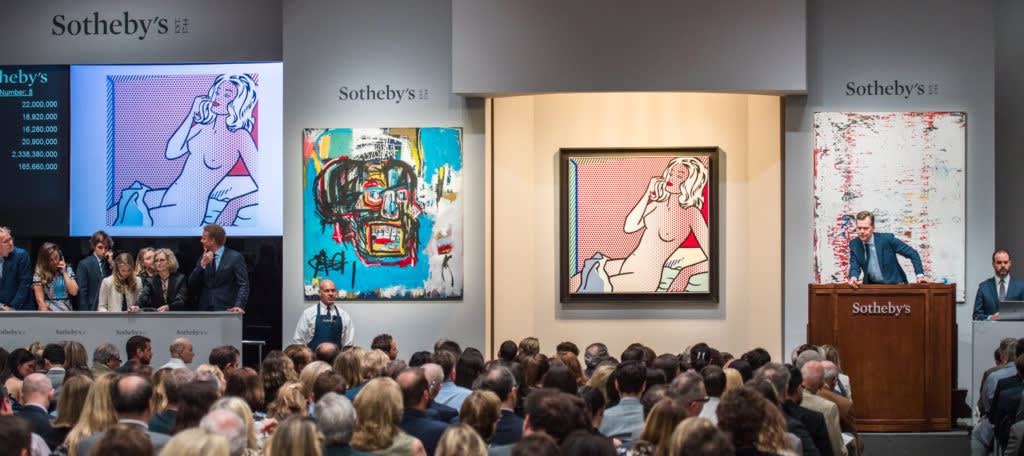 If you are new to the world of collecting art, you may already know that the two primary means of acquiring art are through galleries and auction houses. Perhaps you know a couple of the famous, international names: Sotheby's, Christie's… But entering the auction house arena can be an intimidating feat, especially for new collectors. Pavillon54 breaks down 6 ways to ease yourself into the auction market, and what tips and tricks to know.
Start local
If you are just starting out on your art collecting journey, you may be budgeting a smaller amount for your first few acquisitions. Seek out local auction houses in your area that may specialise in certain types of art or collectibles that are of interest to you. At smaller auction houses, price points tend to be more accessible, and you may be able to snag a gem for a reasonable price, all because the demand at local auction houses isn't as high. Participating in local auctions also allows you to understand and get involved with the auction system, which is great practice for when you are ready to move on to some bigger international businesses.
2.… or try an online auction!
An alternative to participating in local auctions is to try your hand at an online auction. These have become much more prolific and accessible, especially after the COVID-19 pandemic shut down physical auction house operations. Today, you can participate in accessible online art auctions at Sotheby's and Christie's, such as the Christie's 100 auction, a new online sale of accessibly priced post-war and contemporary art where all bids started at $100, that occurred in 2020. Artsy also periodically hosts online auctions, where you can filter for various price points, or browse different categories of art that may pique your interest.
3. Pick your genre or time period of interest
One tip to bear in mind when buying at auction is that different categories of sales have different price points. For example, the Post-War and Contemporary Art Evening Sale is generally known to be the sale that features the hall-of-fame artworks, and the pieces that will bring in the highest bids. The Post-War and Contemporary Art Day Sale also brings in impressive figures, though to a lesser extent than the Evening sale. Other categories at auction, such as Old Masters, African and Oceanic art, and the jewellery and collectibles sales, tend to have lower price thresholds. It is worth taking into consideration, for example, why Leonardo Davinci's Salvatore Mundi, which achieved the highest auction record in the world to date, was featured in the Post-War and Contemporary Art Evening Sale at Christie's, rather than the Old Masters sale where it technically should have been placed. When venturing into the world of auction houses, consider which category you wish to participate in. Of course, you can diversify your collection and bid for works in multiple categories, but remember that when investing in African art, traditional works will often be found in the African or African and Oceanic Art sales, usually with lower price thresholds, whereas contemporary African art by select cream-of-the-crop artists are included in the Contemporary Art Evening or Day sales, which require a larger budget.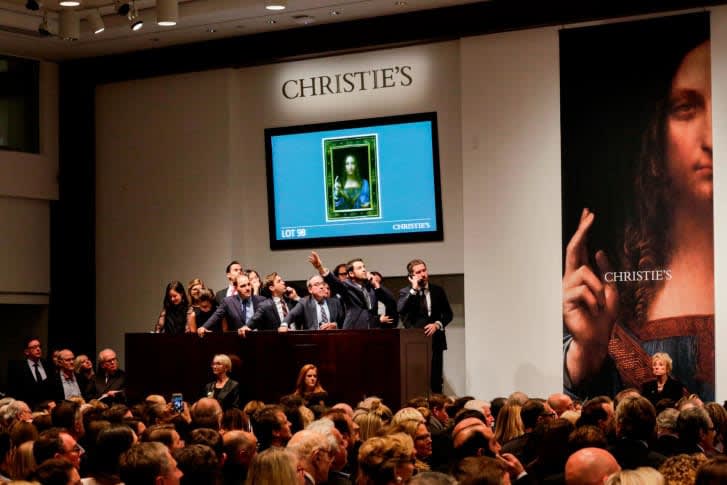 Agents speaking on their phones with clients while bidding on at the auction of Leonardo da Vinci's "Salvator Mundi" during the New York sale at Christie's on November 15th, 2017. This painting sold for an historic $450M, making it the most expensive work of art at auction. Credit: Eduardo Munoz Alvarez/Getty Images North America/Getty Images
4. Be aware of buyer's premium and other fees!
One of the most important things to know about buying art at auction is that the hammer price is not the final price you pay! Most auction houses apply a 'buyer's premium' on top of the winning bid amount, which comprises anywhere between 10-30% of the final hammer price, but usually lands at 20% of the final bid. When buying at auction, other fees should also be taken into consideration, such as shipping fees and insurance, so make sure you enquire or research your auction house of choice thoroughly, and leave enough room for additional fees in your budget.
5. Know which paperwork to have… and keep them!
Auction house sales are almost always secondary market sales, which means you are buying the artwork from another collector, rather than directly from the artist. It may be the case that the artwork you acquire has been passed through several hands or generations. If that is the case, then it is incredibly important to have all the legal paperwork alongside your acquisition, such as details of the artwork's provenance. The provenance of an artwork is simply a record of the changes of ownership an artwork has undergone during the years, decades, or perhaps even centuries. Having this information is incredibly important in order to avoid legal issues such as disputes over ownership (in the case of an ambiguous inheritance or separation case) or looting from historical events, usually war. When buying traditional African art, this is especially important as looted objects are likely subject to restitution. This was the case in a recent matter earlier this year where a local English auction house withdrew two items from their sale in order to return the pieces to Ethiopia, after an appeal from the Ethiopian embassy.
"Atlas" by Ben Enwonwu, which set a new world record for a sculpture by the artist in its first appearance at auction.
6. Enjoy your beautiful new artwork… and plan your collection
Now it's time to enjoy your brand-new artwork! Whether you're displaying the piece in your home, trying to establish your own veritable collection, or acquiring artworks as an investment, art should be treasured and enjoyed. However, your collection should also have a goal or a plan. If you're not already aware that contemporary African art has experienced, and is continuing to undergo, exponential growth, then it's time to start learning more about this art world phenomenon, and what exactly it could mean for your art collection. When acquiring contemporary African art pieces, ask yourself what purpose the artwork will have in your collection. Are you likely to resell it one day? Will you display it in your home and pass it on to your family members as an inheritance? Either way, it's good to be aware that the value of your African artwork may increase significantly, so make sure you keep a hold of all relevant paperwork, including certificates of authenticity and provenance, in case the moment strikes to get a return on your investment.