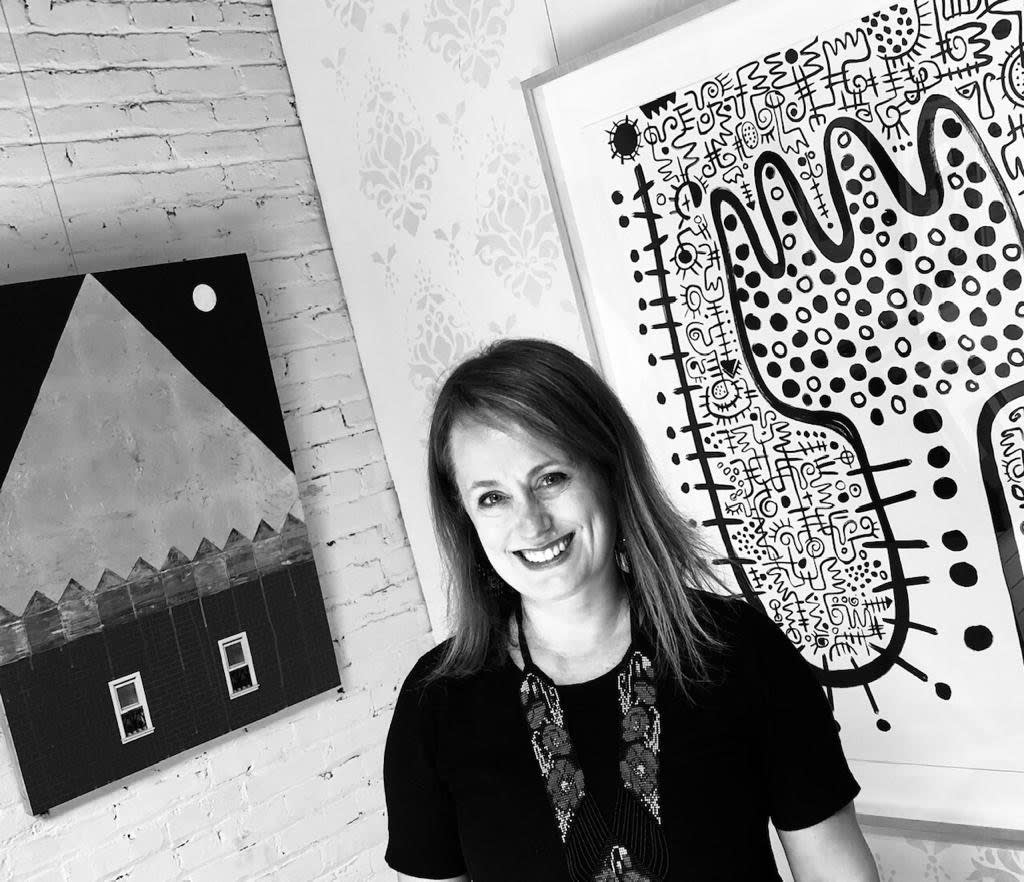 As the one-stop global digital platform and community for art from Africa and the Diaspora, Pavillon54 always seeks to enter fruitful partnerships with artists, curators, collectors, and galleries. It became only natural, then, that for the next step of our development, we partnered with some of the most exciting international galleries that specialise in contemporary African art and share our vision for the African art market.
A couple of months ago, Pavillon54 entered a partnership with Morton Fine Art, a Washington DC gallery and curatorial group, headed by Amy Morton, that provides museum-quality art with a focus on the African Diaspora. We were instantly drawn to Morton Fine Art due to their impressive roster of artists and the diversity of their offering, whether geographically, in style, in medium, or in the range of artists themselves. What was most captivating, however, was our shared vision to go beyond the commercialisation of African art and to tell the underlying stories—an essential element to foster a sustainable development of the market.
With Pavillon54's expertise in the African art market and digital strategy, combined with Morton Fine Art's incredible roster of artists, finding contemporary African art that is not only aesthetically exceptional, but also enriched in narrative, becomes easier for the African art collector. Together, Pavillon54 and Morton Fine Art are making high-calibre contemporary African art more accessible, more transparent, and more meaningful.
We sat down with founder and curator Amy Morton, to learn more about how Morton Fine Art was founded, and what makes it an extraordinary destination for African art.
Gallery View at Morton Fine Art, Artworks by Victor Ekpuk, Kesha Bruce and GA Gardner


P54: How did Morton Fine Art come to be? What was the driving force or need to be filled that resulted in the creation of the gallery?
AM: I founded Morton Fine Art in 2010. My first exhibition was launched early that year under Morton Fine Art's trademark mobile gallery, a pop-up project in Washington, DC in the Penn Quarter neighborhood. It was in a former gallery space which I had leased short term, for a three-month period. I was interested in curating an exhibition that I felt positioned substantive art in the market and quickly realized I needed a permanent location to continue in that vein. I then leased a space in Adams Morgan, a quirky district in DC known for independent businesses. Morton Fine Art was in that location for 9 years before moving to a flourishing creative community in Truxton Circle at 52 O St NW, where it has been for nearly 3 years.
From its inception, the inclusion of diverse voices, nurturing a safe space and working with an educational stance has been at the forefront of the gallery's mission. I am firmly committed to a comfortable and intimate gallery space intended for exploration and journeying through visual art.
P54: Why the focus on the African Diaspora?
AM: I have always been interested in and open to artwork and original voices from all over the world. Interconnectedness between people and exploring the human condition fascinates me. I value our collective overlaps and progressions toward deeper shared understandings and relationships. In the 90's I attended Occidental College in Los Angeles, where my studies in art were informed by a strong commitment to equity and diversity. I think the combination of these personal priorities resulted in a natural inclusion of artists from the African diaspora, as well as from many other places and orientations, whose practice foregrounds pertinent, globally relevant, philosophical questions. With these values at the center of my work, Morton Fine Art's curatorial vision has bloomed and been enriched organically.
My vision for the gallery, as well as for my life, is to create a safe space for dialogue and the sharing of ideas. In that way, the evolution of the gallery has been very process-oriented, and not something that was artificially orchestrated or even conscious much of the time. It continues to be a growth-oriented work in progress. I studied fine art and art history and appreciate that visual art is a potent tool for highlighting issues which may otherwise be difficult for people to address. I am attracted to the intersection of art and activism, and how artwork can be an effective tool for personal introspection, interaction, dialogue and ultimately, I hope, change and growth.
Osi Audu 'Self Portrait, after Head of a Shango Staff' (2017)
P54: What qualities do you see in an artist when you sign them on and how do these connect with the mission of Morton Fine Art?
AM: I usually know we are well matched right away. My artist partners are incredible at what they do! First and foremost, their creative vision and visual language inspire me on such a deep level. Examples include Osi Audu's philosophical exploration of "The Tangible and Intangible Self "; Victor Ekpuk's mining of historical narratives, the vocabulary of the contemporary African diaspora, and humanity's connection to the sacred; Rosemary Feit Covey's attention and sensitivity to the delicacy of earth and the natural world; Maliza Kiasuwa and Meron Engida's themes of reconciliation; and Lizette Chirrime's interconnectivity between art practice, spirituality and healing.
Rosemary Feit Covey 'Amethyst Deceivers II' (2019)
Their deep and meaningful engagement with these themes is what powers my belief in them and commitment to uplifting their voices. The artwork shown here is purely the artists' visions, created without gallery interference. I look for long-term partnerships, so synergy is also important. The relationship needs to be trust-based and natural as we often spend years working together. These strong personal connections are important for understanding the creations themselves, allowing me to do my job better.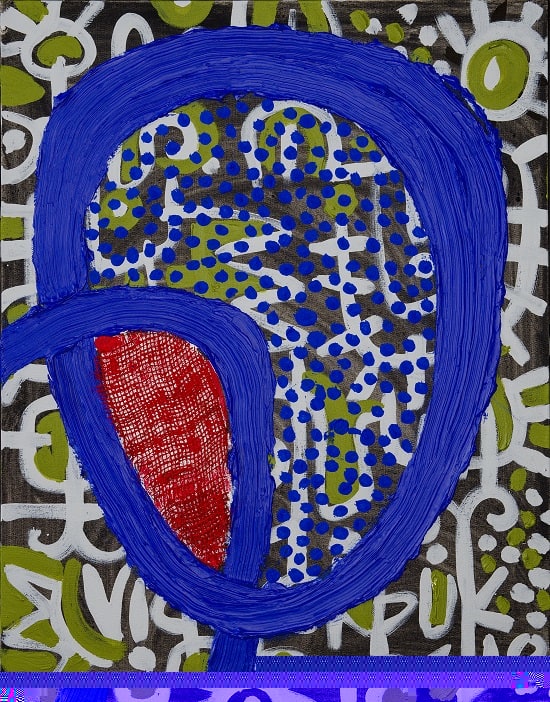 Victor Ekpuk 'Mask Series 2' (2018)
P54: What excites you most about the African art market, and working in this field?


AM: Learning, evolving, exploring questions and shared histories, and meeting artists with lasting substance and incredible talent—there is an abundance of all of that in the African art market. It is endless. With art, I can never be bored—either when exploring an individual piece I connect with or with creations at large. Art is a mirror, and it fascinates me to see what is revealed in a moment and how more reveals itself with time. Contemporary artists remind us of where we are, including our shortcomings and our most sacred parts. They invite us to do better.
Maliza Kiasuwa 'Brown Skin 1' (2021)
P54: What are some of Morton Fine Art's greatest moments or achievements?
AM: First and foremost, I am proud to have such outstanding artist partners who center substantive concepts and demonstrate a mastery of medium. The artists I work with are thoughtful, tremendous and have so much to say and share! The backbone of the gallery is our partnership, as is our shared trust in each other. It is fascinating to see organic shifts and developments in their artwork and art practice, knowing their growth informs new iterations of brilliance. It is also very rewarding to witness their points of public-facing recognition, including in national and international museums and publications.
Meron Engida 'Solidarity 9' (2020)
AM: I am personally proud of the warm vibe of the space and the maturity of conversations and experiences shared here through art. This is a gallery for everyone to explore, regardless of experience or exposure to art. Authenticity is valued as are questions and feelings, even when layered. In many ways it has the intimacy and hominess of a salon, and that facilitates connection with artists, collectors and enthusiasts alike.