You've done your research, selected choice artworks that match your collecting goals and tastes and have officially started your art collection. After you've acquired a certain number of paintings, sculptures, photographs, prints - whatever it may be - you may be asking yourself: what is the best way to care for all these artworks?
Buying art is just the first step in building a collection. What follows is the conservation required to keep your pieces in top shape and ensure that they will last through the generations you may pass the artworks down to, loan to a museum or gallery, or for the prime opportunity to resell your pieces for a profit.
We break down some of the key points to keep in mind when starting and maintaining your art collection, to ensure that they are well looked-after and will retain a legacy for years to come.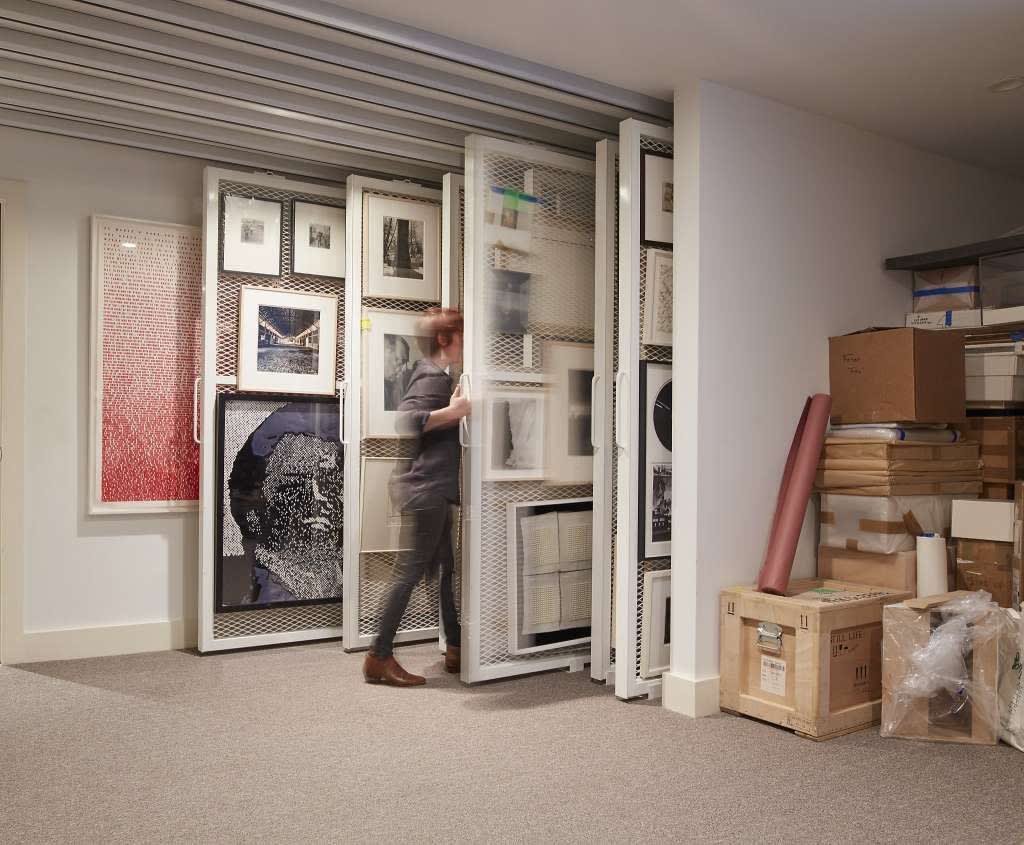 Home of collector Robin Wright - art storage in the basement. © Phil Harvey / Special to the Chronicle
Storage
Realistically, there is only so much space you have in your own home to keep artworks. When you have covered the walls and every corner with your favourite pieces, where do future artworks go? Most extensive art collections are kept in storage. This can be a significant expense to take into account and may require a certain amount of capital to initiate and maintain in the long run. Many collectors sell artworks to free up space in their homes and offices, and this money can also go towards storage fees.
If paying for storage space is not within your budget, you can consider storing artworks in a spare room, closet, or small office space. For this, however, you need to be aware of some of the pitfalls that can arise when trying to do it yourself. For example, the room the artworks are stored in should be climate controlled, to avoid humidity that may damage the artworks, and should be clear of direct sunlight, so that the colours in your paintings do not fade. A room that has a humidity level of 40-50% and is between 21-24 degrees Celsius in temperature is the golden rule for storing most artworks. Make sure you use acid-free paper to wrap your artworks (like paper files and photographs), or else you risk stains and markings. Try to avoid wrapping too much so humidity is not trapped inside. When using bubble wrap (also not recommended), it is also important to make sure the bubbles face away from the artwork, so that the bubbles do not press against it and cause marks.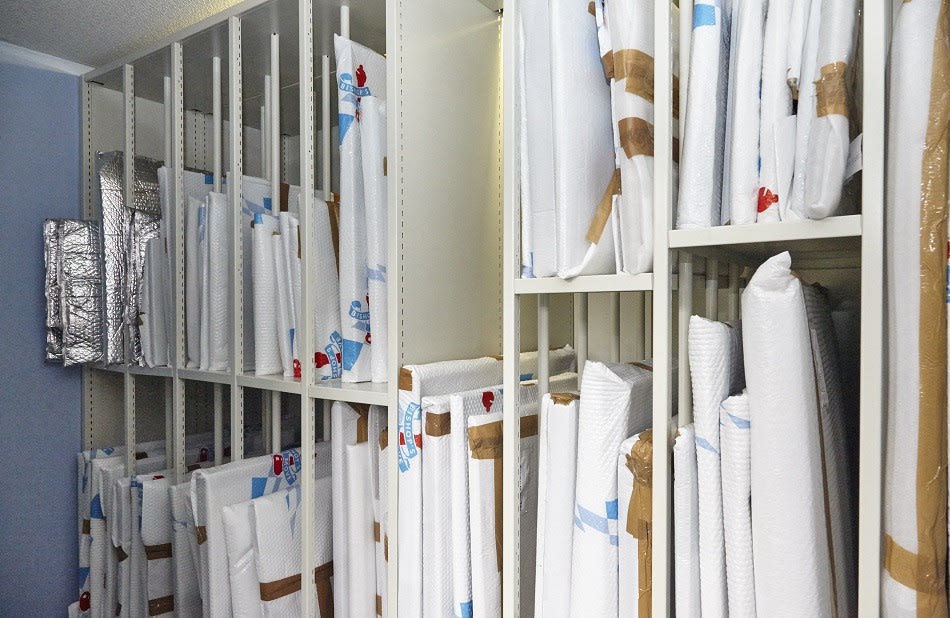 © Toast Rack - artwork storage

Protecting from the elements
As mentioned above, the ideal conditions for displaying artworks are away from direct sunlight (which can bleach or fade the paint), in a room that is climate controlled for between 40-50% levels of humidity and 21-24 degrees Celsius in temperature. Unless the piece is made from durable materials, such as a metal or bronze sculpture, and is specifically designed by the artist to be displayed outdoors, artworks should be kept indoors and away from any exposure to the elements such as wind and rain. Try to wear gloves when handling the works of your collection, and avoid hanging them close to or above radiators, directly next to windows (unless you have a blind to prevent direct sunlight from coming in during the day), or anywhere that is likely to be exposed to smoke or humidity, such as kitchens and bathrooms, as they can damage or stain the artwork.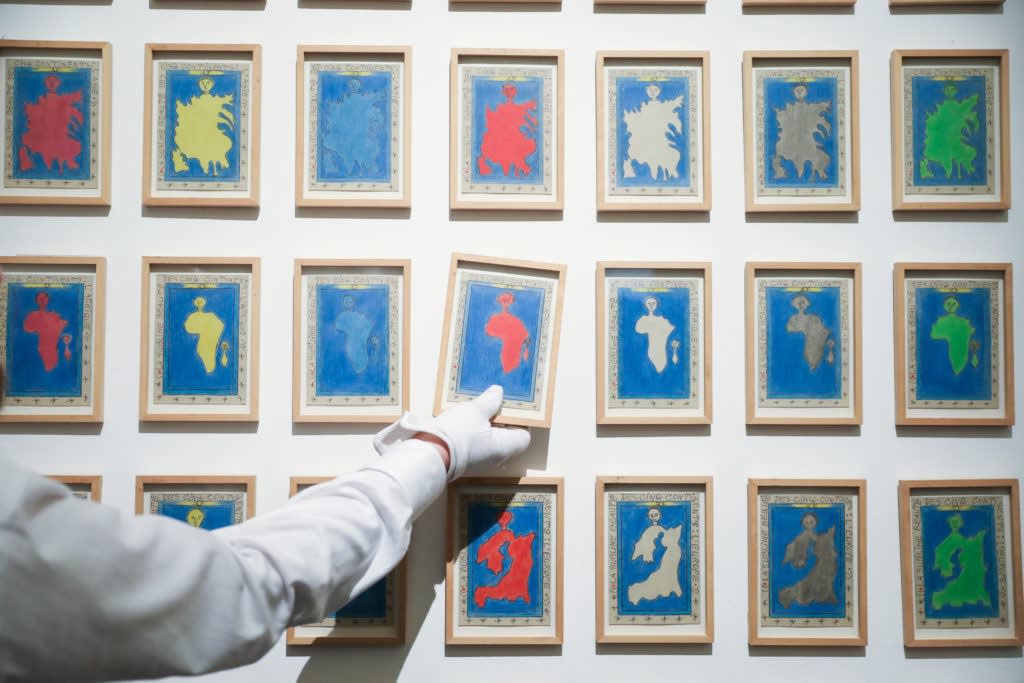 Frédéric Bruly Bouabrés La sublime beauté des cinq continents. (Photo by Tristan Fewings/Getty Images for Sotheby's)


Documentation
Archive your collection and document it thoroughly before storing. Create a folder that accounts for each artwork, with an image, artwork description, and condition report for each piece. This will protect you in the case of damage or loss and will aid you with insurance claims if your collection is insured (which we recommend it should be, especially if you are collecting artworks of high value).
When you buy an artwork, you should also have received a certificate of authenticity of the piece and, if you bought the artwork on the secondary market, you should also have proof of provenance and prior condition reports. All of these are important to hold on to, especially if you hope to exhibit your artworks publicly, or hope to resell your pieces one day.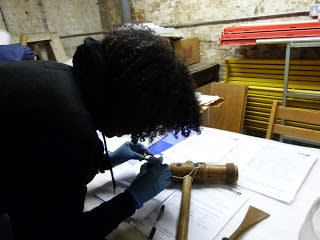 Lalita Bailey writing a condition report about a caulking mallet (Chatham Dockyard collection)
Restoration
If you are buying artworks on the secondary market, it is worth looking into whether or not the artwork has undergone previous restoration. This is useful to know for two reasons: Firstly, if an artwork was previously restored poorly and with the wrong materials or media, this can have a long-term detrimental effect on the longevity of the painting. Secondly, if your artwork happens to receive damage and requires restoration in the future, it is extremely useful for conservators to be aware of any previous touch ups, modifications, or restorations to the artwork in question. As always, try to get as much paperwork and documentation on your artwork as possible, and keep diligent, updated records on the condition of your artworks each time they are exhibited in a show, or have undergone noticeable change. If you want to know more, please check the Institute of Conservation.
Collecting art is a joyful and emotionally fulfilling experience. In the midst of all the excitement of acquiring a new work of art, the idea of conserving or preserving your pieces may not come naturally! But these considerations are crucial to guaranteeing the longevity and even potential resale value of your artworks, so do not neglect these tips and tricks. Keep them in mind, and you'll have a wonderful, flourishing collection!