Take a look at our list of the ten most expensive African artists to date, and you'll see that women take up a significant proportion of the cut—even taking the top place! Unlike in the Western contemporary art market, top female African artists often see great success and prominence in their careers, on par with their male counterparts. In this article, we break down which seven female African contemporary artists are stealing the show, and the ones you should keep an eye on.
Njideka Akunyili Crosby took fourth place in our ten most expensive African artists list. Crosby (b. 1983) is a Nigerian-born visual artist based in Los Angeles, and is the youngest female African artist to achieve incredible acclaim and art market prices, with her artwork Bush Babies (2017) selling for $3.4 million at Sotheby's New York in 2018. Crosby's work explores transcultural living and all the emotional investment and discovery that ensues from living in multiple territories. She states, 'It really is about what it means to be someone who has existed between multiple worlds and carries all those influences with them at once… I'm trying to use my work, and my life story, to explore this idea of a liminal space, or a third space, where multiple things come together to yield a new thing'. Working primarily with collage and photo transfer-based paintings, the very idea of cutting, pasting, transferring and juxtaposing imagery in her works aligns perfectly with the themes of cultural transplantation she investigates. What results are brightly coloured works, laden with patterns and tones that recall Africa, and that address the black body and the domestic space.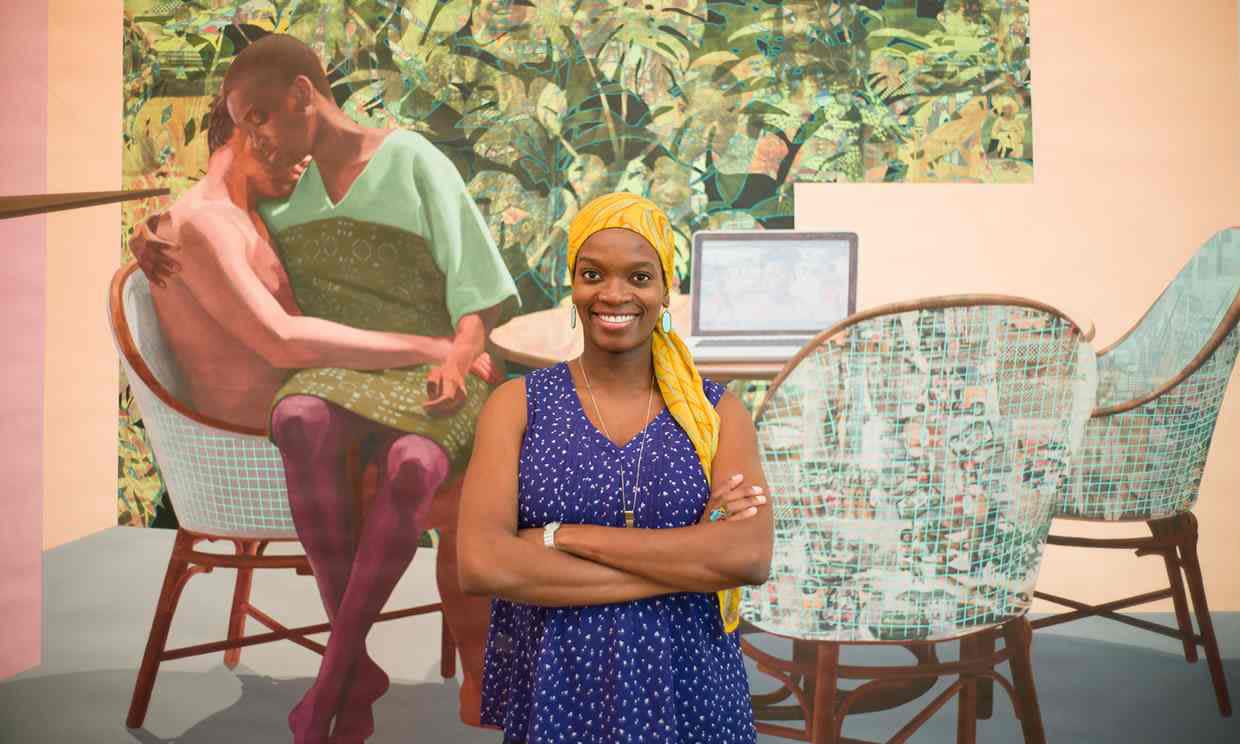 Njideka Akunyili Crosby and her diptych Garden, Thriving (2016)
In the same vein of collage and photography-based artworks, Wanchegi Mutu (b. 1972) is another artist who has risen to prominence. The Kenyan-American artist, based in New York, combines clippings from magazines and anatomical literature with painted surfaces to explore the female body. By using the black female body as her centerpoint, Mutu then goes on to extend her artistic exploration into themes of cultural identity, colonial history, fashion and African politics. Mutu's works have a more visceral, corporeal aesthetic to them, as she often isolates particular body parts—lips, eyes, or even female genitalia—that can sometimes shock their viewer with their blatant front. Mutu is represented by some of the world's most prominent art dealers, such as Vicotoria Miro and Saatchi gallery, and usually achieves auction prices of around $200,000 - 300,000.
Wangechi Mutu and her work, A Shady Promise (2006)
Joana Choumali (b. 1974) is a photographer and mixed media artist based in Abidjan, Côte d'Ivoire. Having her base on the continent allows Choumali to center her works around Africa, often drawing references and inspiration from the cultures she sees around her in her day-to-day life. In more recent years, Choumali has begun to embroider directly onto her photographic works, highlighting the contrast in processes between an instantaneous, mechanical camera click, and the slow, painstaking, hand-made gestures required in embroidery. The resulting artworks are laden with texture and colour, the stitches of thread incorporated into her works giving her photographs an illustrative and almost three-dimensional quality. These effects often give Choumali's work a surrealist or fantastical effect, that places Africa as a dream-like wonderland. Choumali is represented by Gallery 1957 in Accra, Ghana and Loft Art Gallery in Casablanca, Morocca, and won the Prix Pictet photography prize in 2019 for her series 'Ça va aller'.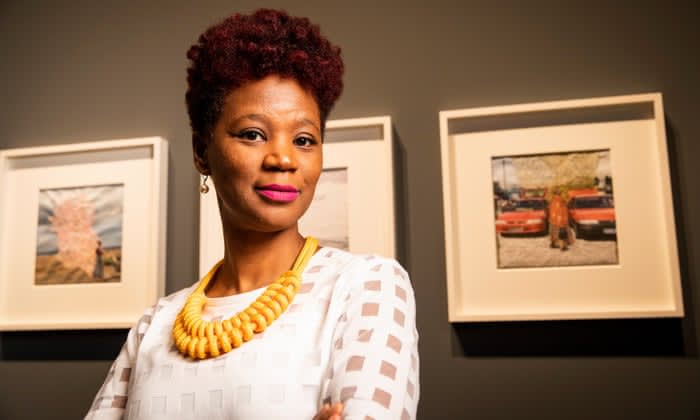 Joana Choumali with works from the series Ça va aller

Tracey Rose (b. 1974) is a South African artist based in Johannesburg. She is best known for her performance, video installation and photographic works which address the cultural stereotypes imposed on African women. Rose represented South Africa at the 2001 Venice Biennale with her work Ciao Bella (2001), in which the artist disguised herself as various female caricatures—a nun, a Lolita, Marie Antoinette and even a mermaid—and played out a chaotic narrative that undermined these archetypes. This work heralded Rose as the Cindy Sherman of Africa, though Rose's aesthetic is arguably completely distinct from Sherman's. For example, Rose's practice embraces more of the chaotic (the artist was dubbed the 'Chaos Queen' by Frieze magazine'), often with the intent to shock viewers into consideration of various themes such as race and sexuality. To date, Tracey Rose has been exhibited at the world's most famous museums, such as the Centre Pompidou in Paris and the Stedelijk Museum Amsterdam, and is represented by top galleries such as Goodman gallery.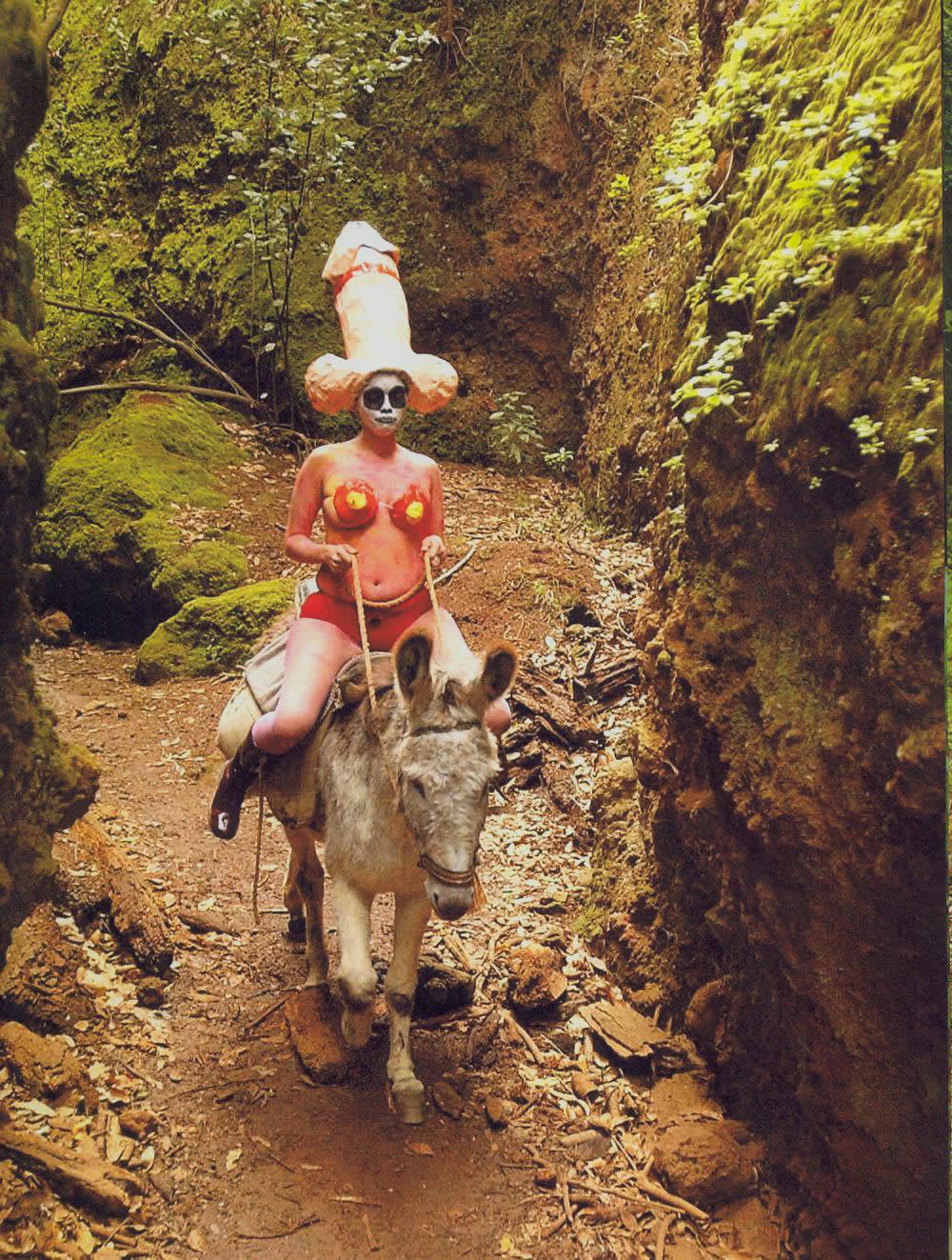 Tracey Rose in The Prelude: Garden Path, 2003
Ethiopian photographer and artist, Aïda Muluneh (b. 1974) has a truly international background, having grown up and lived all over the world—from England, Yemen, Cyprus, Canada, and the US. And yet, the artist has always returned to her African roots, becoming one of the leading experts in photography from Africa. Muluneh's career originated in photojournalism, working for publications such as the Washington Post by capturing life in Ethiopia. In her artistic practice, however, Muluneh combines painterly and illustrative elements in her photographs to enhance the contrast of colours and lines in her works, resulting in conceptual images that highlight African cultural heritage and folklore. Today, the artist is a jury member for some of the world's most prominent photography prizes, such as the Sony World Photography Awards 2017 and the World Press Photo Contest 2017. Her works can also be found in prominent collections such as the Smithsonian's National Museum of African Art, making Muluneh one of the most influential female African photographers today.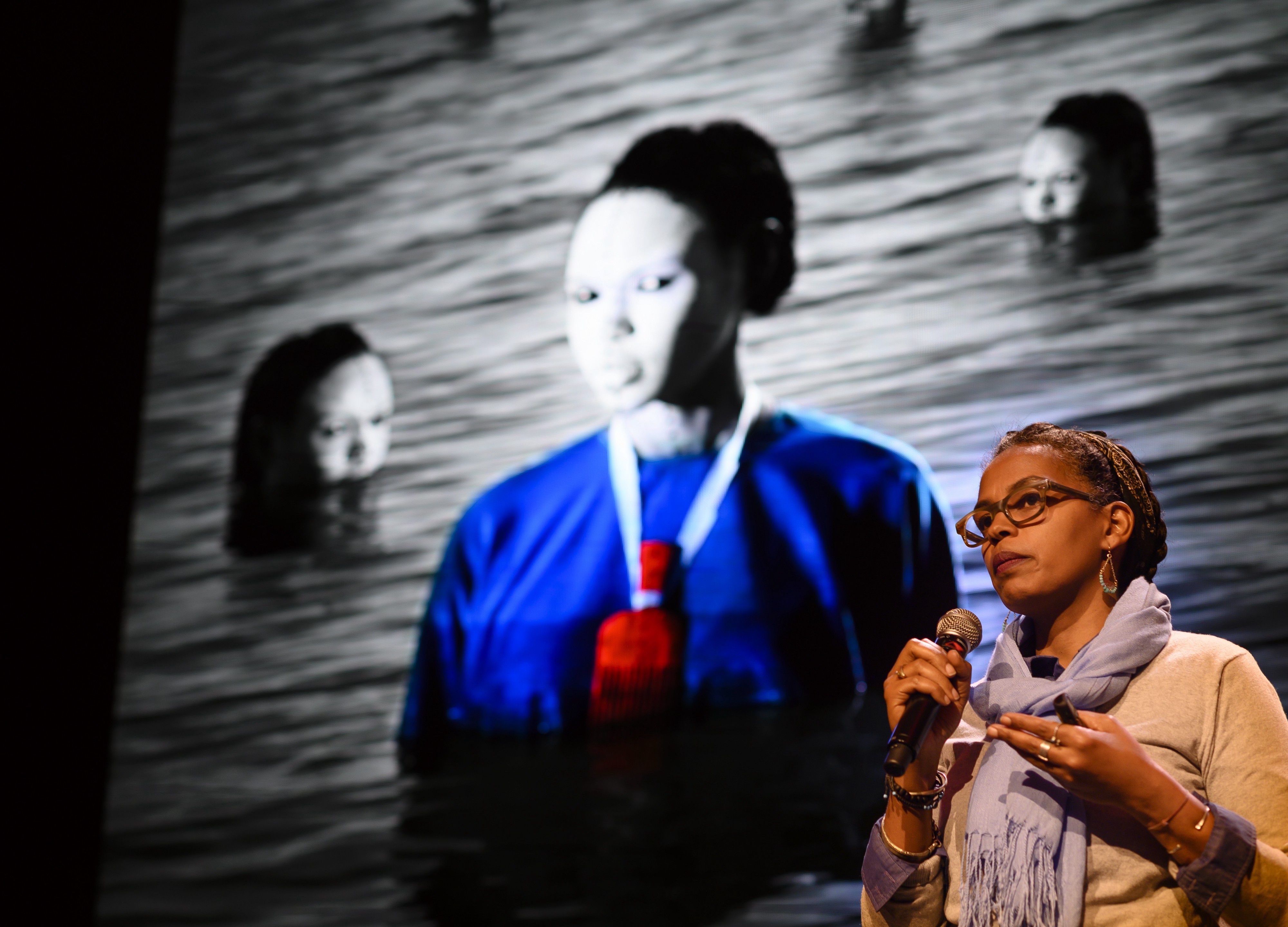 Aida Muluneh and her work The Distant Gaze - Return of A Departure (2017)
Peju Alatise (b. 1975) is a Nigeran interdisciplinary artist whose practice spans painting, sculpture, mixed-media works on canvas, poetry, and architecture. She was one of the first Nigerian artists to be exhibited at the Venice Biennale in in 2017, where she presented a group of life-size sculptures that narrated the life of a servant girl. Alatise aims to create work that questions the status quo of African society and its relation to global affairs. In this vein, the artist contributes to numerous causes and campaigns, such as the Child Not Bride campaign in Nigeria, and by founding the ANAI Foundation, a non-profit that aims to develop the visual arts and culture of Nigeria. In addition to her exhibition at the Venice Biennale, Atalise is a fellow at the Smithsonian National Museum of African Art.
Peju Alatise and her work Flying Girls (2017)
Mouna Karray (b. 1970) is a Tunisian photographer, known for her more documentary works that explore socio-political concerns and African identity. Much of Karray's work highlights the landscape of Africa—whether it is the dusty plains and hills in her series Personne ne parlera de nous (Nobody will talk about us) or the black and white ruins of Murmurer. Karray's work has been widely exhibited throughout Africa, most notably at the Roger Ballen Foundation Centre for Photography in South Africa and the 12th Dak'art Biennale in Dakar, Senegal in 2016. She has also participated in exhibitions in London and Paris, including at the 2nd Biennale of Photographers of the Contemporary Arab World at the Institut du Monde Arabe, Paris.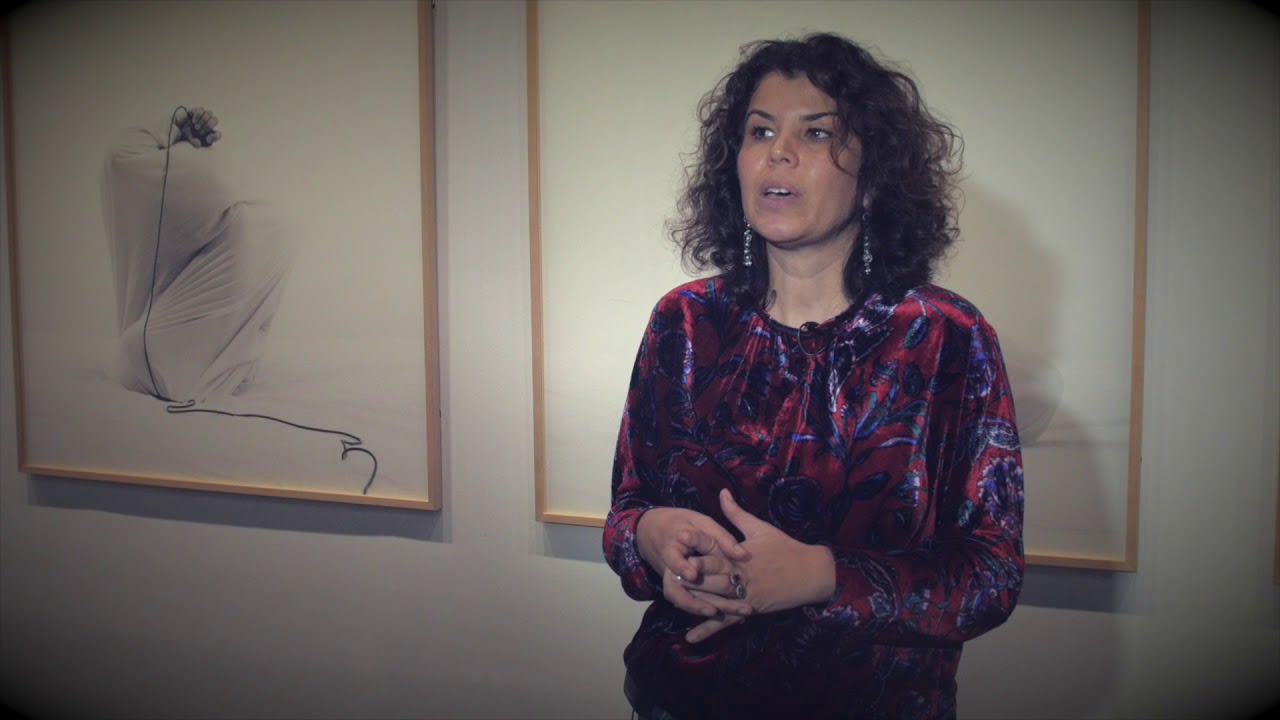 Mouna Karray with works of the Series Noir