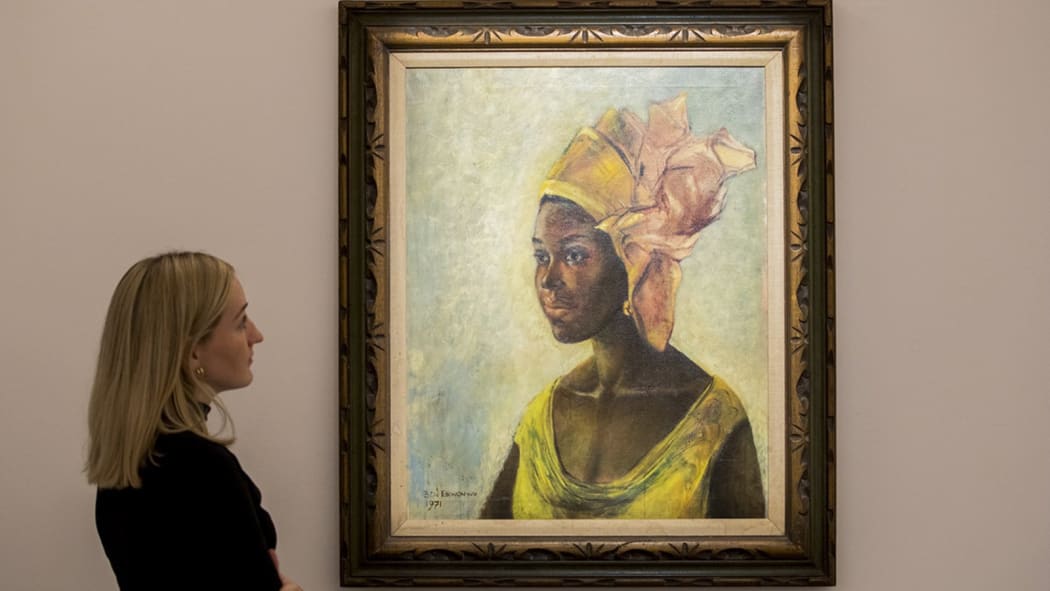 To navigate the history of art of a complex, multifaceted and multicultural continent as Africa, especially if you just got passionate about it, can seem like an overwhelming maze. But no worries, we are here to help you. Follow our series of "Artists you should know or watch" in each country, and you could soon almost sound like an expert!
The modern art of Nigeria was greatly impacted by colonialism, and the importance of European techniques and training grew during this period. In the past decade, Nigeria's art scene has gained independence and global recognition and has flourished, leading to a renewed interest in modern and contemporary art in the country. Ranked Africa's largest economy in 2017, making up 0.8 percent of the world's GDP, Nigeria has seen its economy surging — together with the interest in fashion, music and art. That has fueled a rise in the number of galleries and auction houses, and, in 2016, of the ART X Lagos fair, the first commercial fair of its kind in West Africa.
Here we list just 7 of Nigeria's most influential artists that one should know, this list is not exhaustive and could probably include many more artists. But we hope it will inspire you to research more about this lively and booming art scene!
Odinigwe Benedict Chukwukadibia Enwonwu MBE, NNOM (1917-94), better known as Ben Enwonwu, was a Nigerian painter and sculptor. He was one of the first Nigerian artists to gain international recognition and he is arguably Africa's most influential artist of the 20th century. He was born in Onitsha, eastern Nigeria, which became part of a British protectorate in 1900. His mother was a successful textile merchant and his father was a sculptor that taught him his early carving skills.
Archival picture of Ben Enwonwu in the studio of Sir William Reid- Dick, working on a bronze portrait of Queen Elizabeth II. © Quartz Africa
In 1944 he received a scholarship to study in the UK and attended Goldsmiths College and the Slade School of Fine Arts. Thanks to this opportunity he became acquainted with the main European art movements such as Symbolism and Fauvism; these influences are clearly visible throughout his oeuvre where Enwonwu merges western styles with his early training in traditional Igbo aesthetics.
He became one of the most expensive African artists in recent years: in 2018, Enwonwu's oil on canvas painting 'Tutu' (1974) was found in a London apartment and was later sold at auction achieving an astounding $1.6m at Bonhams, London.
Enwonwu was a pioneer and firmly believed that Nigeria needed to be rooted in its own culture, heritage, and, of course, history of art.
Ben Enwonwu 'Tutu' (1974). Courtesy of Bonhams London.
Njideka Akunyili Crosby, born and raised in Nigeria until she was 16, moved to the United States in 1999 where she earned her bachelor's degree in biology and in studio art with honors at Swarthmore College in 2004. She is one of the most recognised female African contemporary artists and her work has been exhibited at the Whitney Museum of American Art, New York, USA, the Studio Museum in Harlem, New York, and the Hammer Museum, Los Angeles. She applies photographic transfers, paint, collage, pencil drawing, marble dust and fabric, among other things, to large-scale, multimedia paintings that well express her multifaceted and layered cultures background.
Njideka Akunyili Crosby '04 paints in her Los Angeles studio in September, 2018. © John D. and Catherine T. MacArthur Foundation.
Talking about her oeuvre, she once stated: 'in much the same way that inhabitants of formerly colonised countries select and invent from cultural features transmitted to them by the dominant or metropolitan colonisers, I extrapolate from my training in Western painting to invent a new visual language that represents my experience – which at times feels paradoxically fractured and whole – as a cosmopolitan Nigerian.'
Njideka Akunyili Crosby 'Intimate Super Blue Omo' (2016) © NJIDEKA AKUNYILI CROSBY, COURTESY THE ARTIST, VICTORIA MIRO, AND DAVID ZWIRNER
Yinka Shonibare was born in London but his family moved to Nigeria when he was three years old. He then returned to London and attended Byam School of Art (now Central Saint Martins) and Goldsmiths in London, graduating in BA and MA in Fine Art, respectively. Through his interdisciplinary practice, Shonibare references to Western art, history, and literature to question the validity of contemporary cultural and national identities within the context of globalisation. His powerful works and ironic drawings, paintings, sculptures, photographs, films, and installations, often contain a signature element: the so-called Dutch wax-printed fabric, produced by means of a batiklike technique. He considers these fabrics to be the perfect metaphor for his multi-layered identity.
Yinka Shonibare in his London studio © Yinka Shonibare Studio. Photo: James Mollison
His iconic piece 'The British Library' (2014) features in TATE's collection and is an installation of 6,328 hardback books individually covered in colourful Dutch wax print fabric and arranged on rows of shelving. Names are printed in gold leaf on the spines of 2,700 of the books, the majority of which are of first or second generation immigrants to Britain, both celebrated and lesser-known, who have made significant contributions to British culture and history. In 2021 Shonibare was the eighth artist to receive the prestigious annual Art Icon award by Whitechapel Gallery that celebrates the work of an artist who has made a profound contribution influencing their own and subsequent generations.
Tate Modern installation view featuring 'The British Library' by Yinka Shonibare CBE. Courtesy Tate photography (Lucy Dawkins).
Peju Alatise is a Nigerian interdisciplinary artist, architect, author of two novels, and one of the most prominent female African artists in the contemporary scene. Born in 1975 in Lagos, Alatise started her artistic career training as an architect studying at the Ladoke Akintola University in Oyo State, Nigeria. She once said: 'I never got into art, I was always an artist. I always loved to paint, I always loved to draw and make things. My interest was always in being creative.' She worked as a researcher at the Smithsonian Institute in D.C, participated in Nigeria's debut at Venice Biennale in 2017, and was an artist resident in Morocco and Turkey.
Peju Alatise 'Flying Girls' (2017) Nigerian Pavilion at the 57th Venice Biennale.
© Peju Alatise
In her works Alatise explores themes such as political, religious, and feminist issues while incorporating literature, symbolism and traditional Yoruba mythology. She wants to denounce the 'condition of women and girls in hyper-patriarchal Nigeria, where forced marriages and kidnappings are not uncommon.'
Alatise uses different media and materials creating sculptures, paintings, and installations with cloths, metals, beads, wood, cement and resin, conceiving artworks that layer up meanings and symbolisms.
Peju Alatise in her studio / Photo: Adeola Olagunju © Al Jazeera
Ade Adekola is a Nigerian-born contemporary artist, award-winning architect, entrepreneur, public intellectual and author. Born in Nigeria in 1966, he was raised both there and in the United Kingdom. In 1992 he obtained a degree from the Architectural Association in London specializing in architecture and design. From the late 90's up until 2005 he lived in Silicon Valley where he witnessed the digital transformation of photography.
Ade Adekola, from the series 'Egungun' (2013). Courtesy of the artist and LagosPhoto.
Using various media including photography, installations, and interactive art, he explores themes such as shifting culture, migration, and globalisation with a peculiar mix of visual languages crossing multiple cultures. Thanks to post-production, Adekola creates saturated and often overlapping images using photography from his private archive and, occasionally, from public archives. In this way, the artist manages to give to the viewers the chance to look past what the normal eye would register.
From YouTube, ART X Lagos interviews Ade Adekola © ART X Lagos
Victor Ehikhamenor was born in Udomi-Uwessan, Edo State, Nigeria and lives and works between Lagos, Nigeria and Maryland, USA. He was described as 'undeniably one of Africa's most innovative contemporary artists' and his practice includes painting, drawing, photography, sculpture and installation, as well as hand-perforated works on paper. Many aspects of Nigeria's stratified mythology, folklore, and religious iconography are represented in Ehikhamenor's work together with the country's political narratives. Ehikhamenor was selected to represent the country on the occasion of Nigeria's debut at Venice Biennale in 2017 — together with Peju Alatise and Qudus Onikekuwhere — where he had exhibited a large-scale installation, titled 'A Biography of the Forgotten'. The artwork merged-up abstract shapes with traditional sculpture and symbolised the effect of colonialism on the cultural heritage.
Victor Ehikhamenor working in his studio © BAZAAR
The artist is also the founder of Angels and Muse, a thought laboratory dedicated to the promotion and development of contemporary African art and literature in Lagos, Nigeria, that boasts of a multi-disciplinary room which doubles as an exhibition and co-working space, as well as a residency area, which functions as an Airbnb with a lounge and two ensuite rooms.
Angels and Muse, the 'Victor Ehikhamenor Signature' Room © Omenka
Twins Seven-Seven was born in 1944 named as Taiwo Olaniyi Oyewale-Toyeje Oyelale Osuntoki in Ijara, Nigeria. The name Twins Seven-Seven comes from the fact that he was the only surviving child of his parents' seven sets of twins. 'They believed that I was the reincarnation of twins they had lost,' he told The Baltimore Sun in 2001. He is one of the most well known artists from the Osogbo School where, in 1964, he attended one of the Mbari Mbayo art workshops held by the German writers and scholars Georgina & Ulli Beier.
Prince Twins Seven-Seven 'Blessed Fisherman Family and Golden Fish' (2006)
Courtesy of Indigo Arts Gallery
His visual style started from pen and ink to etching and painting, until in 1969 he invented laminated paintings on wood, a technique that he called sculpture's paintings. Twins took both traditions and everyday activities as his subjects, developing a linear style that is recognised for its spontaneity and imagination and his work often references cosmology and mythology of Yoruba culture.
Twins Seven-Seven in his studio © PUNCH
After learning of his link to Osuntoki, king of his home city, he started to formally be recognised as a "Prince".
His work was exposed in numerous exhibitions throughout the world, notably at France's National Museum of Modern Art – Georges Pompidou Centre in Paris, the Houston Contemporary Arts Museum, the Museum of Modern Art in New York, the National Museum of African Art in Washington, D.C. and the National Modern Art Gallery in Lagos.